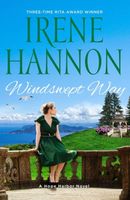 Newest Release
Bibliography:

61 Books - 12 Series

First Book:

January 1985

Latest Book:

April 2023

Rating:
Full Series List in Order
1 - Dangerous Illusions (Oct-2017)
2 - Hidden Peril (Oct-2018)
3 - Dark Ambitions (Oct-2019)
1 - Fatal Judgment (Jan-2011)
2 - Deadly Pursuit (Sep-2011)
3 - Lethal Legacy (Aug-2012)
1 - From This Day Forward (Nov-2007)
2 - A Dream To Share (Feb-2008)
3 - Where Love Abides (May-2008)
1 - Against All Odds (Feb-2009)
2 - An Eye for an Eye (Sep-2009)
3 - In Harm's Way (Apr-2010)
1 - Hope Harbor (Jul-2015)
2 - Sea Rose Lane (Jun-2016)
3 - Sandpiper Cove (Apr-2017)
4 - Pelican Point (Apr-2018)
5 - Driftwood Bay (Apr-2019)
6 - Starfish Pier (Apr-2020)
7 - Blackberry Beach (Apr-2021)
8 - Sea Glass Cottage (Apr-2022)
9 - Windswept Way (Apr-2023)
1 - Tides of Hope (May-2009)
2 - The Hero Next Door (Aug-2009)
3 - The Doctor's Perfect Match (Jan-2010)
4 - A Father for Zach (Apr-2010)
1 - Buried Secrets (Apr-2015)
2 - Thin Ice (Jan-2016)
3 - Tangled Webs (Oct-2016)
1 - Vanished (Jan-2013)
2 - Trapped (Sep-2013)
3 - Deceived (Oct-2014)
1 - The Best Gift (Mar-2005)
2 - Gift From The Heart (Jul-2005)
3 - The Unexpected Gift (Oct-2005)
1 - Seaside Reunion (Jan-2012)
2 - Finding Home (Sep-2012)
3 - Seaside Blessings (Jun-2013)
1 - Point of Danger (Oct-2020)
2 - Labyrinth of Lies (Oct-2021)
3 - Body of Evidence (Oct-2022)
1 - Home for the Holidays (Oct-1997)
2 - A Groom of Her Own (Feb-1998)
3 - A Family to Call Her Own (May-1998)
Multi-Author Series List
3 -
The Family Man
(Sep-2006)
Book List in Order:
61

titles
In Name Only

"This is strictly a business arrangement..." Silently but fervently wishing it would become more, Brooke Peyton agrees to Alan D'Aprix's offer of a marriage in name only. Forced to recuperate in his French Riviera home after an accident, she had w...

---

---

A Rainbow in the Glen

Romance is definitely not on the itinerary when Glynnis O'Connor takes her father to Ireland to visit his ancestral home. But she hadn't counted on Jason Randolph. A fellow American, Jason has rented a gatekeeper's cottage and spends his time sculpti...

---

Home for the Holidays

HIDING FROM LOVE... Lovely Laura Taylor, owner of Taylor Landscaping, hid her beauty behind overalls and a baseball cap, and tucked her tenderness under a sassy attitude. Yet she still couldn't fool handsome architect Nick Sinclair. Powerfully dra...

---

A Groom of Her Own

GUESTS AT THE WEDDING Watching her best friend get married, lovely widow Samantha Reynolds wondered if she'd ever speak those solemn vows again. Though wary, part of her still longed for a husband and family. But it would take a very special man f...

---

A Family to Call Her Own

WAS HE MR. RIGHT? When Rebecca Matthews saved an injured stranger, she never realized how her lonely life would be forever changed. For although reporter Zach Wright had been too confused to ask the name of his beautiful Good Samaritan--and despit...

---

It Had to Be You

MAGGIE HAD LEARNED HER LESSON Once upon a time, sensible Maggie Fitzgerald was a starry-eyed romantic. She'd loved Jake West from their first trembling teenage kiss, when he'd vowed to make her his wife. And she'd built her future on Jake's broad ...

---

One Special Christmas

Dr. Eric Carlson had learned the hard way that marriage and medicine just didn't mix. But from the moment he met Kate Nolan and her little girl, Sarah, the dedicated doctor forgot his rules about romance. ONE SPECIAL WOMAN... Struggling alone to ...

---

The Way Home

SHE SEEMED TO HAVE IT ALL... Amy Winter was a top-notch TV reporter who thought work was all she needed to make her happy. Until handsome attorney Cal Richards walked into Amy's life. Suddenly he had her questioning everything she'd ever believed...

---

---

Never Say Goodbye

FROM HEAVEN TO HELL... Three years ago, married father Scott Mitchell had everything a man could want. Then, in a blinding instant, a fateful error in judgment shattered his perfect world. Yet through the long years in prison, Scott found his faith ...

---

Crossroads

CROSSROADS After uprooting her teenage son from their small town to the big city, single mom Tess Lockwood discovers that Bruce has fallen in with a gang of troublemakers at school and she finds herself paying a visit to the principal's office. But ...

---

The Best Gift

AN UNEXPECTED LEGACY After her beloved aunt Jo passed away, sassy redhead A. J. Williams inherited her aunt's bookstore...and the store's handsome manager, Blake Williams. Like oil and water, A.J. and Blake didn't mix. A.J.'s motto had always b...

---

Gift From The Heart

Since the death of his wife, Dr. Adam Wright had his hands full practicing medicine and trying to raise his willful eleven-year-old daughter alone. What Adam needed was some divine intervention. And when Clare Randall appeared on their doorstep, he k...

---

The Unexpected Gift

A YULETIDE LEGACY When city girl Morgan Williams arrived in Seaside, Maine, on Christmas Eve, to claim the cottage she'd inherited, she came face-to-face with the handsomest man she'd ever seen. But looks weren't the only thing that Grant Kinca...

---

All Our Tomorrows

After losing her photographer fiance in an act of violence overseas, reporter Caroline James sought solace in home and family in St. Louis. Hoping to heal her shattered life, she threw herself into work at a local newspaper. Then David Sloan walked i...

---

The Family Man

The Davis Landing Observer Page 5 The Gossip Guru ...has more scandalous news about the beleaguered Hamilton family: Seems patriarch Wallace had an illegitimate child with someone well-known within the community. Does Mrs. Hamilton know about th...

---

Rainbow's End

Shelter from the Storm To lessen the pain of his wife's death, Keith Michaels headed cross-country. Yet though he had reached the Pacific Northwest, he still felt broken, empty and alone. When a sudden storm stranded him on Orcas Island, he sought r...

---

From This Day Forward

It Was A Shocking Proposal But Cara Martin had to say yes. After a frightening ordeal, she needed a safe haven, and her estranged husband, Dr. Sam Martin, offered to share his home. Live with Sam? The man she'd married had become a stranger long b...

---

A Dream To Share

Businessman Dies Of Boredom In One-Stoplight Town Not even that headline--however true--would save the Oak Hill Gazette. Mark Campbell had been sent to the tiny Missouri town with one goal: to convince Abby Warner to sell her family's financially ...

---

---

Where Love Abides

The widowed sheriff's daughter wanted just one thing: a mom. But the lady she'd set her sights on didn't consider herself mother or wife material. Christine Turner couldn't abide her attraction to handsome lawman Dale Lewis. She'd moved to Oak Hill f...

---

Against All Odds

Her life is in danger -- and so is his heart. For FBI Hostage Rescue Team member Evan Cooper and his partner, dignitary protection duty should have been a piece of cake. Unfortunately, Monica Callahan isn't making it easy. Estranged from her diploma...

---

Apprentice Father

His orphaned niece and nephew are depending on Clay Adams. This commitment-phobe substitute dad needs help, and he needs it fast! Nanny Cate Shepard comes to his rescue just in the nick of time. Cate is no stranger to tragedy, and her deep, abiding f...

---

Tides of Hope

He's an officer...but is he a gentleman? Not if you ask feisty single mom Kate MacDonald! Everything about Lieutenant Craig Cole, Nantucket's new Coast Guard commander, rubs her the wrong way. Worse, everyone else is smitten with the man--includin...

---

The Hero Next Door

He Thought the Big City Was Tough... Then former Chicago cop Justin Clay met his neighbor's rebellious teenage nephew. Just like Justin, the boy had come to Nantucket to put his difficult past behind him. But while love-shy tea shop owner Heather An...

---

An Eye for an Eye

Can their relationship survive a killer with vengeance in his heart? After he accidentally shoots a teenager at a tense standoff, FBI Hostage Rescue Team member Mark Sanders is sent to St. Louis to work as a field agent and get his bearings while th...

---

The Doctor's Perfect Match

His Nantucket neighbor is trying to fix him up with Marci Clay? First of all, Dr. Christopher Morgan doesn't date. Not since his last relationship ended in tragedy. And second, he and the pretty waitress with the secretive past come from two differen...

---

In Harm's Way

FBI special agent Nick Bradley has seen his share of kooks during his fifteen years with the Bureau. But Rachel Sutton is an enigma. She seems normal when she shows up at the FBI office in St. Louis--until she produces a tattered Raggedy Ann doll she...

---

A Father for Zach

A Little Boy In Need How to help a fatherless little boy deal with painful memories? Widowed mother Catherine Walker hopes a fresh start and a new home on Nantucket Island is the answer. But when she hires a handsome carpenter to help with renovatio...

---

Fatal Judgment

U.S. Marshal Jake Taylor has seen plenty of action during his years in law enforcement. But he'd rather go back to Iraq than face his next assignment: protection detail for federal judge Liz Michaels. His feelings toward Liz haven't warmed in the fiv...

---

---

Child of Grace

After giving up a high-powered corporate job, mom-to-be Kelsey Anderson decides to follow her dream. She moves to her late grandmother's lake house and decides to open a quilting shop in town. Then former army doctor Luke Turner moves in next door. T...

---

The Heart Remembers

Once upon a time, sensible Maggie Fitzgerald was a starry-eyed romantic. She'd loved Jake West from their first trembling teenage kiss, when he'd vowed to make her his wife. And she'd built her future on Jake's broad shoulders, never imagining anothe...

---

Deadly Pursuit

Three siblings bound by blood and a passion for justice. Three determined killers. Three protectors who don't intend to fail. MEET THE GUARDIANS OF JUSTICE Social worker Alison Taylor has a passion for protecting children and seeing that justic...

---

Seaside Reunion

After surviving a devastating tragedy, combat reporter Nate Garrison returns to the only place that ever felt like home: Starfish Bay. But his reunion with lovely Lindsey Collier is nothing like he'd imagined. The sad-eyed widow who runs the mercanti...

---

Lethal Legacy

The police say her father's death was suicide. But Kelly Warren says it was murder--and she has new evidence that she believes proves it. Detective Cole Taylor doesn't put much credence in her claim, and nothing in his case review suggests foul play....

---

Finding Home

Catch That Kid One stubborn boy is getting the better of Scott Walsh. The very busy project manager keeps finding the kid on his dangerous construction site. One warning to the boy's parents should take care of it. But when Scott meets widowed mot...

---

Vanished

Reporter Moira Harrisons is lost. In the dark. In a thunderstorm. When a confusing detour places her on a rural, wooded road, she's startled by the sudden appearance of a lone figure caught in the beam of her headlights. Though Moira jams on her brak...

---

That Certain Summer

Two very different sisters... an unexpected homecoming... one unforgettable summer Karen and Val are family--yet they're anything but close. Karen has carried the burden of responsibility for her aging mother ever since her gorgeous sister left ...

---

Seaside Blessings

The Healing Place Starfish Bay could be a fresh start for Kristen Andrews...even if her new landlord isn't exactly tossing down the welcome mat. Haunted by his past, Clint Nolan isn't ready to open his heart to another woman. But Kristen's also...

---

Trapped

A runaway teen. A desperate sister. And an intrepid PI determined to discover the truth. When librarian Laura Griffith's sixteen-year-old sister disappears on a frigid February day, leaving only a brief note behind, Laura resolves to do whatever i...

---

---

One Perfect Spring

Claire Summers is a determined, independent single mother who is doing her best to make lemonade out of the lemons life has handed her. Keith Watson is a results-oriented workaholic with no time for a social life. As the executive assistant to a loca...

---

Second Chance Summer

Restoring Hearts When Rachel Shaw and Jack Fletcher meet on a sunny Georgia beach, it seems like the perfect start to a romance. There's just one problem -- neither one is the least bit interested in falling in love. They're just looking for peac...

---

Deceived

For four years, Kate Marshall has been grieving the loss of her husband and their three-year-old son in a boating accident. But when she spots a familiar-looking child on an escalator in the mall, she is convinced it is the son she thought was dead. ...

---

Buried Secrets

After seven years as a Chicago homicide detective, Lisa Grant has hit a wall. Ready for a kinder, gentler life, she takes a job as a small-town police chief. But the discovery of a human skeleton by a construction crew at the edge of town taxes the r...

---

Hope Harbor

Tracy Campbell never wanted to leave Hope Harbor, Oregon, or the idyllic three-generation cranberry farm where she grew up. But life--and love--altered her plans. When tragedy strikes and changes her plans yet again, she finds herself back in her hom...

---

Thin Ice

After losing her parents in a car accident and her sister to a house fire, Christy Reed has been mired in grief. Life is finally starting to feel normal again when an envelope arrives in the mail--addressed in her sister's handwriting. And the note i...

---

Sea Rose Lane

After a devastating layoff, attorney Eric Nash heads back to the town where he grew up--only to discover that his childhood home is being transformed into a bed & breakfast. Instead of plotting his next career move in peace, he's constantly distracte...

---

Tangled Webs

After a disastrous Middle East mission ends his six-year Army Ranger career, Finn McGregor needs some downtime. A peaceful month in the woods sounds like the perfect way to decompress. But peace isn't on the agenda once he crosses paths with publishi...

---

Sandpiper Cove

Hope Harbor police chief Lexie Graham has plenty on her plate raising her son alone and dealing with a sudden rash of petty theft and vandalism in her coastal Oregon hometown. As a result, she has zero time for extracurricular activities--including r...

---

Dangerous Illusions

Trish Bailey is on overload trying to deal with a demanding job, an ailing mother, and a healing heart. When a series of unsettling memory lapses leads to a tragic death--and puts Trish under police scrutiny--her world is once again thrown into turmo...

---

---

Pelican Point

A crumbling lighthouse is not part of the inheritance Army doctor Ben Garrison expects to claim when he journeys to Hope Harbor. Fresh out of the service, he wants only to unload the tower of bricks, decompress from years of treating battlefield trau...

---

Hidden Peril

As teenagers, Kristin Dane and her two best friends took a vow to make the world a better place. Twenty years later, she's fulfilling that pledge through her fair trade shop that features products from around the world. All is well until, one by ...

---

Driftwood Bay

After tragedy upends her world, Jeannette Mason retreats to the tiny Oregon seaside town of Hope Harbor to create a new life. Vowing to avoid emotional attachments, she focuses on running her lavender farm and tea-room--until a new neighbor with a de...

---

Dark Ambitions

Former Army Night Stalker Rick Jordan usually has his camp for foster children to himself during the winter months. But someone has visited recently--leaving a trail of blood. One of the two clues left behind tips Rick off to the identity of his visi...

---

Starfish Pier

A year ago, ex-Delta Force operator Steven Roark left the rigors of combat behind to run fishing charters in Hope Harbor, decompress, and talk some sense into his kid brother. Business is good--but making peace with his past is more challenging than ...

---

Point of Danger

Radio talk show host Eve Reilly is used to backlash from her pot-stirring on-air commentary and interviews, but now it seems a disgruntled listener is resorting to more than angry words to express their displeasure. When a suspicious package arrives ...

---

Blackberry Beach

Katherine Parker is on the cusp of having everything she ever wanted--fame, money, and acclaim. So why isn't she happy? In search of answers, she comes incognito to Hope Harbor on the Oregon coast for some R&R. Maybe in her secluded rental house ...

---

Labyrinth of Lies

When the daughter of a high-profile businessman disappears from an exclusive girls' boarding school, police detective Cate Reilly is tapped for an undercover assignment. It doesn't take her long to realize that beneath the veneer of polish an...

---

Sea Glass Cottage

Christi Reece is desperate. The one-time golden girl's life has tarnished, and a cascade of setbacks has left her reeling. She needs help, and she's certain Jack Colby is in a position to provide it. When she shows up in Hope Harbor, howe...

---

Body of Evidence

Forensic pathologist Grace Reilly has seen her share of unusual deaths in rural Missouri. But when she begins to notice a curious pattern in autopsies of elderly residents whose demise appears to be natural, she takes her concerns to Sheriff Nate Cox...

---

Windswept Way

Buying a haunted house was never in Ashley Scott's plans, but when an intriguing opportunity drops into her lap after a major setback, she finds herself trekking cross-country to Hope Harbor on the Oregon coast to launch a new life. Wounded warrior J...

---

---
Award-Winning Books by Irene Hannon
Against All Odds
2009 RT Reviewers Choice Award -- Best Inspirational
Deadly Pursuit
2012 Christian Retailing's Best -- Contemporary Romance
Deceived
2015 Rita Award -- Inspirational Romance
Driftwood Bay
2020 Carol Award -- Romance
A Father for Zach
2011 Carol Award -- Contemporary Romance
Hidden Peril
2019 Carol Award -- Romantic Suspense
In Harm's Way
2011 Rita Award -- Inspirational Romance
Never Say Goodbye
2003 Rita Award -- Inspirational Romance
The Way Home
2000 RT Reviewers Choice Award -- Steeple Hill Love Inspired
Frequently Asked Questions (FAQ)
Irene Hannon has published 61 books.
The next book by Irene Hannon, Windswept Way, will be published in April 2023.
The first book by Irene Hannon, In Name Only, was published in January 1985.
Yes. Irene Hannon has 12 series.