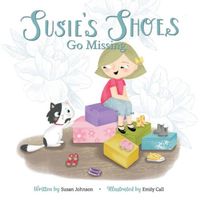 Newest Release
Bibliography:

64 Books - 7 Series

First Book:

February 1979

Latest Book:

December 2020

Rating:
About the Author
One night, Susan Johnson tossed aside the book she was reading with disgust. She commented on the poorly crafted novel to her husband, who flippantly suggested that she write one of her own. She took him up on his challenge. The former art historian spends a great deal of time researching her books. She draws upon her ability to use her imagination to creative lively characters and bestselling books. Born in 1939 in northern Minnesota in a small town, Johnson had plenty of opportunity to use her imagination to entertain herself. Today, she lives in the boondocks near North Branch, Minnesota.
Full Series List in Order
1 - Blaze (Nov-1986)
2 - Forbidden (Sep-1991)
3 - Silver Flame (Mar-1988)
4 - Brazen (Nov-1995)
5 - Force of Nature (Mar-2003)
1 - Gorgeous As Sin (Mar-2009)
2 - Sexy As Hell (Jan-2010)
3 - Sweet As the Devil (Mar-2011)
4 - Seductive As Flame (Dec-2011)
1 - Outlaw (Nov-1993)
2 - To Please a Lady (Nov-1999)
1 - When You Love Someone (Jan-2006)
2 - When Someone Loves You (Aug-2006)
3 - At Her Service (Mar-2008)
1 - Blonde Heat (Jun-2002)
2 - Hot Pink (Jul-2003)
3 - Hot Legs (Jun-2004)
4 - Hot Streak (Aug-2004)
5 - Hot Spot (Jun-2005)
6 - French Kiss (Jun-2006)
7 - Wine, Tarts & Sex (Jul-2007)
8 - Hot Property (Aug-2008)
1 - Seized by Love (Feb-1979)
2 - Love Storm (Jun-1981)
3 - Sweet Love, Survive (Jun-1985)
4 - Golden Paradise (Aug-1990)
1 - Sinful (Aug-1992)
2 - Wicked (Dec-1996)
3 - Taboo (Nov-1997)
4 - A Touch of Sin (Mar-1999)
5 - Legendary Lover (May-2000)
Book List in Order:
64

titles
Seized by Love

Alisa could no longer resist his touch. Demanding her surrender, Nikki's eyes had blazed with desire. Now his lips burned over her flesh, kissing away her protests, forcing her response. She cried out -- half in pleasure, half in pain. There was ...

---

Love Storm

Desperate to avoid a loathsome match, Zena Turku ran from the glittering ballroom into a snowy night - and threw herself on the mercy of a darkly handsome stranger. He was her only hope of escape, her one guarantee of safe passage to her home in the ...

---

Sweet Love, Survive

Kitty Radachek played to perfection her role as the demure wife of a powerful army commander she could never love ... until a stolen kiss from a daring cavalry captain awoke in the countess a flaring passion more devastating than the fires of war tha...

---

---

---

---

---

Golden Paradise

A woman unlike any other The Countess Lisaveta Lazaroff seemed to fear nothing--not war, not marauding bandits, certainly not the scandalized whispers of polite society. And from the first, Prince Stefan Bariatinsky was fascinated by her beguiling...

---

---

---

---

---

---

---

Wicked

Serena Blythe's plan to escape a life of servitude had gone terribly awry. So she took the only course left to her. She sneaked aboard a sleek yacht about to set sail--and found herself face-to-face with a dangerous, sensual stranger. Beau St. Ju...

---

Taboo

Married against her will to the brutal Russian general who conquered her people, Countess Teo Korsakova has never known what it means to want a man ... until now. Trapped behind enemy lines, held captive by her husband's most formidable foe, she shou...

---

Playing with Fire

in Rough Around the Edges

Four extraordinary romance authors pen scintillating stories of the most dangerous rogues -- and the fiery women who can soften their hardened hearts......

---

---

Bound & Determined

in Captivated

The Princess Marko hs kidnapped Hugh Dalsany, Marquis of Crewe. Now Hugh finds himself her prisoner, shackled to a bedpost. But it isn't long before he becomes a very willing captive, succumbing to her expert skills in seduction....

---

---

---

A Tempting Wager

in Naughty, Naughty

SUSAN JOHNSON brings you to the decadent Regency period, where four bored debutantes concoct a most delightfully wicked contest: to seduce the so-called reformed profligate, Simon Mar, Marquis of Narne....

---

Legendary Lover

Dear Readers, I had heard the gossip. Who in London hadn't? But whether or not the elusive Venus Duras would favor one of her numerous suitors didn't concern me. After all, I had a surfeit of obliging lovers. And then I bumped into her. Literally....

---

Risking It All

in Fascinated

When the destitute Felicia Greenwood wins the gamble of her life with the aid of the Duke of Grafton, she never expects to receive an introduction to the delectable delights of desire....

---

Temporary Mistress

THE TATTLER -- April 1802 It wouldn't surprise you, gentle readers, to learn that Dermott Ramsay, the earl of Bathurst and favorite of all ladies, married or otherwise, has a new paramour. What may surprise you is her name. For she is none other tha...

---

---

---

---

Blonde Heat

SUMMER OF LOVE Three best friends from the city are coming home this summer--and temperatures are going to soar. For each, the small lakeside town of Ely holds warm memories of erotic trysts and first crushes, passionate nights and bittersweet hea...

---

Out of the Storm

in Delighted

A soaking downpour...a gamekeeper's remote hut...a night of unforgettable passion--vivid memories shockingly reawakened at the formal introduction of smolderingly handsome Prince Radovsky to his new stepsister, the fiery Lady Darlington......

---

From Russia, With Love

in Taken by Surprise

An erotic game takes a most unpredictable course. A forbidden encounter leads to desire and danger. And a lover's provocative tale includes a very surprising twist. Tried-and-true passion may be lovely, but when it comes to deliciously wicked sinning...

---

---

Force of Nature

Some Desires Can't Be Denied Raised by her mother in bohemian Italy, free-spirited Jo Attenborough's modern notions of a woman's role frequently land her in hot water...but nothing like the heat she experiences under the penetrating gaze of a mysteri...

---

---

---

Hot Legs

With her stunning red hair and a body to die for, curator Cassie Hill has no trouble turning heads. After her lying, cheating ex, however, she's ready to swear off men. But when a priceless painting goes missing from the museum, they call in a hot-sh...

---

---

---

---

The Wedding Surprise

in Twin Peaks

TOGETHER, THEY TAKE PLEASURE TO THE LIMIT--AND BEYOND... Naughty and nice...good and bad...sweet and seductive...hot and hotter...Ifs stimulation for the body--and the mind--as Susan Johnson and Jasmine Haynes exquisitely explore the erotic advent...

---

American Beauty

in Not Just for Tonight

American heiress Evelyn Sweet is renowned for three things: her stunning looks, her formidable temper, and her ability to judge a horse. Nicholas DeLacey, The Marquis of Vigne, has the best stable in England, not to mention the most scandalous reputa...

---

When You Love Someone

Some men are not for marrying. They have no interest in being dutiful, respectable husbands. What they offer is a sensual paradise to any woman who dares take it. And Julius D'Abernon, Marquis of Darley, is the master of the game. Julius'...

---

---

French Kiss

L.A. architect Nicole Lesdaux has just signed on to create a tree house for record producer Johnny Patrick's little girl, Jordi. The hunky single dad has given Nicky an unlimited budget--but she might have agreed to work for free, if it meant watchin...

---

When Someone Loves You

It was common gossip that "Duff" D'Abernon, Marquis of Darley, had returned from Waterloo a changed man. Gone was the reckless youth and in his place was a sullen recluse more interested in tending his horses than attending balls. But now the Marquis...

---

The Broken Book

A remarkable story of one woman's struggle to become the writer she has passionately planned to be her entire life—this fiercely beautiful novel conjures vivid and powerful emotions. Following the stunningly beautiful Katherine Elgin from a small ...

---

---

School for Scandal

in Perfect Kisses

James Bell, Viscount Ormond, is a shameless rake, infamous for his skills in seduction--and Claire Russell doesn't intend for her sister to become his latest conquest. That is why she's come to the viscount's private masked ball. The flagrant sensual...

---

---

Hot Property

To finish her exposé on art collectors, Zoe Chandler has fled to a secluded lake house. Fortunately, there is a barista nearby to satisfy her caffeine habit. And maybe her muscle-bound neighbor in the cargo shorts could satisfy some of her other nee...

---

---

---

As You Wish

in Undone - Brava

When A Lady Is Willing, There Will Always Be A Way... Felicity Belvoir is a charmer indeed -- and still a virgin. But not for long. The dashing earl of Albion has vowed to be her first lover...and he is known throughout London as the gold standard...

---

---

---

Low Hanging Fruit

/ General Fiction

In the year 1980,fifteen year old Erica is just coming to terms with her parents' divorce and the resulting hardship. When she learns that her mother plans to relocate the family to the remote but beautiful town of Leavenworth, Wa., her world comes t...

---

The Master's Garden

Anna is a wild rose enduring harsh elements. Anna hears of the Master Gardener who puts flowers in a beautiful garden and lovingly provides for their every need. Will the Master Gardener rescue Anna from the hot sun and dangerous thorns before they d...

---

Seductive As Flame

It was common gossip that there wasn't a woman alive safe from the seductive skills of Alec Monro, Earl of Dalgliesh. On the other hand, there wasn't a woman alive who didn't secretly covet a dalliance with the audacious, disreputable, dangerously e...

---

Where Did All The Fairies Go?

Why do you think no one has ever seen a fairy? "Where Did All the Fairies Go?" offers a possible answer in a book filled with exciting adventures of mischievous fairies. The young reader is gently led thru simple life lessons when the fairies rid...

---

My Hundred Lovers

A woman reflects on her life of sensual and sexual experience in an extraordinary, beautiful, and shocking new novel from one of Australia's premier novelistsThat afternoon in the small bedroom the light was blue. The curtains were cream and blew so...

---

---

A Fine Balance

/ Romantic Suspense

Ex-NFLEx-LAPD UndercoverEx-husbandJack Morgan, Deputy Sheriff, is back on his home turf where life used to be laid back. The community pot culture was tolerated by local law enforcement so long as everyone understood the rules of engagement. Keep yo...

---

Kiss or Kill Under the Northern Lights

/ Contemporary Romance

Get your heart racing...Swoon with Romance and Mystery. This starry-night collection delivers a story to fit all moods. From sweet toe-curling kisses to danger-dodging goosebumps, together these seven short reads have it all. So good, you won't be ab...

---

---

---

---

Northern Seduction

/ Contemporary Romance

Get your heart racing…This starry-night collection is full of toe-curling kisses. So good, you won't be able to stop at just one. Take It Easy by Susan Johnson - They had nothing in common but trauma. Together, can love make their lives worth livin...

---

Susie's Shoes Go Missing

"Susie''s Shoes Go Missing is a book about a little girl named Susie, Pirate, her cat and the use of prepositions. Each morning, one of Susie''s shoes disappears until she finds them with the help of her cat, Pirate. But who keeps hiding her shoes?...

---

Bells of the Horses

For many years, the members of a small Pentecostal church in Ohio prayed faithfully for the Lord's blessings on behalf of their church and individuals. One Easter morning, a racehorse trainer in the congregation has a foal born to an old mare she res...

---
Award-Winning Books by Susan Johnson
Golden Paradise
1990 RT Reviewers Choice Award -- K.I.S.S. ('Knight In Shining Silver') Hero
Out of the Storm
2002 RT Reviewers Choice Award -- Historical Anthology
Silver Flame
1988 RT Reviewers Choice Award -- Sensual Historical Romance
Frequently Asked Questions (FAQ)
Susan Johnson has published 64 books.
Susan Johnson does not have a new book coming out soon. The latest book, Bells of the Horses, was published in December 2020.
The first book by Susan Johnson, Seized by Love, was published in February 1979.
Yes. Susan Johnson has 7 series.