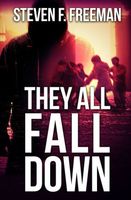 Newest Release
Bibliography:

15 Books - 1 Series

First Book:

September 2013

Latest Book:

February 2021

Rating:
Full Series List in Order
1 - Nefarious (Sep-2013)
2 - Ruthless (Jan-2014)
3 - T Wave (Apr-2014)
4 - Havoc (Jul-2014)
5 - The Devil's Due (Jan-2015)
6 - The Evolution of Evil (Jul-2015)
7 - Tears of God (Nov-2015)
Book List in Order:
15

titles
Nefarious

"A heady thriller that gathers force with the understated menace of a tidal wave, then smashes home...Readers will be absorbed by Freeman's never-flashy expertise...Superb touches of eeriness creep in." Kirkus Indie ReviewsWhen Army Communications Ca...

---

Ruthless

A disabled ex-Army officer turned world-class cryptographer...a beautiful FBI agent...and a ruthless murderer on the loose in Atlanta.A heartless killer ambushes and guns down ex-mobster Jay Mancini. Days later, the killer disposes of Mancini's liv...

---

T Wave

Stokley Medical Group has a secret...When FBI Forensic Accountant Mallory Wilson is called to investigate the potential theft of narcotics from a local medical group, the routine case takes a sinister turn as she and boyfriend Alton Blackwell uncover...

---

Havoc

Technology So Valuable It Could Change Your Life…Or End itWhen Cryptologist Alton Blackwell takes his girlfriend, FBI Agent Mallory Wilson, on a surprise trip to Italy, the couple expects the vacation of a lifetime, but their pleasure is short-live...

---

The Devil's Due

Former Army Captain Alton Blackwell never thought he'd return to Afghanistan. Now he has no choice. While on their honeymoon, cryptologist Alton Blackwell and FBI Agent Mallory Wilson receive a frantic plea for help. Resourceful Afghani teenager Mas...

---

The Evolution of Evil

The Galapagos Islands: Beautiful, Exotic…and DeadlyJan Summit, senator's wife and world-class biologist, has disappeared from her Alzheimer's research center on the Galapagos Islands. When cryptologist Alton Blackwell is called in to decode the...

---

Tears of God

"I very much enjoyed 'Tears of God' - if I ever have to go on a covert mission, I'll definitely be taking Steve Freeman with me!" - Ruth Downie, New York Times bestselling author of MEDICUS.A Prophecy…a Promise…a ProjectA chance encount...

---

Paw Prints

Nicky the three-pawed Maltese wants a forever home but can't seem to find one. Follow his adventures as he encounters rescue workers, foster families, and a collection of other dogs. Some of the humans he meets are nice, but will he ever find a lovin...

---

When the Killing Starts

The Winter Olympics: the perfect time for competition, sportsmanship…and mayhemDays before the Winter Olympics are scheduled to begin, host country South Korea learns of a planned attack from the north to coincide with the Games. With no details su...

---

---

---

The Extraction

An anonymous note launches ex-FBI criminal profiler Decimus Farr into a nightmare. His fiancée has been kidnapped, and Farr is given only twenty-four hours to follow and solve a trail of ten hidden clues, or she dies.Identifying the abductor could p...

---

Thirty Seconds to Live

One speedboat crash...15 victims...and 30 seconds before you dieA jet-boat crash sets in motion a frantic investigation to find the saboteur. But with 15 fatalities, simply identifying the intended victim among the crowd proves a challenge. As the se...

---

They All Fall Down

Childhood's worst nightmare...Abelardo Molina, rising star of the infamous Los Zetas cartel, launches an effort to create an unlikely criminal alliance, a super-syndicate bent on exploiting the lucrative world of human trafficking. To avoid detection...

---

Super Flare

Today's UV Index: LethalDeep inside the sun, magnetic lines of force are growing...building in ways not experienced for a millennium.When a pair of increasingly severe solar storms disables internet, communications, and GPS for millions around th...

---

Supertide

No need to visit the ocean. The ocean is coming to visit you...Deep in the Atlantic, the ocean floor is shifting, changing in ways unseen for millions of years. The tectonic movement launches a pair of tsunamis on North America's East Coast, killing ...

---
Frequently Asked Questions (FAQ)
Steven F. Freeman has published 15 books.
Steven F. Freeman does not have a new book coming out soon. The latest book, They All Fall Down, was published in February 2021.
The first book by Steven F. Freeman, Nefarious, was published in September 2013.
Yes. Steven F. Freeman has 1 series.