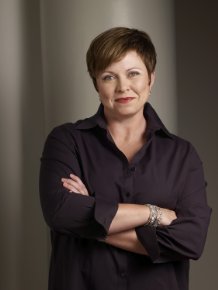 About the Author
Born and raised in the Midwest, Tami Hoag started writing at a young age. She began her writing career in 1988 writing category romances for Bantam's Loveswept line. She wrote sixteen novels in five years ranging in genre from romantic comedy to romantic suspense. Readers enjoy her richly developed characters and snappy dialogue. This writer did not want to be pigeonholed as a strictly romance author. Hoag and three colleagues made the leap from romance to thrillers at about the same time. The group called themselves the Divas.

Hoag is an avid equestrian who competes in dressage events. She splits her time between the warm and sunny climates of Los Angeles and Palm Beach County.

Full Series List in Order
1 - The Restless Heart (Mar-1991)
2 - Lucky's Lady (Jan-1992)
3 - Cry Wolf (Aug-1993)
4 - A Thin, Dark Line (Feb-1997)
1 - Straight from the Heart (Sep-1989)
2 - The Last White Knight (Aug-1992)
1 - A Thin, Dark Line (Feb-1997)
2 - The Boy (Dec-2018)
1 - Night Sins (Feb-1995)
2 - Guilty As Sin (Mar-1996)
1 - Dark Horse (Aug-2002)
2 - The Alibi Man (Apr-2007)
1 - The Trouble With J.J. (Apr-1988)
2 - Magic (Sep-1990)
1 - Ashes to Ashes (Apr-1999)
2 - Dust to Dust (Aug-2000)
3 - Prior Bad Acts (Apr-2006)
3.5 - The 1st Victim (May-2013)
4 - The 9th Girl (Jun-2013)
5 - The Bitter Season (Jan-2016)
1 - Deeper Than the Dead (Jan-2010)
2 - Secrets to the Grave (Jan-2011)
3 - Down the Darkest Road (Dec-2011)
1 - Rumor Has It (Jan-1989)
2 - Man of Her Dreams (Jun-1989)
3 - Tempestuous (Nov-1990)
1 - The Trouble With J.J. (Apr-1988)
2 - Heart of Gold (Apr-1990)
3 - Keeping Company (Jun-1990)
4 - Reilly's Return (Aug-1990)
5 - Magic (Sep-1990)
Multi-Author Series List
Taken By Storm
(Mar-1992)
Book List in Order:
39

titles
---

The Trouble With J.J.

Just what Genna Hastings needed, a conceited creep of a new neighbor with rippling muscles, mile-wide shoulders, and a wicked Jack Nicholson smile that could melt stone! It wasn't often that women resisted star quarterback J.J. Hennessy, but he was r...

---

McKnight in Shining Armor

Kelsie Connors groaned! It was bad enough that she'd picked up the wrong briefcase--the one filled with slinky lingerie she sold at home parties--but now the chimp she had brought to audition for a big TV campaign was destroying advertising executive...

---

Rumor Has It

Nick Leone was a walking hunk poster, a Yankee heartthrob with a mysterious past and a rogue's smile that dared Katie Quaid to unmask him! The exquisite Southern lady had her own deep secrets, and when Nick heard the tremble beneath her smooth, sweet...

---

Mismatch

Bronwynn Prescott Pierson had certainly made a mess of things! She'd left a disloyal groom at the altar, driven to Vermont, and now stood, near-tears, on the steps of a ramshackled Victorian house in her satin wedding gown. When a gorgeous, all-Ameri...

---

Man of Her Dreams

When Rylan Quaid proposed to Maggie McSwain at his sister's wedding, joy and fierce disappointment warred in her heart. She'd loved him forever, wanted him desperately. But could he really be so insensitive that he would suggest it was time he settle...

---

Straight from the Heart

Jace Cooper was back in town, and Rebecca Bradshaw desperately wished she didn't have to face him! Seven years before, the impossibly charming, utterly tempting baseball player had taught her passion, then broke her heart when he'd left to play in th...

---

Heart of Gold

Elegantly handsome Shane Callan was trouble -- Dirty Harry in disguise -- and not quite civilized underneath! But Faith Kincaid was stuck with him. Her decision to appear as a witness in a bribery trial had placed her in peril so great, Shane had b...

---

Keeping Company

Dressed as a sexy comic-book princess on her way to a costume party, Alaina Montgomery couldn't believe it when her car broke down on a dark mountain road! The last thing she needed was a disguised Dylan Harrison trying to rescue her -- and gett...

---

Reilly's Return

The Sexiest Man on Earth... The fan magazines called Pat Reilly the Hunk from Down Under, the man-of-action movie star who made strong women tremble, but young widow Jayne Jordan had fled Hollywood--and the attraction that burned between her and her...

---

---

Magic

A HOUSE OF MYSTERY AND SHADOWS Strange things were happening in Drake House: A perfect rose appearing on a pillow... an antique dress materializing out of nowhere... a mysterious spirit roaming the halls ... A WOMAN OF SILK AND SUSPICION Five ye...

---

Tempestuous

The Devilishly Reckless Rogue... When Alexandra Gianni felt a man grab her shoulder and quickly threw Christian Atherton to the ground, the aristocratic charmer was intrigued and challenged! Women were supposed to fall at his feet, not the other ...

---

The Restless Heart

The Wicked Cajun Rogue... Remy Doucet was no ones idea of the perfect nanny for a houseful of wild kids, but Danielle Hamilton was desperate enough to hire the dark-eyed hunk with the boxer's build and the sexiest grin she'd ever seen! The world-c...

---

Sarah's Sin

The Handsome Hospital Romeo... Matt Thorne awakened to find that his nurse looked like an angel from another century--and her innocent beauty made the world seem suddenly new. The brash doctor had come to his sister's country inn to recover from i...

---

Heart of Dixie

An All-American Smile, and Blue Eyes a Girl Could Drown In... Writer Jake Gannon couldn't believe it - his brand-new Porsche had overheated in the middle of nowhere, and now he was being towed by a brunette named Dixie! He'd driven South in search...

---

Lucky's Lady

HE WAS A MAN OF DARK DESIRES.... As wild and mysterious as the Louisiana swamp he called home, Lucky Doucet was a dangerously attractive Cajun no woman could handle. His solitary life left no room for the likes of elegant Serena Sheridan, but Luck...

---

Taken By Storm

STORM -- He Was All Muscle, All Heart -- and All Hers His smoky drawl made her think of rumpled sheets and long, deep kisses that lasted half the night, but Julia McCarver was furious when Storm Dalton threw her over his shoulder and vowed he ...

---

The Last White Knight

ERIK - A Golden-Haired Sir Galahad with a Taste for Twinkies... He arrived on the scene like a conqueror, defending her cause with confidence and compassion, but Lynn Shaw suspected the charismatic politician was only looking for headlines! Intrig...

---

Still Waters

STILL WATERS RUN DEEP... When Elizabeth Stuart searched for a quiet, peaceful home for herself and her son, Still Creek seemed perfect. Nestled in the heart of lush Amish farmlands, this small, idyllic Minnesota town would allow her to put a shatter...

---

Cry Wolf

NO ONE HEARD HER CRY FOR HELP... All attorney Laurel Chandler wanted was a place to hide, to escape the painful memories of a case that had destroyed her career, her marriage, and nearly her life. But coming home to the peaceful treelined streets ...

---

---

Dark Paradise

A story filled with heart-stopping suspense and shocking passion ... a story of a woman drawn to a man as hard and untamable as the land he loves, and to a town steeped in secrets--where a killer lurks. Marilee Jennings had come to New Eden, Monta...

---

Night Sins

A peaceful Minnesota town, where crime is something that just doesn't happen, is about to face its worst nightmare. A young boy disappears. There are no witnesses, no clues--only a note, cleverly taunting, casually cruel. Has a cold-blooded kidnapper...

---

Guilty As Sin

A cold-blooded kidnapper has been playing a twisted game with a terrified Minnesota town. Now a respected member of the community stands accused of a chilling act of evil. But when a second boy disappears, a frightened public demands to know: Have th...

---

A Thin, Dark Line

Terror stalks the streets of Bayou Breaux, Louisiana. A suspected murderer is free on a technicality, and the cop accused of planting evidence against him is ordered off the case. But Detective Nick Fourcade refuses to walk away. He's stepped over th...

---

Ashes to Ashes

He performs his profane ceremony in a wooded Minneapolis park, anointing his victims, then setting the bodies ablaze. He has already claimed three lives, and he won't stop there. Only this time there is a witness. But she isn't talking. Enter Kate...

---

The Putt at the End of the World

A unique novel written by a host of accaimed authors--Dave Barry, Richard Bausch, James Crumley, James W. Hall, Lee K. Abbott, Tami Hoag, Tim o"Brien, Ridley Pearson, and Les Standiford-- follows a kooky cast of characters on the pro-golf circuit as ...

---

Dust to Dust

Sorry. The single word was written on the mirror. In front of it hung the body of Andy Fallon, a Minneapolis Internal Affairs cop. Was it suicide? Or a kinky act turned tragic accident? Either way, it wasn't murder. At least not according to the ...

---

Dark Horse

It is the story of an ex-cop, a missing girl, and a killer locked in a race where there can be only one winner--and the losers die trying. In a trailer in a Florida swamp, time is running out for eighteen year-old Erin Seabright. A pawn in a kidn...

---

Kill the Messenger

Bike messenger Jace Damon is on his last delivery of a long day--a package from one of L.A.'s sleaziest defense attorneys, Lenny Lowell. But when Jace tries to make the drop, he is chased, shot at, and barely escapes with the package--and his life. M...

---

Prior Bad Acts

It was a crime so brutal, it changed the lives of even the most hardened cops. Everyone agrees that Karl Dahl is the killer. Only Judge Carey Moore seems to be standing in the way of keeping him in custody. Her ruling that Dahl's prior criminal recor...

---

---

The Alibi Man

In her most pulse-pounding thriller yet, #1 New York Times bestselling author Tami Hoag brings back Elena Estes, the street-smart heroine of Dark Horse--and propels readers into the heart of decadence and danger: seductive, ultrarich Palm Beach socie...

---

Deeper Than the Dead

California, 1985. Four children and young teacher Anne Navarre make a gruesome discovery: a partially buried female body, her eyes and mouth glued shut. A serial killer is at large, and the very bonds that hold their idyllic town together are about t...

---

Secrets to the Grave

"My daddy hurt my mommy." The 911 call from a small child sends the idyllic California town of Oak Knoll into a tailspin. A brutal crime scene is discovered: the body of Marissa Fordham with her young daughter, Haley, injured but alive. Sheriff's de...

---

Down the Darkest Road

Once upon a time I had the perfect family. I had the perfect husband. I had the perfect children. I had the perfect life in the perfect home. And then, as in all fairy tales, evil came into our lives and destroyed us. Four years after the unsolved d...

---

The 1st Victim

/ Thriller

Sam Kovac and Nikki Liska return to investigate the death of a Jane Doe in New York Times bestseller Tami Hoag's short story The 1st Victim. New Year's Day is a time for new beginnings, but Minneapolis homicide detectives Sam Kovac and Nikki L...

---

The 9th Girl

#1 New York Times bestselling author Tami Hoag brings back her fan-favorite Minneapolis investigators Sam Kovac and Nikki Liska in the haunting new thriller The 9th Girl. The ninth unidentified body to turn up in Minneapolis in 2012 is nicknamed J...

---

Cold Cold Heart

Dana Nolan was a promising young TV reporter until a notorious serial killer tried to add her to his list of victims. Nearly a year has passed since she survived her ordeal, but the physical, emotional, and psychological scars run deep. Struggling wi...

---

The Bitter Season

#1 New York Times bestselling author Tami Hoag explores the devastating consequences of the secrets families keep in this powerful thriller. As the dreary, bitter weather of late fall descends on Minneapolis, Detective Nikki Liska is restless, alr...

---

The Boy

An unfathomable loss or an unthinkable crime? #1 New York Times bestselling author Tami Hoag keeps you guessing in her most harrowing thriller yet. A panic-stricken woman runs in the dead of night, battered and bloodied, desperate to find help... ...

---

---

---
Award-Winning Books by Tami Hoag
The Alibi Man
2007 RT Reviewers Choice Award -- Suspense Novel
Cry Wolf
1994 RT Reviewers Choice Award -- Romantic Suspense
Lucky's Lady
1993 RT Reviewers Choice Award -- Contemporary Romance
Mismatch
1989 RT Reviewers Choice Award -- Bantam Loveswept
Night Sins
1995 RT Reviewers Choice Award -- Suspense Novel
Frequently Asked Questions (FAQ)
Tami Hoag has published 39 books.
Tami Hoag does not have a new book coming out soon. The latest book, Bad Liar, was published in December 2021.
The first book by Tami Hoag, The Trouble With J.J., was published in April 1988.
Yes. Tami Hoag has 10 series.