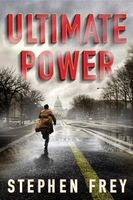 Newest Release
About the Author
Steve lives in northern Virginia just outside Washington, DC. After a career in finance at JP Morgan in New York City and two European banks, he committed to writing full time.

Since 1995 he's had 18 novels published.
His latest, Red Cell 7, is a sequel to Arctic Fire and will be published on January 21, 2014.

Steve has three daughters, Christina, Ashley and Gabriella. He enjoys fly-fishing and golf.