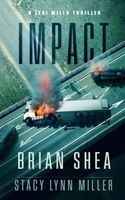 Newest Release
Bibliography:

19 Books - 5 Series

First Book:

March 2018

Latest Book:

March 2023

Rating:
Full Series List in Order
1 - Murder Board (Oct-2019)
2 - Bleeding Blue (Jan-2020)
3 - The Penitent One (Aug-2020)
4 - Sign of the Maker (Apr-2021)
5 - Cold Hard Truth (Mar-2022)
1 - Fuze (Dec-2022)
2 - Proximity (Feb-2023)
3 - Impact (Mar-2023)
1 - Kill List (Mar-2018)
2 - Pursuit of Justice (Jul-2018)
2.5 - Unkillable (Jan-2019)
3 - Targeted Violence (Apr-2019)
4 - Murder 8 (Mar-2020)
1 - Drift (Dec-2019)
1 - Hunting the Mirror Man (Jun-2022)
2 - The King Snake (Jul-2022)
3 - The Butcher of Belarus (Sep-2022)
4 - The Green Samurai (Mar-2023)
Book List in Order:
19

titles
Kill List

TO STOP A TERRORIST ATTACK, A VETERAN FBI AGENT MUST JOIN FORCES WITH A BANK ROBBER.

"...quick-moving, exciting, and eventful..." —Booklife Prize Critic's Report

FBI Special Agent Nick Lawrence has just transferre...

---

Pursuit of Justice

For a young victim of human trafficking, FBI Agent Nick Lawrence is the only hope.

"A gripping and action-filled storyline make this sequel a standout page-turner." —Booklife Prize Critic's Report

Nick Lawrence re...

---

Unkillable

Character isn't taught: it's born.

Nick Lawrence's near-death experience while serving overseas had a lasting impact, redirecting his life's path. Join Nick as he leads a small group of Army Rangers on a support mission f...

---

Targeted Violence

Another school shooting.

Another senseless act of violence.

But this one is different.

It isn't random. It was orchestrated by a mysterious outsider.

And it's just the beginning.

"This is Shea ...

---

Murder Board

On the tough streets of Boston, justice requires a detective who isn't afraid to break the rules.

"Brian Shea is the real deal. A veteran detective turned thriller author...It truly doesn't get any better..." —Ste...

---

---

Bleeding Blue

With two street gangs on the brink of war, Detective Michael Kelly must solve a murder before the entire town goes up in flames.Boston Homicide Detective Michael Kelly just took his latest case. It seemed simple enough: a convenience store clerk ...

---

Murder 8

When a senator's daughter is found dead in a Boston alleyway, former FBI agent Nick Lawrence is called into action.

A powerful new drug has hit the streets of Massachusetts, and overdoses are skyrocketing to epidemic proportions. S...

---

The Penitent One

From the acclaimed author of ITW Award finalist Murder Board comes a searing case that will drive Detective Michael Kelly to the brink."Brian Shea is the real deal," —Steve Konkoly, USA Today Bestselling Author of the Ryan Decker Se...

---

---

Smoke Signal

Some people can't start over.Some pasts you can't outrun.And when Rachel Hatch's past comes back to haunt her,The only thing she can do is what she does best.Fight.Rachel Hatch returns to Hawk's Landing after closing the chapter on her father's death...

---

Sign of the Maker

When a bomber targets the city he loves, Detective Kelly must decide how far he'll go to stop them.A blast rips through downtown Boston on an early October morning and Detective Michael Kelly races to the scene. But before he can begin to make ...

---

Cold Hard Truth

A suspicious disappearanceA father's long quest for justiceConnected by a secret spanning over twenty yearsKelly sets out to expose the truthAs a killer aims to silence him foreverThe son of Boston Police Chief Tom Ryan goes missing on a harbor cruis...

---

Hunting the Mirror Man

As FBI Agent Sterling Gray races to catch a serial killer hunting women in the American heartland, a chilling set of similar murders appears in London.For FBI profiler Sterling Gray, every day in the Bureau's Behavior Analysis Unit is another shot at...

---

The King Snake

When a sadistic human trafficker leads the kidnapping of an Interpol agent, only FBI profiler Sterling Gray can get inside his head...if Gray can stay alive long enough to do it.The authorities have finally captured Somsak Ritthirong, the most danger...

---

The Butcher of Belarus

As a brutal serial killer terrorizes a migrant camp on the Polish border, an FBI profiler must get inside his twisted mind...before another little girl is killed.On the border between Poland and Belarus, thousands of migrants are struggling for survi...

---

Fuze

Special Agent Lexi Mills chases the criminal who killed her partner in this thrilling novel of grit, betrayal, and retribution.After a lifetime of fighting to get what she wants, Lexi Mills has finally made it into the elite ATF Special Response Team...

---

Proximity

An old foe has returned for revenge...but Lexi Mills never backs down from a fight.When chaos erupts at a local grocery store in a quiet town near Sacramento, police arrive to discover a horrifying scene-explosive devices trapping a crowd of civilian...

---

The Green Samurai

When a violent turf war between rival Yakuza clans exposes a burgeoning black market gun trade in Tokyo, FBI profiler Sterling Gray must hunt a shadowy criminal mastermind.After a brutal battle for supremacy between opposing Yakuza syndicates goes so...

---

Impact

A religious zealot has plans to bring the country to its knees.Lexi Mills is hellbent on taking him down.Brace for Impact!ATF Agent and resident bomb expert Lexi Mills is on a mission. Commanding a task force of hand-picked specialists, she sets her ...

---

---
Frequently Asked Questions (FAQ)
Brian Shea has published 19 books.
Brian Shea does not have a new book coming out soon. The latest book, Impact, was published in March 2023.
The first book by Brian Shea, Kill List, was published in March 2018.
Yes. Brian Shea has 5 series.