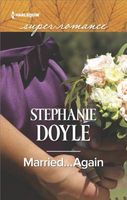 Newest Release
Bibliography:

24 Books - 1 Series

First Book:

June 1997

Latest Book:

February 2018

Rating:
Full Series List in Order
1 - The Comeback of Roy Walker (Mar-2015)
2 - Scout's Honor (Oct-2015)
3 - Betting on the Rookie (Jun-2016)
Multi-Author Series List
28 -
Untouchable
(Jun-2008)
Book List in Order:
24

titles
Undiscovered Hero

JUSTICE AND HONOR... These words made up Zach Montgomery's world. As an undercover DEA agent, he spent his life fighting wrong with right. But in one fateful moment he made a decision that would haunt him forever. FAITH AND HOPE... Teacher Dela...

---

Down-Home Diva

How would a Cosmo girl handle this...? Brooklyn-born nail artist Claudia Bertucci has never set one spiked black pump outside the Big Apple! Now suddenly she's hiding from the Mob at a peaceful Wisconsin dairy farm run by former FBI agent Ross Evans...

---

Baily's Irish Dream

Married by thirty or else! If still single on her birthday, Baily Monohan promised her family she'd return home and marry her boring childhood sweetheart. But fate has other plans when Baily is involved in an accident with a black Mercedes -- driv...

---

One True Love?

There's only you... Of, and you, too... Corinne Weatherby believes everyone on this planet has one true love. Just one. Okay, so the one she's picked is a shallow, inconsiderate womanizer -- nothing a good breakup scene can't fix. Corinne comes f...

---

Who Wants To Marry A Hearthrob?

The Cast 1) One buff, self-centered former soap star 2) Fifteen excessively ambitious beauties 3) One mouthwash sponsor (fresh breath is important) 4) One very driven advertising executive (Richard Wells) and his pert assistant (Bridget Connor --...

---

Calculated Risk

ANYTHING THEY CAN DO, SHE CAN DO...BETTER At the ripe old age of twenty, girl genius Sabrina Masters was booted from the CIA for "willful insubordination." Now, ten years later, they want her back for a mission only she has the brains to complete ...

---

The Contestant

How far would her competition go to win a million dollars? Lying? Cheating? Murder? That's what former Olympic diver Talia Mooney feared when the body washed up on the site of the Ultimate Endurance reality TV show. Now she was stranded on a tropi...

---

Ice Cream Kisses

in Come September

Ice-cream-shop owner Gracie McMullen lives for Labor Day. Goodbye tourists, hello winter! But writer and city-boy Dean Wright is about to add an entirely new flavor to Gracie's off-season....

---

Possessed

WHEN THE DEAD WANT TO SPEAK SHE IS THEIR VOICE Cassandra Allen's gift is so uncanny that even the skeptical police now consult her on murder investigations. But when she's called in to investigate a rash of serial murders, her mind is assaulted ...

---

---

Untouchable

TO TOUCH HER IS TO TOUCH DEATH Orphaned at birth, Lilith knows nothing of her family, her last name or the origin of the amazing power she'd always considered a curse. Then the arrival of a mysterious package reveals her mother's legacy--and the exi...

---

Suspect Lover

Husband. Lover. Killer? Eager to start a family, Caroline Sommerville marries Dominic Santos in a whirlwind courtship. Then the unthinkable happens: her husband becomes the prime suspect in the murder of his business partner. With Dominic on th...

---

The Doctor's Deadly Affair

Death can strike anywhere. So can a murderer. Fresh on the heels of their disastrous date, Dr. Camille Lawson is none too pleased to find Dr. Wyatt Holladay darkening her doorstep. But a mystery ailment is claiming her patients -- and just maybe the...

---

---

The Way Back

Starting over sounds good...in theory! The reality? Well, Gabriella Haines isn't enjoying that so much. Once a top-rated TV host, suddenly becoming the junior editor at a publishing house isn't playing to her strengths. She does have one chance to...

---

One Final Step

A new image…step by step Who said moving forward is easy? Car thief turned race car driver, Michael Langdon has worked hard to build his image. Now to take it to the next level and become a successful manufacturer, he needs to kick that image up...

---

An Act of Persuasion

For all the wrong reasons? Anna Summers has always been more than Ben Tyler's assistant. She's even been more than his best friend. Too bad Ben didn't realize it until after she quit. Now that he's more like his old self after facing off against ...

---

For the First Time

Being a father shouldn't feel this risky! There's not a lot former CIA agent Mark Sharpe hasn't done. Yet suddenly he's in a world of firsts -- first time being a father, first time being self-employed…and first time being attracted to his empl...

---

Remembering That Night

Who's that girl? Greg Chalmers knows when someone is lying. That's how he ends up helping the police with an unusual case. A woman is found covered in blood, claiming she has no memory. Is she lying? He doesn't think so. But for the first time, h...

---

Who Wants to Marry a Heartthrob?

/ Contemporary Romance

The Perfect Reality TV Show…The Cast1) One buff, self-centered former soap star2)Fifteen excessively ambitious beauties3)One mouthwash sponsor (fresh breath is important)4)One very driven advertising executive (Richard Wells) and his pert assistant...

---

---

The Comeback of Roy Walker

She's the key to his career -- and his heart Roy Walker never did like the taste of humble pie. Too bad he's getting his share of it now that he needs to pitch one more season of pro baseball. Worse, he can't achieve it without the help of physio...

---

Scout's Honor

The game has always come first Jayson LeBec couldn't be the champion Scout Baker needed when he walked away without her years ago. But seeing her grief over the death of her father -- the legendary baseball coach they both idolized -- Jayson's no...

---

Betting on the Rookie

They've both got their eye on the prize Sports agent Samantha Baker needs an epic comeback after the disaster that destroyed her career. Just one client, and she'll prove she can do this thing again. And that one client has to be Evan Tanner. A l...

---

Her Secret Service Agent

She wants her Secret Service agent back… She was the president's only daughter. And like a bad movie cliché, Vivian Bennett fell in love with her Secret Service agent, Joe Hunt. Except the night she chose to confess her feelings, the night he ...

---

Married...Again

The only thing she wasn't prepared for was life itself... Eleanor desperately loved her husband, Max Harper, but when he chose his research work over their marriage one more time, she had no choice but to file for divorce. She couldn't know th...

---
Award-Winning Books by Stephanie Doyle
The Contestant
2005 RT Reviewers Choice Award -- Silhouette Bombshell
One Final Step
2012 RT Reviewers Choice Award -- Harlequin SuperRomance
Frequently Asked Questions (FAQ)
Stephanie Doyle has published 24 books.
Stephanie Doyle does not have a new book coming out soon. The latest book, Married...Again, was published in February 2018.
The first book by Stephanie Doyle, Undiscovered Hero, was published in June 1997.
Yes. Stephanie Doyle has 1 series.