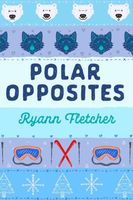 Newest Release
Bibliography:

10 Books - 1 Series

First Book:

April 2020

Latest Book:

May 2023
Full Series List in Order
1 - Deus Ex Mechanic (Apr-2020)
2 - Imperfect Shot (Oct-2020)
3 - Storm Signal (Apr-2021)
4 - Sewing Deceit (Oct-2021)
5 - A Recipe for Regret (Apr-2022)
Book List in Order:
10

titles
Deus Ex Mechanic

Alice is the best mechanic the corrupt Coalition regime has ever seen. When she's kidnapped by an infamous vigilante space pirate named Violet, she has to make the hardest decision she's ever made: escape back to the comfort of the Co...

---

Imperfect Shot

Evie is a shy, bookish bartender in Bradach, the biggest pirate port in the Near Systems. When the love of her life betrays her, she's thrown into the Coalition's highest security prison with no hope of escape.Larkin is a hardened assassin down on he...

---

Christmas, Pursued by a Bear

Andie is on the hunt for the perfect photograph. She's broke, her career is stalled, and her friends keep ghosting her. Winning the Christmas wildlife photography competition is her only chance to change her life - but stumbling into a bear in the wo...

---

Storm Signal

Georgie Payne is a janitor in the factory settlement of Skelm. After waiting months for Evie Anderson to rescue her and her family, she's all but given up hope of escaping.When Henrietta, a visiting scientist, discovers some frightening anomalies out...

---

Sewing Deceit

Bailey is still heartbroken, working as a rum-runner, desperate to find her people and save them from a life of indentured servitude to the Coalition. When she's sent on a lucrative delivery contract to the Capitol, she's pulled into a swirling vorte...

---

Bearly Together

Monroe works for Syndicorp, and they're detetrmined to open two new superstores in Roanoak Falls. But with the full moon on the rise, she's not sure she'll be able to pull it off.When Wren's heat gets turned off, she winds up having to bunk in with a...

---

A Recipe for Regret

/ Contemporary Romance

When Rosie took the job as the Outer Rim's only cook, she never thought she'd run into her old flame - her old flame who was now, apparently, married. With strange, cryptic notes being delivered to her quarters in the middle of the night and nothing ...

---

Unbound Oath

/ Contemporary Romance

Cassius Calvetti was never supposed to be the leader of The Scattered. Awaiting trial in a Coalition prison, she makes one more desperate attempt at escape.It's been eight years since Olivia Guisette took on the job of being the right hand to H...

---

Polar Opposites

/ Contemporary Romance

Maxine has dedicated her life to snowboarding. When she learns that this winter may be her last season as an instructor, she's forced to compete with a high-profile athlete while she's trying to chase poachers off the mountain.Fresh from a crushing d...

---

---

---
Frequently Asked Questions (FAQ)
Ryann Fletcher has published 10 books.
The next book by Ryann Fletcher, Era's End, will be published in May 2023.
The first book by Ryann Fletcher, Deus Ex Mechanic, was published in April 2020.
Yes. Ryann Fletcher has 1 series.