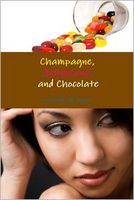 Newest Release
Bibliography:

7 Books - 1 Series

First Book:

May 2009

Latest Book:

July 2012
Full Series List in Order
Dreaming of a Crayon Sun (Jan-2011)
Champagne, Jellybeans and Chocolate (Sep-2011)
Book List in Order:
7

titles
The Last Ms. Understanding

Rita Clark is a wealthy business executive that has relocated to a new city. She's acquired every luxury a woman could desire. The only thing missing in her life is someone to share it with... A visit to a local jazz lounge brings her face to face wi...

---

Champagne, Jellybeans, and Chocolate

/ General Fiction

THEY SAY AFTER PAIN COMES JOY...After years of hurt and failed relationships. What if the person that once made you the happiest reappeared in your life? But what if the timing was all wrong?ROYCE TYLER IS FINALLY PUTTING HIS LIFE BACK TOGETHEROver t...

---

Check Mate

A new town, a new life...a BIG mistake.When The Harper's move to a new town, their interaction with their new neighbors could cost them more than just their marriage...They came for the new job opportunity and ended up with way more than they bargain...

---

Dreaming of a Crayon Sun

/ General Fiction

A SCANDAL IS BREWING IN THE WINDY CITYMillions of dollars are at stake in a high risk game of imported goods. Once you're involved there's no way out. The tangled web of chaos begins to unravel, leading to a fast paced trip to remote destinations and...

---

Champagne, Jellybeans and Chocolate

/ General Fiction

Royce Tyler is homeless. No one knows. He is hiding this secret.There is more to the story...He is hiding even more secrets.When he reconnects with his ex girlfriend he can't force himself to tell her the truth. Should he? Would you?Royce's journey w...

---

---

---
Frequently Asked Questions (FAQ)
R.L. Taylor has published 7 books.
R.L. Taylor does not have a new book coming out soon. The latest book, Truth Don't Lie, was published in July 2012.
The first book by R.L. Taylor, The Last Ms. Understanding, was published in May 2009.
Yes. R.L. Taylor has 1 series.