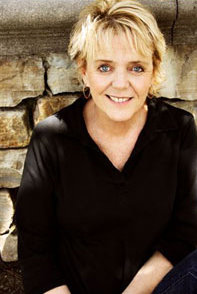 Maureen Child was born 28 September 1951 in California, USA. She and her husband enjoy traveling, usually taking road trips with her parents. When she's at home, she is kept busy with her two grown children and a somewhat confused golden retriever named Abbey. She is busy writing her next book.

Under her own name, Maureen Child writes short contemporary novels—books she loves to write because of their fast pace and condensed story telling, she is also writing funny, contemporary paranormal romances. Over the years, she's written under lots of different names and she prefers the term 'pseudonym' to 'alias'. As Ann Carberry, she wrote western historical romances. As Kathleen Kane, she wrote not only Americana romances, but western paranormal romances as well. As Sarah Hart, she wrote one really spectacular western paranormal that is still one of her favorites. And once, Ann Carberry even wrote a Victorian historical which she absolutely loved doing. She writes paranormal romance novels under the pesudonym of Regan Hastings. Now, a USA Today best selling author of more than ninety romance novels and novellas, she is a five time nominee for the prestigious Rita award from Romance Writers of America. One of her novels, A Pocketful Of Paradise, was made into a CBS-TV movie called The Soul Collector, starring Melissa Gilbert, Bruce Greenwood and Ossie Davis.
Book List in Order:
130

titles
One Little Secret

A routine business deal comes with a secret baby surprise in this Dynasties: The Carey Center novel by USA TODAY bestselling author Maureen Child. The man who got away is back and a little surprise awaits him… Single mom Sadie Harris couldn...

---

The Wrong Mr. Right

Opposites attract…but will they give in to temptation? Find out in this flirty Dynasties: The Carey Center romance by USA TODAY bestselling author Maureen Child! These opposites want what they can't have as business takes a very personal turn...

---

Ways to Win an Ex

He's back and working with her…but this time she's making the rules in this Dynasties: The Carey Center novel from USA TODAY bestselling author Maureen Child. Can she have her cake…and her ex, too? Single mom Serena Carey must pull ...

---

The Ex Upstairs

She never knew she'd go this far to keep her enemy this close! When CEO Henry Porter snaps up a coveted property, Amanda Carey declares war on her ex-lover and business rival. Posing as a maid in his Beverly Hills mansion is the perfect way t...

---

Six Nights of Seduction

She's wanted her boss for way too long. Now she's got him right where she wants him…or does she? Find out in this steamy workplace romance from USA TODAY bestselling author Maureen Child! From invisible assistant…to irresistible siren! ...

---

Temptation at Christmas

Nothing says "Christmas" like red-hot scandal! "We weren't supposed to do this." "Baby, we were born to do this…" A luxurious Christmas cruise should be paradise. Instead, Mia Harper has a confession to make to her billion...

---

The Price of Passion

Is their red-hot reunion too good to be true? Broken trust is hard to rebuild. But temptation is even harder to deny… Wealthy rancher Camden Guthrie is back in Royal to rebuild his life and join the prestigious Texas Cattleman's Club. To...

---

Jet Set Confessions

The sky's the limit for her forbidden attraction. "This is just another job, Fiona.When it's over, you walk away." Jetting off on Luke Barrett's private plane and spending a passion-filled weekend together proves risky for professiona...

---

Tempting the Texan

In the fight for his family's legacy, will this former flame consume him? Rancher Kellan Blackwood is poised to fight the gold-digging stepmother who inherited his father's empire. He doesn't expect Irina Romanov, his father's former ma...

---






---

Red Hot Rancher

His dreams were shattered as she chased her own. Not this time. One look at Emma Williams and rich rancher Caden Hale knows he hasn't forgiven her for leaving Montana. She's back with a baby -- the family Caden thought would be theirs. Has ...

---

Wild Ride Rancher

This rancher is set in his ways. Until temptation changes everything… Wealthy rancher Liam Morrow steers clear of Texas princesses. But when a storm strands him in Houston with Chloe Hemsworth, there's no escape -- from her business demands...

---

Bombshell for the Boss

She's in love with her boss. For her own sake, she has to quit. But life has other plans. Because just as Sadie Matthews is giving notice, Ethan Hart, CEO of his family's chocolate business, receives surprise guardianship of a baby girl. No...

---

Tempt Me in Vegas

This billionaire doesn't play well with others… Until he meets her! Cooper Hayes won't share his hotel empire, especially not with his business partner's secret daughter -- even if Terri Ferguson is the most beautiful woman in Vegas. He...

---

Runaway Temptation

A getaway from the wrong groom leads to… A tall, blue-eyed Texas temptation… When Shelby Arthur's mad dash from the altar ends in the arms of sexy rancher Caleb Mackenzie, she's a goner. And then the handsome Texan offers his ranch as a...

---

Billionaire's Bargain

Her ex's brother is the one she always wanted. Now he needs her, bad. When Adam Quinn becomes legal guardian of his late brother's baby, it's time to call in reinforcements. Enter Sienna West -- the savvy, sexy photographer who once was m...

---

Rich Rancher's Redemption

He doesn't deserve her, but he can't stay away. Will this wealthy rancher's dark past stand in the way of love? When Jesse Navarro meets single mom Jillian Norris, she makes him feel…everything. But he's carrying the guilt of a past t...

---

Fiance in Name Only

Make-believe romance has never felt so real! From USA TODAY bestselling author Maureen Child. Bestselling writer Micah Hunter lives a nomadic life. Temporarily settling in a small town for research is outside his comfort zone. Only his tantalizin...

---

His Unexpected Heir

Between duty, honor…and a baby! Six months. That's how long Rita Marchetti has mourned Jack Buchanan. Yet here he is, alive, standing in front of her, perfect…and devastatingly sexy! Even more amazing is the former marine's admission that he ...

---

A Texas-Sized Secret

A pregnancy shock…and only her best friend can help… Style maven and TV personality Naomi Price has made her share of mistakes with men -- and she has her secret pregnancy to prove it! But when it comes to her best friend -- rich rancher and ...

---






---

The Tycoon's Secret Child

A Lone Star paternity bombshell Texas toy mogul Wes Jackson is on the brink of a billion-dollar breakthrough -- until a sinister anonymous tipster reveals Wes is a dad! Suddenly his family-friendly company is in crisis and Wes's sole focus is find...

---

Maid Under the Mistletoe

An upstairs-downstairs affair for Christmas… Single mom Joy Curran needs this temporary holiday housekeeping job working for a reclusive billionaire. But her sexy, aloof boss pulls at Joy's heartstrings -- and her long-denied desires -- in unexp...

---

The Baby Inheritance

Is a family in the future for this wealthy bachelor? Divorce attorney to the stars Reed Hudson knows there's no such thing as happily-ever-after. But the red-headed stunner who walks into his office with an infant in her arms will put him to the t...

---

A Bride for the Boss

This rich rancher needs his assistant for business and pleasure! Only from USA TODAY bestselling author Maureen Child Andi Beaumont has a dilemma: she's wedded to her job, when she really wants to wed her boss, Mac McCallum. The only solution: qu...

---

Snowbound with the Boss

Baby on the way? Blame it on the blizzard! Only from USA TODAY bestselling author Maureen Child. Being stuck in a snowstorm with his disagreeable contractor is hardly gaming tycoon Sean Ryan's idea of a good time. So why does he find himself keep...

---

A Baby for the Boss

Is it a baby trap or will the boss become a dad? Only from USA TODAY bestselling author Maureen Child! When Jenny Marshall meets gaming tycoon Mike Ryan, she thinks she's met The One. But when he realizes she's his competitor's niece he believes ...

---

Having Her Boss's Baby

She's pregnant…by the boss! Only from USA TODAY bestselling author Maureen Child! Billionaire game designer Brady Finn's latest business plan doesn't include a feisty Irish lass who challenges him at every turn. But Aine Donovan, the stunning m...

---

Triple the Fun

Baby, baby…baby?! It's triplets from USA TODAY bestselling author Maureen Child! He's a captain of industry, a brooding billionaire and -- a daddy? When Connor King learns he has fathered triplets, he feels double-crossed. Now nothing will stan...

---

Simply Magic

/ Historical Romance

Love is, quite simply, magic. Or so it seems to 27-year-old spinster Phoebe Hightower, who's no longer sure she believes in either... until a mysterious traveling tinker grants her four wishes, and they start coming true. In no time at all, she goes ...

---

After Hours with Her Ex

The prodigal ex-husband returns -- as the boss -- in this novel by USA TODAY bestselling author Maureen Child After two long years, Sam Wyatt is home. He has big plans for his family's ski resort. But first he must face those he left behind -- in...

---






---

Catch a Fallen Angel

/ Historical Romance

A heavenly Western romance from the USA Today bestselling author of This Time for Keeps…Gabriel Donovan was no angel. He'd gambled a little—okay, a lot—but still, he didn't deserve to be hanged. After he died, the devil offered him a deal h...

---

The Cowboy's Pride and Joy

A cowboy gets a baby surprise from USA TODAY bestselling author Maureen Child All former Marine Jake Hunter wants is peace and quiet. But when his business-minded mother sends her assistant Cassidy Moore from Boston to see him about a long-standing...

---

The Fiancee Caper

To Catch a Thief, It Will Take a Thief He comes from a long line of charismatic jewel thieves. But Gianni Coretti made a deal to save his family and now walks the straight and narrow. When Marie O'Hara, a beautiful security expert, asks him to st...

---

A Cowboy For Holly

/ Contemporary Romance

Fast Fiction Hot short, sexy reads Ben Gray was a sexy, hardworking cowboy. It had been so easy for Holly Banks to fall for the manand his lies. After finding out the truth about the man she loved, Holly flew home to New York, a place as far from ...

---

Beauty and the Best Man

/ Contemporary Romance

May the Best Man Win…the Maid of Honor? Lassiter Media millionaire Matt Hollis never let a woman stand between him and his career. But now Matt's best friend is marrying the Lassiter heiress -- and her insufferable maid of honor has stolen Matt'...

---

The Black Sheep's Inheritance

Follow the money…into bed! Estranged from his adoptive father, Sage Lassiter earned his own billions. But when J.D. Lassiter leaves a fortune to his private nurse in his will and cheats his own daughter of her rightful inheritance…Sage is enr...

---

Dream Weaver

/ Historical Romance

The bestselling author of Still Close to Heaven and This Time for Keeps is back with a magical tale of romance between two souls born a century apart destined to love one another for eternity... Life hasn't always been kind to rancher Conner James, s...

---

Double the Trouble

In this Billionaires & Babies novel by USA TODAY bestselling author Maureen Child, one night leads to two babies! When Colton King ended his impetuous marriage to Penny Oaks after just twenty-four hours, it was out of sight, out of mind. But now,...

---

Her Return to King's Bed

Revenge has never been so sweet as in this Kings of California novel by USA TODAY bestselling author Maureen Child… She married him. Used him. Then left him. Rico King has waited five years for revenge. Now he's got Teresa Coretti where he want...

---

The Lone Star Cinderella

A fake engagement at the Texas Cattleman's Club? It must be a fairy tale from USA TODAY bestselling author Maureen Child! Dave Firestone has no intention of getting married, but he'll pretend anything if it means sealing a tough business deal for...

---






---

When the Halo Falls

/ Historical Romance

A heavenly romance from Maureen Child, USA Today bestselling author of Still Close to HeavenA guardian angel with amnesia can wreak havoc on heaven and earth... especially when she's in love with the mortal man she's been sent to protect.Praise for W...

---

Rumor Has It

Something to Hide? Seven years ago, wealthy sheriff Nathan Battle proposed to his pregnant girlfriend. But Amanda Altman ripped out his heart, left town -- and suffered a miscarriage. Now she's back and Nathan has to get over her once and for all....

---

Wish Upon a Cowboy

/ Historical Romance

Another moving western historical romance with a kiss of magic from bestselling author Maureen Child!"A winning recipe of humor, romance, and a dash of the supernatural" - Alison Trinkle, Amazon.com"Charming!" - Publishers Weekly...

---

The King Next Door

"Just give me one night." Single mom Nicole Baxter is perfectly fulfilled without a man in her life. But when billionaire Griffin King moves in next door, she considers a fling. Not only is he gorgeous and exciting, but he's not staying. It's an i...

---

Still Close to Heaven

/ Historical Romance

Jackson Tate is about as useful a ghost as he was a man. He had one job to do - save the girl, then wipe her memory - and he loused it up! Oh, he rescued sweet Rachel Morgan, all right, but instead of making her forget him, he made a promise he never...

---

An Outrageous Proposal

Falling in love wasn't part of the deal When Georgia Page accepts Sean Connolly's proposal, she knows it's crazy. But surely she can pretend to be a self-made billionaire's fiancée for a little while, just until his mother regains her health. Sur...

---

Up Close and Personal

"I've come for what's mine..." When brash Irish billionaire Ronan Connolly meets Laura Page, the connection is electric. He's danger. She's a safe haven. And the passion between them burns -- too hot and too fast. So Ronan ends the affair before i...

---

Gilded Secrets

When scandal threatens the luxury auction house that bears his family's name, Vance Waverly suspects the media feeding frenzy is an inside job. Could his gorgeous assistant, Charlotte Potter, be plotting Waverly's downfall? There's one way to find ou...

---

To Kiss a King

For security expert Garrett King, rescuing a damsel in distress is routine -- even if she is a runaway princess. And especially if she's a sexy, desirable woman he intends to keep very, very close. Garrett knows Princess Alexis Morgan Wells es...

---

The Temporary Mrs. King

Married for a Moment... It doesn't take long for Sean King to realize he's in trouble. Despite the idyllic setting and the exquisite contract bride, his marriage to Melinda Stanford is meant to be strictly business. Pure profit is his for the taking...

---






---

Ready for King's Seduction

Ever the Good Girl For years, Rose Clancy dreamed of her brother's best friend, Lucas King, but touching him was off-limits. And Rose, always dutiful, kept her distance. Until a recent chance meeting leads Lucas to hire her for intimate, nightly coo...

---

Vacation With a Vampire...and Other Immortals: Immortals

Let's face it -- vacation is great! We could all use a warm summer night on a beach, the sand still hot from the sun, with the moon rising on the horizon. If it could be paired with a handsome, sexy man -- an immortal man -- wouldn't that be the icin...

---

One Night, Two Heirs

Texas Cattleman's Club Rule #1: Always Act Honorably Duty is his world. And upon seeing Sadie Price with twin girls, marine Rick Pruitt realizes he has some proposing to do. He never would have left Royal, Texas, if he'd known Sadie was carrying his...

---

King's Million-Dollar Secret

Millionaire in Disguise As penance for losing a bet, Rafe King had promised to work one job as an everyday carpenter. And that's when he hit the jackpot -- an introduction to Katie Charles. With every word, every touch, the sweet, sexy lady made Raf...

---

Have Baby, Need Billionaire

Baby...Ready or Not He'd certainly never set eyes on -- much less gone to bed with -- Tula Barrons. That he would have remembered. Yet businessman Simon Bradley agreed to let Tula and her infant cousin -- a child she claimed was his -- stay in his ...

---

Under the Millionaire's Mistletoe: The Wrong Brother

Pucker up for two irresistible millionaires who are about to meet their matches…under the mistletoe! "The Wrong Brother" by Maureen Child Well, she'd asked to be kissed. Who was Sam Hale to deny a beauty such a request? But when the businessman d...

---

Cinderella & The CEO

Scrooge had moved in next door and Ivy Holloway was at his mercy. Billionaire Tanner King wanted her year-round Christmas-tree farm shut down so he could have his peace and quiet. He had enough money and power to do it, too. Leaving Ivy with only one...

---

Claiming Her Billion-dollar Birthright

Illegitimate Heiress Finally Found! The revelation turned Erica Prentice's world upside down -- by birth, she belonged to a wealthy Colorado dynasty and her real father had left her a fortune. And the Jarrod family attorney, Christian Hanford, was t...

---

The Last Lone Wolf

Mr. May: Jericho King, ex-marine, all business The Promise: Look after a fallen comrade's sister The Price: She wanted his baby! After a career of life-risking service, Jericho King desired only the solitude of his mountain lodge...and the o...

---

The Princess Shoes

in More Than Words, Volume 6

Presenting...the sixth annual More Than Words anthology. Little by little, one person at a time, we can make our world a better place. The five dedicated women selected as this year's recipients of Harlequin's More Than Words award have done just ...

---






---

Wedding at King's Convenience

King's Inconvenient Bride...and Baby? Everyone did Jefferson King's bidding. Except the folks in a certain Irish village he'd "bought" for his latest production. And when the movie mogul arrived in town, he discovered why everyone had turned against...

---

Claiming King's Baby

The King Claims His Heir It was supposed to be a last meeting to sign divorce papers. Then passion overtook them and Maggie King walked away with more than just a legal decree -- she was pregnant with the child Justice King had always refused to giv...

---

Conquering King's Heart

The King Claims His Prey For three years she'd haunted his dreams. And the memory of that heated anonymous night sent tycoon Jesse King back to Morgan Beach, California, determined to find her. He would have his mystery woman once more -- a King nev...

---

Beguiled

Maureen Child's sexy, feisty heroine, Maggie Donovan -- a descendant of Otherworld Faeries -- returns to face her greatest challenge After defeating evil Queen Mab, Maggie Donovan has become the new Queen of the Fae. Being Fae royalty in Otherworl...

---

Seduced into a Paper Marriage

Seduction -- Hollywood Style No one ever denied Devlin Hudson. The COO of Hudson Pictures could have any woman he wanted, but what he wanted was a woman who made no demands. He'd thought Valerie Shelton was that woman. But his prim, proper wife had...

---

Vanished

SHE WAS HIS DESTINY...REBORN Forever fated to defend humanity against demons, immortal Guardian Rogan Butler has given up all hope of finding peace. But when a beautiful American unexpectedly appears, with all her self-assurance and charm, the winds ...

---

Bedeviled

Maggie Donovan isnÂ't interested in overthrowing a Faerie queen. She barely had time to kill the demon that devoured her fiancé. Then she comes home to find a scrumptious hunk in her living room who informs her that saving the Otherworld just hap...

---

An Officer And A Millionaire

Mr. January: Hunter Cabot, Navy SEAL Vital Statistics: Tall, rich and...married? Mission: Find out who's been sleeping in his bed. The broad-shouldered military man had no patience with games. Margie--Cabot?--had to go. She'd been masque...

---

Baby Bonanza

Twins? The startling revelation that his affair with Jenna Baker had produced two little boys was almost impossible to grasp. Tycoon Nick Falco had never considered himself the settling-down type, yet now that fatherhood had been thrust upon him, he ...

---

High-Society Secret Pregnancy

721 PARK AVENUE APARTMENT: 9B TENANT: Julia Prentice, pregnant society princess SCANDAL: Who's her baby's father? Manhattan millionaire Max Rolland didn't do relationships...until his one-night stand turned up pregnant. Blue-blooded Julia Prenti...

---






---

Falling For King's Fortune

According to airline tycoon Jackson King, business always triumphed over romance, and babies were best appreciated from afar. That was, until the beautiful stranger with whom he'd shared a mind-blowing tryst revealed he had fathered her baby daughter...

---

Marrying For King's Millions

MILLIONAIRE SEEKING CONVENIENT WIFE Wed and bed one of his biggest client's unsavory daughters? No thanks. But the only way millionaire Travis King could get the man off his back was to marry someone else. So he handpicked his temporary and on-his...

---

A Fiend In Need

It's only been a month since single mom Cassie Burke unexpectedly became the hottest demon killer in town-and already there's a price on her head and a website calling for her murder. Then a sizzling hunk of a faery shows up on her porch in need ...

---

Bargaining For King's Baby

BUSINESS NEVER YIELDED SUCH PLEASURE Just twenty more acres and millionaire Adam King would restore his family ranch to its former glory. So intense was his obsession, he even considered marrying the girl next door. For Gina Torino's father was wi...

---

Holiday with a Vampire: Christmas Cravings

'TIS THE SEASON TO TAKE A WALK ON THE DARK SIDE... Silhouette Nocturne is proud to present these two sensual, heartwarming tales of love during the holiday season. True, the heroes may not wear red suits or be very jolly. But tall, dark and handso...

---

Captured By The Billionaire

REVENGE IS SWEETER THAN PARADISE Billionaire Gabriel Vaughn had all but forgotten the past...until Debbie Harris arrived at his luxury resort. She'd walked away from him once, but now he wasn't letting her leave his island without exacting his own b...

---

Seduced By The Rich Man

"MARRIED" FOR MONEY There was little left that could surprise Janine Shaker--except for billionaire Max Striver's suddenly proposing a fake marriage. Max's need for a temporary wife and his desire for Janine seemed to coincide perfectly. He knew t...

---

Scorned By The Boss

SWEET REVENGE Shipping tycoon Jefferson Lyon wasn't a man who took no for an answer--from anybody. So when his "faithful" secretary finally had enough of his difficult, demanding ways and quit, he followed her to the tropical resort wh...

---

More Than Fiends

Cassidy Burke is finding it hard to believe that she's next in a long line of demon dusters-Burke women paired with centuries-old cleaning solution to shine windows and spot demons. Sure, her "Clean Sweep" maid service is taking off, but wiping out s...

---

Thirty Day Affair

Millionaire of the Month: Nathan Barrister Source of Fortune: Hotel Empire Dominant Personality Trait: Always gets what he wants. When grumpy, rich and gorgeous Nathan Barrister arrives at the Lake Tahoe lodge, all he can think about is how soo...

---






---

Nevermore

NAME: RICARDO ESTEBAN AMADEO SANTOS DATE OF BIRTH: 1459 DATE OF DEATH: 1492 DATE OF REBIRTH: 1492 OCCUPATION: IMMORTAL-GUARDIAN Reborn moments after Queen Isabella of Spain ordered her lover's death, Santos accepted eternal life in exchange fo...

---

Beyond The Boardroom

IN BED WITH THE BOSS Everything changed the night that executive assistant Rachel Adler indulged her fantasy and slept with her boss. Shane Elliott was better than any dream, but having gone to bed with the executive, Rachel knew she could no longer...

---

Eternally

KIERNAN MacINTYRE BORN 1538 DIED 1573 REBORN...MOMENTS LATER He was a Guardian. An immortal fighter of evil. The sexy, sword-wielding stranger standing before Julie Carpenter claimed he was out to destroy a demon and that she was its next targe...

---

Bourbon Street Blues

Java and Jazz: the perfect New Orleans blend When coffee executive Parker James storms into the hotel bar after a frustrating business meeting, he spots the beautiful woman who sang at his wedding ten years ago. Holly Carlyle has never forgotte...

---

The Part-Time Wife

At some point during the time Luke Talbot arrived late at the high-society soiree, then hurried her home for safeguarding, Abby realized her husband truly was living a double life. His secrets, however necessary, tore at her insecurities. How could s...

---

Satisfying Lonergan's Honor

TAKING WHAT WAS HIS They hadn't touched since that night fifteen years before but Donna Barrett still recognized the desire in Jake Lonergan's eyes. And the guilt. For he'd sought to make her his when she'd been his cousin's girl. It had been thei...

---

Strictly Lonergan's Business

SEDUCED BY THE BOSS Tired of going unnoticed by the boss she loved for years, Kara Sloan decided now was the time to pack her bags and quit. But just as she was about to storm away, Cooper Lonergan surprised her with a night of seduction. He co...

---

Fortune's Legacy

"Who cares if I grew up with money? I deserve this job." --Kyra Fortune, associate VP Kyra Fortune can't believe she might get fired. Sure, she knows some people think she's a spoiled brat with more family connections than brains, but she knows ...

---

Expecting Lonergan's Baby

PATERNITY TEST Surgeon Sam Lonergan lived a no-strings-attached life...until he met Maggie Collins, the young, sexy, housekeeper of his family's ranch. Their affair was hot, their secret rendezvous hotter. And after sharing incredible passion with...

---

Turn My World Upside Down

Jo Marconi has her hands full working hard at the family business and struggling to get her belated college degree. The last thing she needs is a ten-year-old boy to look after. But that's exactly what she gets when her stepbrother comes to live with...

---






---

The Last Reilly Standing

HE'S TAKEN SO MANY ICE-COLD SHOWERS, HE FELT LIKE A DAMN PENGUIN! Thankfully, the longest three months of Aidan's life were coming to an end. Only three more weeks and he'd be the winner of the no-sex-for-ninety-days bet he made with his brothers....

---

Whatever Reilly Wants...

ONE REILLY DOWN, TWO TO GO... Connor Reilly had laughed at his brother for being the first triplet to lose the "no sex for ninety days" bet. Though there were two long, tempting months ahead for him, Connor was determined to go the distance. Becau...

---

The Tempting Mrs. Reilly

HOME WAS THE MOST DANGEROUS TERRITORY OF ALL FOR THIS MARINE... Brian Reilly was a man on edge. It had been two long weeks since he and his brothers had made a "no sex for ninety days" bet before Tina Coretti Reilly turned up on his doorstep. And ...

---

Society-Page Seduction

Millionaire Simon Pearce's bride-to-be left him standing at the altar and wedding planner Megan Ashton was dumbfounded when she was asked to fill in. Literally. Be Simon's bride. For a year. For business reasons only. Her shock soon gave way to reaso...

---

A Crazy Kind of Love

Lucas Gallagher is the geek who bought the land Michaela "Mike" Marconi wanted for her dream house. She thinks he's infuriating, annoying and totally rude. Yet, he gets to her more than any other man ever has. But though Lucas may be a scientist, he'...

---

Lost in Sensation

It was the last place Dr. Sam Holden wanted to be. After his wife's death, weddings and crowds were unbearable. But his self-imposed isolation was shaken to its core by Tricia Wright, the sexy whirlwind that was the groom's sister. And when the propo...

---

And Then Came You

Nine years ago, Samantha Marconi was swept away in a whirlwind wedding...even though she'd only known her new husband for a month. When Jeff left her just weeks after the wedding-she found out she was pregnant and had nowhere to turn. So Sam did the ...

---

With a Twist

in Dynasties: Summer in Savannah

Welcome to Steam, the hottest club in Savannah. Here the jazz is smooth, the dance floor is hopping and the attraction between three unsuspecting couples is rising as quickly as the temperature! Under the Cover of Night by Barbara McCauley O...

---

Forever...Again

A CHANCE WORTH TAKING Everything about Lily Cunningham, the newly arrived public relations maven of Merlyn County, put widower Ron Bingham on edge, from his nerves to his heart. But no amount of breath-stealing attraction would change the facts: R...

---

Man Beneath The Uniform

A SEDUCTIVE ASSIGNMENT It was an unusual assignment for seasoned warrior Zack Sheridan. He was more accustomed to fighting in jungles than baby-sitting sharp-tongued, wealthy young women like Kimberly Danforth. But what began as a cakewalk for the...

---






---

Some Kind of Wonderful

Holiday shop owner Carol Baker infuses her business and her life with peace and good will. But she has secrets from her past that make her all the more determined to someday have a family of her own. She never expects a sweltering July heat wave to b...

---

Sleeping With The Boss

MIXING BUSINESS WITH BABY Though Rick Hawkins had been the bane of Eileen Ryan's existence, she soon found his charm irresistible when she had to share close quarters with the handsome financial adviser as his fill-in secretary. She vowed to stay ...

---

Loving You

On the surface, things always came easy for Nick Candellano, with his dashing good looks, easy charm, and penchant for women. When an injury permanently sidelines the pro football star, he's forced to start over with a new job -- and trouble in the f...

---

Beauty & the Blue Angel

SHE NEEDED A HERO... Waitress Daisy Cusak went into labor right in the middle of the dinner rush. Racked by pain, she couldn't protest the strong arms that carried her to help. Navy pilot Alex Barone became her strength; his calming voice and caring...

---

Finding You / Knowing You

FALL IN LOVE WITH TWO UNFORGETTABLE NOVELS Meet the Candellano family: Angela, the matriarch, Tony, the oldest son and town sheriff, Nick and Paul, the twin brothers with completely different personalities, and Carla, the daughter whom Mama is still...

---

In Too Deep

in Love is Murder

Assistant D.A. Gina Palermo was a nice girl -- with a gangster family. And when a threat to her life put this law-abiding daughter under the protection of one of her dad's mob men, Gina wondered if she could resist the tempting embrace of sexy Nick F...

---

Kiss Me, Cowboy!

While pastry chef Nora Bailey perfected the art of baking a cinnamon roll, she'd somehow wound up the last virgin in all of California. Now it was time for this old-fashioned girl to become an ex-virgin. Only, just as she was about to embark on her b...

---

The Royal Treatment

High-ranking intelligence officer Jeremy "J.T." Wainwright tried to stop her from gaining entry into Penwyck's royal family's palace, but feisty reporter Jade Erickson wasn't the type to take no for an answer. Especially not when the man trying to st...

---

The Marine & the Debutante

DANGER AND DESIRE IN THE DESERT When a marine rescue mission went awry, Staff Sergeant Travis Hawks realized he was in for the fight of his life. He and Lisa Chambers -- the uppity heiress he was trying to save -- were stranded and forced to race ...

---

The SEAL's Surrender

He'd slipped in and out of hostile nations, stared down enemy guns. But Chance Barnett Connelly, navy SEAL, didn't know fear till he was caught in the sights of one petite, green-eyed single mom. Jennifer Anderson sent a jolt of desire through the...

---






---

Did You Say Twins?!

FIRST COME BABIES... Top-secret military maneuvers were routine to Gunnery Sergeant Sam Pearce, but babies were another matter -- especially when he'd just taken on twins! Up to his elbows in diapers, Sam couldn't refuse any offers of help -- even...

---

Last Virgin in California

For years, Lilah Forrest had dodged her matchmaking colonel father's "bachelor bullets." But that didn't stop him from steamrolling Sergeant Kevin Rogan into playing Lilah's personal escort. She'd never marry military -- not even sexy soldier Rogan. ...

---

Shotgun Grooms: Jackson's Mail Order Bride

Brides or bankruptcy -- the MacIntyre brothers had a helluva choice! Now, thanks to their cagey uncle's ironclad will, saloonkeeper Lucas MacIntyre was forced to find himself a bride. So he proposed a chaste businesslike "merger" to Miss Emily Smythe...

---

His Baby

U.S. Marine Jeff Hunter never anticipated the five words Kelly Rogan greeted him with upon his homecoming. Learning he was a father shook him clear down to his military boots. But once he held his little girl in his arms, he knew he'd do anything to ...

---

Prince Charming in Dress Blues

If someone had told her only yesterday that a perfect -- in every way! -- stranger would be delivering her baby, Annie Foster would never have believed it. But here she was, stranded on top of a mountain, with gorgeous Gunnery Sergeant John Paretti h...

---

Marooned With a Marine

STORMY HEARTS A torrential hurricane stranded Karen Beckett in a tiny motel room with Gunnery Sergeant Sam Paretti, the one man she never wanted to see again! Just months before, Karen had severed all ties with the gorgeous marine -- but bitterswe...

---

The Next Santini Bride

TALL, DARK, AND TENDER When Angela Santini felt the power of First Sergeant Dan Mahoney's smoldering gaze, she dared to throw caution to the wind. It had been so long since she'd been held, kissed, touched.... But how was this straitlaced single m...

---

The Last Santini Virgin

THE MARINE AND THE VIRGIN No woman was going to spring her mantrap on Sergeant Nick Paretti! And that included Gina Santini. They'd agreed to publicly play boyfriend/girlfriend, and Nick had never intended to keep up the pretense in Gina's bedroom...

---

The Daddy Salute

Resist her charming neighbor's advances? No problem - even if Marine Sergeant Brian Haley's killer smile sent shivers up Kathy Tate's spine. No sir, Kathy had sworn off love and marriage, and nothing in the rugged marine's arsenal could break through...

---

Marine Under the Mistletoe

THE VIRGIN... Sweet and sassy Marie Santini learned long ago that the men around Camp Pendleton just didn't see the local tomboy as date material -- even if there was a passionate heart beating beating beneath her cute overalls. So why was devasta...

---






---

Mom in Waiting

HER STAND-IN FIANCE? When Tracy Hall vowed to be the belle of her high school reunion, she thought all she'd need was a glamorous new look, a diamond ring on her finger and a fiance - conveniently left behind, of course. Simple, right? Wrong! ...

---

Colonel Daddy

COLONEL DAD...AND MAJOR MOM? Impossible! Could it be that Major Kate Jennings was going to be Major Mom? And the devastatingly handsome marine she'd had a long-distance relationship with was going to be a daddy - Colonel Daddy, that is! Suddenly t...

---

The Oldest Living Married Virgin

VIRGIN BRIDE When Colonel Candello found his daughter in a marine's room the morning after the Battalion Ball, he was ready to explode. Until First Sergeant Jack Harris offered to marry Donna in name only to save all their reputations. So, for bet...

---

The Non-Commissioned Baby

ASSIGNMENT: FATHERHOOD! Captain Jeff Ryan fought a lot of battles as a marine. But daddy duty was his toughest assignment ever! When an infant was left on his doorstep, Jeff called in reinforcements--and temporary nanny Laura Morgan marched into h...

---

The Littlest Marine

FROM SIR GALAHAD TO FUN-LOVING FAMILY MAN? Bachelor Marine Harding Casey was about to face his greatest challenge -- fatherhood. But convincing his expecting -- and reluctant -- bride to marry him was going to be his toughest battle yet! For Elizab...

---

Maternity Bride

The stick was blue..and positive! Any way she looked at it, Denise Torrance's well-ordered life was about to turn upside down...and all because of an unexpected night with the man of her dreams! But when that very man insisted they marry for thei...

---

The Surprise Christmas Bride

ON THE FIRST DAY OF CHRISTMAS... Finding herself in bed with her childhood love after being jilted at the altar by another man wasn't exactly Casey Oakes's idea of a merry Christmas. But she knew she wouldn't have wanted to spend her &...

---

Have Bride, Need Groom

WILL YOU MARRY ME .... TEMPORARILY? If Jenny Blake didn't marry in four days, horrors upon horrors would befall her, according to a legendary family curse. Yet standing in her polka-dot dress in the middle o the Love Me Tender Wedding chapel with h...

---

The Bandit's Lady

A DARING SCHOOLMARM From the minute teacher Winifred Matthews was captured by bank robber Quinn Hawkins, she couldn't have been more delighted! Fleeing from the law across Texas' wide plains, facing down danger at every turn -- it was the wild west ...

---

Run Wild My Heart

A BOLD DECISION For beautiful Margaret Allen, traveling alone across the western plains was her only escape from a loveless marriage -- a marriage secretly arranged by her father as part of a heartless business scheme. In a fury, she left her quiet,...

---






---

Temptation's Bride

in Loving Hearts

Left standing at the altar months ago, Rachel returns to Temptation, California, to give her fiance a second chance. Maybe....

---
Complete Series List in Order
The Bachelor Battalion
1) The Littlest Marine (Sep-1998)
2) The Non-Commissioned Baby (Oct-1998)
3) The Oldest Living Married Virgin (Nov-1998)
4) Colonel Daddy (Apr-1999)
5) Mom in Waiting (Aug-1999)
6) Marine Under the Mistletoe (Dec-1999)
7) The Daddy Salute (Feb-2000)
8) The Last Santini Virgin (Aug-2000)
9) The Next Santini Bride (Sep-2000)
10) Marooned With a Marine (Oct-2000)
11) Prince Charming in Dress Blues (May-2001)
12) His Baby (Jul-2001)
13) Last Virgin in California (Oct-2001)
14) The Marine & the Debutante (Jun-2002)
The Candellanos
1) Finding You / Knowing You (May-2003)
2) Loving You (Jun-2003)
Demon Duster
1) More Than Fiends (Jun-2007)
2) A Fiend In Need (Mar-2008)
Guardians
1) Eternally (Nov-2006)
2) Nevermore (Feb-2007)
3) Vanished (Feb-2009)
Kings of California
1) Bargaining For King's Baby (Mar-2008)
2) Marrying For King's Millions (Apr-2008)
3) Falling For King's Fortune (May-2008)
4) Conquering King's Heart (Sep-2009)
5) Claiming King's Baby (Oct-2009)
6) Wedding at King's Convenience (Nov-2009)
7) The Last Lone Wolf (May-2010)
8) Cinderella & The CEO (Oct-2010)
9) King's Million-Dollar Secret (May-2011)
10) Ready for King's Seduction (Oct-2011)
11) The Temporary Mrs. King (Dec-2011)
12) To Kiss a King (Feb-2012)
13) The King Next Door (Feb-2013)
14) Her Return to King's Bed (Dec-2013)
15) Double the Trouble (Mar-2014)
16) Triple the Fun (May-2015)
Marconi Family
1) And Then Came You (Jul-2004)
2) A Crazy Kind of Love (Jan-2005)
3) Turn My World Upside Down (Aug-2005)
Pregnant by the Boss
1) Having Her Boss's Baby (Aug-2015)
2) A Baby for the Boss (Jan-2016)
3) Snowbound with the Boss (Mar-2016)
A Queen of the Otherworld Novel
1) Bedeviled (Jan-2009)
2) Beguiled (Aug-2009)
Reasons for Revenge
1) Scorned By The Boss (Aug-2007)
2) Seduced By The Rich Man (Sep-2007)
3) Captured By The Billionaire (Oct-2007)
Related Books
1) Up Close and Personal (Sep-2012)
2) An Outrageous Proposal (Nov-2012)
Summer of Secrets
1) Expecting Lonergan's Baby (Apr-2006)
2) Strictly Lonergan's Business (May-2006)
3) Satisfying Lonergan's Honor (Jun-2006)
Three-Way Wager
1) The Tempting Mrs. Reilly (May-2005)
2) Whatever Reilly Wants... (Jun-2005)
3) The Last Reilly Standing (Jul-2005)
Multi-Author Series List
Billionaires and Babies
2)
Baby Bonanza
(Sep-2008)
11)
Have Baby, Need Billionaire
(Jan-2011)
43)
Double the Trouble
(Mar-2014)
51)
The Cowboy's Pride and Joy
(Nov-2014)
57)
Triple the Fun
(May-2015)
71)
The Baby Inheritance
(Jul-2016)
94)
Billionaire's Bargain
(Jun-2018)
101)
Bombshell for the Boss
(Jan-2019)
Crown and Glory
7)
The Royal Treatment
(Oct-2002)
Dynasties: The Ashtons
Society-Page Seduction
(Mar-2005)
Dynasties: The Barones
Beauty & the Blue Angel
(Jun-2003)
Dynasties: The Connellys
4)
The SEAL's Surrender
(Apr-2002)
Dynasties: The Danforths
2)
Man Beneath The Uniform
(Feb-2004)
Dynasties: The Elliotts
Beyond The Boardroom
(Dec-2006)
Dynasties: The Jarrods
Claiming Her Billion-dollar Birthright
(Jul-2010)
Dynasties: The Lassiters
0.5)
Beauty and the Best Man
(Apr-2014)
1)
The Black Sheep's Inheritance
(Apr-2014)
Dynasties: The Carey Center
1)
The Ex Upstairs
(Oct-2021)
2)
Ways to Win an Ex
(Nov-2021)
3)
The Wrong Mr. Right
(Dec-2021)
4)
One Little Secret
(Jan-2022)
Fortune's Children
47)
Did You Say Twins?!
(Dec-2001)
62)
Fortune's Legacy
(Apr-2006)
The Fortunes of Texas
23)
Fortune's Legacy
(Apr-2006)
The Highest Bidder
1)
Gilded Secrets
(Jul-2012)
Hotel Marchand
5)
Bourbon Street Blues
(Oct-2006)
The Hudsons of Beverly Hills
Seduced into a Paper Marriage
(Jun-2009)
Little Secrets
His Unexpected Heir
(Jul-2017)
Man of the Month
170)
An Officer And A Millionaire
(Jan-2009)
186)
The Last Lone Wolf
(May-2010)
Man Talk
Lost in Sensation
(Oct-2004)
Merlyn County Midwives
Forever...Again
(Apr-2004)
Millionaire of the Month
Thirty Day Affair
(Mar-2007)
Park Avenue Scandals
High-Society Secret Pregnancy
(Jul-2008)
Secret Lives of Society Wives
The Part-Time Wife
(Oct-2006)
Texas Cattleman's Club
34)
One Night, Two Heirs
(Jul-2011)
41)
Rumor Has It
(Jul-2013)
44)
The Lone Star Cinderella
(Oct-2013)
65)
A Bride for the Boss
(Jun-2016)
66)
The Tycoon's Secret Child
(Jan-2017)
71)
A Texas-Sized Secret
(Jun-2017)
78)
Rich Rancher's Redemption
(Feb-2018)
85)
Runaway Temptation
(Sep-2018)
91)
Wild Ride Rancher
(Apr-2019)
99)
Tempting the Texan
(Dec-2019)
105)
The Price of Passion
(Jun-2020)
Texas Cattleman's Club: The Showdown
1)
One Night, Two Heirs
(Jul-2011)
Texas Cattleman's Club: The Missing Mogul
1)
Rumor Has It
(Jul-2013)
4)
The Lone Star Cinderella
(Oct-2013)
Texas Cattleman's Club: Lies and Lullabies
8)
A Bride for the Boss
(Jun-2016)
Texas Cattleman's Club: Blackmail
1)
The Tycoon's Secret Child
(Jan-2017)
6)
A Texas-Sized Secret
(Jun-2017)
Texas Cattleman's Club: The Impostor
2)
Rich Rancher's Redemption
(Feb-2018)
Texas Cattleman's Club: Bachelor Auction
1)
Runaway Temptation
(Sep-2018)
Texas Cattleman's Club: Houston
2)
Wild Ride Rancher
(Apr-2019)
Texas Cattleman's Club: Inheritance
1)
Tempting the Texan
(Dec-2019)
Texas Cattleman's Club: Rags to Riches
1)
The Price of Passion
(Jun-2020)
Award-Winning Books by Maureen Child
Seduced into a Paper Marriage
2009 RT Reviewers Choice Award -- Silhouette Desire