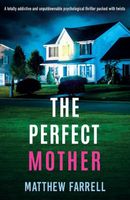 Newest Release
Bibliography:

9 Books - 1 Series

First Book:

May 2001

Latest Book:

October 2022

Rating:
Full Series List in Order
1 - I Know Everything (Aug-2019)
2 - Don't Ever Forget (Sep-2020)
3 - Tell Me the Truth (Jun-2021)
Book List in Order:
9

titles
Thunder Rift

After Thunder was chaos. The energy output of the inexplicable alien artifact that humans called Thunder Rift shattered the fragile links that held Earth's highly technological society together. And the only world young Taria Spears knew fell violent...

---

Winter Hill

"Matthew Farrell is a natural born storyteller who writes about good vs. evil with chilling authority, spinning tales populated with lifelike characters who draw you into the war. Before you start this book, make sure the doors are locked." —Jo...

---

---

What Have You Done

/ Police/Detective/Law Enforcement

Family is not what it seems in this raw, edgy thriller that New York Times bestselling author Lisa Scottoline says "you won't be able to put down." When a mutilated body is found hanging in a seedy motel in Philadelphia, forensics specialist...

---

I Know Everything

/ Police/Detective/Law Enforcement

A psychiatrist grapples with his own sanity as murder evidence mounts against him. Police investigator Susan Adler is ready to close the book on a deadly car accident, but after the medical examiner discovers evidence of foul play, she knows she h...

---

Don't Ever Forget

/ Police/Detective/Law Enforcement

From the bestselling author of What Have You Done comes a mind-bending page-turner involving a series of dark crimes from the past. When police investigator Susan Adler is called to the roadside murder of a fellow state trooper, she's tasked wit...

---

The FarmYard

Have your little one dive deep into the agricultural world of The FarmYard and learn what it takes to be a farmer in this exciting rhyming bedtime tale. Read along as we tend to the farm animals and show them loving care. Plow the fields and ensure t...

---

Tell Me the Truth

/ Police/Detective/Law Enforcement

From the bestselling author of What Have You Done comes a real whodunit about the bloody crimes that keep families together and tear them apart. Eighteen-year-old Jenny Moore is looking forward to a fresh start at college. There's just one probl...

---

The Perfect Mother

My daughter is gone. She's been taken. I grip the phone so hard I think it might break, and try to focus on what they're saying. I realise I'm not crying, even though I feel like I've been split in two. And then they say a name that makes my blood ru...

---

---
Frequently Asked Questions (FAQ)
Matthew Farrell has published 9 books.
Matthew Farrell does not have a new book coming out soon. The latest book, The Perfect Mother, was published in October 2022.
The first book by Matthew Farrell, Thunder Rift, was published in May 2001.
Yes. Matthew Farrell has 1 series.