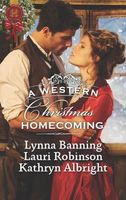 Newest Release
About the Author
Lynna Banning was born in Oregon, but has lived in Northern California most of her life. She embarking on her first career as an editor and technical writer for Stanford Research Institute and later for Lockheed. She also taught English and journalism at Santa Cruz High School. After 30-plus years as professional editor, in 1993 she retired early, and began writing fiction. Her first novel, Western Rose, was published by Harlequin Historicals in 1996. In 2007, she published her first medieval, Crusader's Lady, set during the Third Crusade, a departure from the Westerns for which she is well known. She combines a lifelong love of history and literature into a satisfying career as a writer.

Currently Lynna lives in Felton, near Roaring Camp in the Santa Cruz Mountains, with her two canaries. An amateur pianist and harpsichordist, she performs on psaltery, harp, and recorders with two medieval music groups and coaches ensembles in her spare time.
Full Series List in Order
1 - WildWood (Jul-1997)
2 - Lost Acres Bride (Nov-1998)
1 - Smoke River Bride (Jul-2013)
1.5 - Wild West Christmas: Christmas in Smoke River (Sep-2014)
2 - The Lone Sheriff (Sep-2014)
3 - Smoke River Family (Nov-2015)
3.5 - The City Girl and the Rancher (Apr-2016)
4 - Printer in Petticoats (May-2016)
5 - Her Sheriff Bodyguard (Aug-2016)
5.5 - Western Christmas Brides: Miss Christina's Christmas Wish (Oct-2017)
6 - The Hired Man (Nov-2017)
7 - Miss Murray on the Cattle Trail (Mar-2018)
8 - Marianne's Marriage of Convenience (Jul-2018)
Book List in Order:
34

titles
---

Western Rose

The Schoolmarm Needed a Lesson.... And Jake Bannister was just the man to teach Sally Maguire a thing or two. Especially if it would win him the grassland he needed to save his ranch. But would staying after school get him more than he'd bargained f...

---

WildWood

In Wildwood Valley, Trouble Wore a Badge enticingly pinned to Sheriff Ben Kearney's broad, muscular wall of a chest --- and Jessamyn Whittaker was determined to find a way around it. But how could she, when just looking at the man put her at a los...

---

Lost Acres Bride

A CATTLE DRIVE WAS NO PLACE FOR A CITY GIRL But Serene Hull was no wilting townish miss, Carleton Kearney realized. She was a woman with a fiery spirit, who could easily warm the winter in his soul. Yet was he ready for a springtime with a woman ...

---

Plum Creek Bride

Erika Scharf had always followed her heart... Now it had led her to America, and a tortured man with a motherless infant. But would the widowed Dr. Jonathan Callender ever recover from his grief? Whatever drove him had died with his young wife -- or ...

---

The Law and Miss Hardisson

Crazy Creek, Oregon, had never seen a lady lawyer before, much less one like Irene Hardisson -- and neither had Clayton Black, Texas Ranger. In fact, it had been over a year since he'd caught the scent of anything sweeter than gun powder. He was on t...

---

The Courtship

Temporarily displaced Southern belle Jane Charlotte Davis was desperate to make enough money to return home. So when town banker Rydell Wilder, a Northerner through and through, offered her a loan to start her own business, she jumped at the chance. ...

---

The Angel of Devil's Camp

A widow before she'd even been a wife -- Mary Margaret Hampton was in big trouble! Lonely loggers. One genteel lady. A dangerous combination, Tom Randall thought. He was trying to run a business, not a tea party! And if obstinate Meggy Hampton di...

---

The Scout

Expecting the unexpected was an army scout's job. Still, Major John Montgomery never anticipated finding love along the Oregon Trail. But Constance Weldon, outspoken, courageous and possessed of a quiet beauty completely at home under the wide Wester...

---

High Country Hero

When she trekked into the mountains with Cord Lawson to save a life, she'd thought that book smarts alone mattered. Now one rain-soaked river swim and bare-chested kiss in the sun later, she knew that being alive meant feeling things. But could she s...

---

---

One Starry Christmas: Hark the Harried Angels

Adam Garnett thought he had nothing to offer Irina Likov. Until meddlesome, matchmaking strangers intervened. Now his decision to give Irina a Christmas she'll remember gives Adam the greatest gift of all....

---

The Wedding Cake War

Extra! Extra! Mail-Order Brides Compete To See Who Can Deliver! That should be the headline in the Gazette, Lolly Mayfield swore. Here she'd gotten up the gumption to answer an ad, only to find herself competing for bride status against two other ...

---

The Ranger and the Redhead

Kidnapped by Indians, Charlotte Greenfield thinks her life is over. Yet when a Texas Ranger comes to her rescue, she soon discovers it has only just begun! Rugged Will Bondurant sees her not as a buttoned-down schoolmarm, but as a vibrant woman with ...

---

Loner's Lady

When a stranger turned up at her farm, in need of a place to rest, Ellen O'Brian didn't have the heart to turn him away. He looked darkly dangerous, but she could handle herself; she had learned hard and fast when her husband upped and left. Jess...

---

Crusader's Lady

Soraya al-Din is a woman bent on revenge. Disguised as a boy, nothing will keep her from her quarry! Marc de Valery is a war-weary knight who has one last duty -- to protect King Richard on his perilous journey back to England. As the sun ris...

---

Templar Knight, Forbidden Bride

A hardened, battle-weary warrior, Reynaud has forgotten what it is to be in the company of a beautiful woman, to delight in her comfort and warmth. On his return to Granada, he is drawn to Leonor and senses that she could heal his hidden scars. Sh...

---

Lady Lavender

Widow Jeanne Nicolet's beautiful lavender fields are threatened by the advancing railroad. With her livelihood in danger, Jeanne will fight to protect her, and her little daughter's, future. Constantly on the move, surveying the land, suits Colone...

---

Happily Ever After in the West: The Maverick and Miss Prim

Schoolteacher Eleanora Stevenson and her pupils are heading for safety after a renegade Indian attack when they stumble into the camp of gruff, trail-roughened Matt Johnson. From the glint in his eye and her body's tingling response, Eleanora suspect...

---

Gauchos & Gumption

/ Erotica

---

The Bride and the Bandit

Geneva Stanton travels to Maple Falls, Oregon, after inheriting the town library, which suits her just fine since she longs to be a writer and the town provides a ready supply of potential cast members for her play The Trials of Cleopatra. Out West, ...

---

---

Smoke River Bride

MAIL-ORDER MARRIAGE It's whispered in Smoke River that single father Thad MacAllister is a few quarters short of a dollar: his ambitious plans for his farm are downright crazy and his young son is heading off the rails. This family needs a woman'...

---

The Lone Sheriff

A WOMAN DETECTIVE? NOT ON HIS WATCH! As if tracking down train robbers wasn't hard enough, now Sheriff Jericho Silver's backup has arrived, and she's a gun-toting, head-turning beauty. She sure spells trouble. Madison O'Donnell had the perfec...

---

---

Thief of My Heart

At the turbulent 12th century court of Queen Eleanor of Aquitaine, Sir Thomas Lynford, the queen's champion knight, is summoned to catch the jewel thief who is robbing the queen's wealthy, titled courtiers. His promised reward is marriage to the rich...

---

---

Smoke River Family

A baby to bring them together… When Dr. Zane Dougherty swept Winifred Von Dannen's sister off to Smoke River, Winifred was resentful, but now she wants to be part of her late sister's baby's life. That means dealing with Zane and the shadows of...

---

The City Girl and the Rancher

Penniless, Clarissa Seaforth leaps at gruff rancher Graydon Harris's offer to become his cook. She's never cared for a man before, but surely it can't be hard to learn ...

---

Printer in Petticoats

This town's not big enough for both of us… Self-proclaimed spinster Jessamine Lassiter is striving to keep Smoke River's newspaper afloat when Cole Sanders rides into town to start up a rival paper. Emotions run high as Cole's constant, infuria...

---

Her Sheriff Bodyguard

"Ladies unite. Votes for women!" Caroline MacFarlane has one mission in life. The pain she experienced at the hands of her father is numbed when she stands on stage and teaches the world that women are just as strong, rational and capable as men!...

---

Baby on the Oregon Trail

New Year, new family! Heading West, pregnant widow Jenna Borland's life surely can't get any more complicated -- until fate throws Lee Carver across her path. She resents his help, but she needs him to drive her wagon over the Great Plains. L...

---

---

---

The Hired Man

A home for the drifter Cordell Winterman is haunted by his mistakes -- and the years spent paying for them. Broke and hungry, he takes a job as a hired man on Eleanor Malloy's farm. Eleanor needs help. Desperately. Her kids are running wild a...

---

Miss Murray on the Cattle Trail

A cattle drive is no place for a greenhorn But this city miss is here for the ride! Cowboy Zachariah Strickland should put Alexandra Murray on the first eastbound train home. But he has no choice except to take her on his cattle trail. She hasn...

---

Marianne's Marriage of Convenience

"I want you to marry me." A wedding in Smoke River, Oregon… Marianne Collingwood has inherited a business, the perfect escape from her life of drudgery. There's one condition: to claim the business, she must be married! Her coworker, ha...

---

A Western Christmas Homecoming: Christmas Day Wedding Bells

Three festive romances Christmas in the Wild West! In Christmas Day Wedding Bells by Lynna Banning, buttoned-up librarian Alice is swept away by US marshal Rand Logan on a new adventure. Then, Welles is Snowbound in Big Springs in this novella ...

---
Frequently Asked Questions (FAQ)
Lynna Banning has published 34 books.
Lynna Banning does not have a new book coming out soon. The latest book, A Western Christmas Homecoming: Christmas Day Wedding Bells, was published in October 2018.
The first book by Lynna Banning, Western Rose, was published in March 1996.
Yes. Lynna Banning has 2 series.