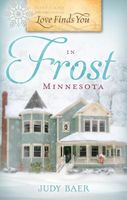 Newest Release
About the Author
Judy Kay Baer was born and grew up on a farm on the prairies of North Dakota. An only child, she spent most of her days with imaginary people-either those she read about or those she made up in her head. Her most ambitious conjuring did not succeed, however. She kept a clean stall with hay and oats for the horse she imagined would come but unfortunately, it never did. As an adult, however, she managed to make that dream come true and raised foundation quarter horses and buffalo for some years. A voracious reader, Judy learned to read with comic books, anything from Little Lulu and Superman to the Rawhide Kid. She sold her first story for $10.00 to a farm magazine. She still has the $10.00. She graduated from Concordia College, Moorhead, Minnesota with a major in English and education and a minor in religion. At the time, she was simply studying what interested her, but now realizes that she was educating herself for her future career as an inspirational christian romance writer.

Judy wanted to write for Harlequin even in high school but it wasn't until her youngest child learned to say "No" that she realized that she'd better consider a second career to fall back on when mothering was done. Her first book was written with her little girl on her lap. Judy would type a few words, say "Now, Jennifer," at which time her daughter would hit the space bar before Judy continued typing. It wasn't the fastest way to work, but it offered a lot of mother-Judy Baer Picturedaughter time together. An over-achiever, she's written 71 books for various publishers. The mother of two and step-mother of three, she now has lots of family to enjoy. In 2001, she went back to school and became a certified professional life coach. Currently she is working on her Master's in Human Development in the areas of writing, coaching and spirituality and writing inspirational Chick Lit which, she says, is the most fun she's ever had writing.
Full Series List in Order
1 - New Girl In Town (Aug-1988)
2 - Trouble With a Capital "T" (Aug-1988)
3 - Jennifer's Secret (May-1989)
4 - Journey to Nowhere (May-1989)
5 - Broken Promises (Sep-1989)
6 - The Intruder (Aug-1989)
7 - Silent Tears No More (Dec-1989)
8 - Fill My Empty Heart (Mar-1990)
9 - Yesterday's Dream (Sep-1990)
10 - Tomorrow's Promise (Sep-1990)
11 - Something Old, Something New (Apr-1991)
12 - Vanishing Star (Apr-1991)
13 - No Turning Back (Sep-1991)
14 - Second Chance (Sep-1991)
15 - Lost and Found (Apr-1992)
16 - Unheard Voices (Apr-1992)
17 - Lonely Girl (Sep-1992)
18 - More Than Friends (Sep-1992)
19 - Never Too Late (Apr-1993)
20 - The Discovery (Apr-1993)
21 - A Special Kind of Love (Oct-1993)
22 - Three's a Crowd (Nov-1994)
23 - Silent Thief (Aug-1995)
24 - The Suspect (May-1996)
25 - Heartless Hero (Feb-1997)
26 - Worlds Apart (Sep-1997)
27 - Never Look Back (Nov-1997)
28 - Forever Friends (Mar-1999)
1 - Mirror, Mirror (Jun-2007)
2 - Sleeping Beauty (Oct-2007)
1 - An Unlikely Blessing (Oct-2010)
2 - Surprising Grace (May-2012)
1 - Risky Assignment (Jun-1994)
2 - Price of Silence (Jun-1994)
3 - Double Danger (Nov-1994)
4 - Sarah's Dilemma (Aug-1995)
5 - Undercover Artists (May-1996)
6 - Faded Dream (Aug-1996)
1 - Jenny's Story (Aug-2000)
2 - Libby's Story (Mar-2001)
3 - Tia's Story (Nov-2001)
1 - The Whitney Chronicles (Oct-2004)
2 - The Baby Chronicles (Sep-2007)
3 - Oh, Baby! (Jun-2008)
Multi-Author Series List
Paige
(Oct-1990)
Pamela
(Aug-1996)
The Whitney Chronicles
(Oct-2004)
Million Dollar Dilemma
(Sep-2005)
Norah's Ark
(Sep-2006)
The Baby Chronicles
(Sep-2007)
Oh, Baby!
(Jun-2008)
Recipes & Wooden Spoons
(Oct-2006)
Blessings from Acorn Hill
(Feb-2011)
8 -
Slices of Life
(Jan-2004)
17 -
Tempest in a Teapot
(Mar-2010)
42 -
The Way We Were
(Sep-2008)
Book List in Order:
74

titles
---

---

Love's Perfect Image

Plain Jane! Plain Jane! Whatever it took, she would exorcise that demon of her unhappy past!... When Jayne Lindstrom looked in the mirror, she did not see an incredibly beautiful woman with a near flawless figure, honed lean and sleek with a dedicate...

---

Tender Adversary

ANGELA ALONE -- Highly competitive, coolly sophisticated, fiercely motivated, she wears her dreams of success on her well-tailored sleeve. But never in her impressive legal career has she encountered a more formidable adversary than... ROB JORDAN -...

---

Shadows Along the Ice

Pamela is determined to tame the tiger. PAMELA WARREN--Pamela's first assignment as a sports reporter is an interview with hockey player Tyler Evans, the "tiger of the ice." It's the hardest thing she's ever had to do, but in an unguarded moment h...

---

Dakota Dream

"I don't trust men anymore, and there's not a man alive who's going to change my mind!" Katelyn Ryan had begun to believe she would never respond to a man's touch again, especially after her ex-fiance's smooth-sounding lies. She had come home to Med...

---

---

---

Moonglow

"My worst fears come true. My flight crew has both a civilian and a woman -- all in one package." JUDD McALLISTER had no enthusiasm at all for Dr. Sarah Christie's membership on the crew of the shuttle Discovery. Ever since his appointment as missi...

---

Riddles of Love

Searching for love... When Darby Sutton's grandfather died, he left behind a very unusual will. To claim her inheritance, Darby must solve a series of baffling riddles. And there is only one person who may be able to help: her grandfather's bold you...

---

---

New Girl In Town

Her family had moved, and Alexis Leighton never dreamed it would be so difficult to make new friends. Back in her home town, Lexi had been constantly going out and doing things, but here no one seems to care about her at all.

Finally a date wit...

---

Trouble With a Capital "T"

Minda is the leader of the Hi-Fives and very popular and powerful at Cedar River High School. No one's ever stood up to her before, but now Lexi Leighton has refused to compromise and Minda is mad!

When Lexi tries to befriend Minda, it only mak...

---

---

My Perfect Valentine

Love in disguise... Carissa Stevens is devastated when her boyfriend of sixteen months, popular Glen Matlock, dumps her for a vivacious cheerleader - and right before the Valentine Masquerade. Shy Carissa believes she'll never have another boyfrie...

---

Jennifer's Secret

Lesxi Leighton and her friends all are excited about the beginning of a new school year-all but Jennifer, that is. Jennifer is so uptight she seems like she's about to snap. Lexi decides to investigate. She discovers that Jennifer totally hat...

---

Journey to Nowhere

Matt is Cedar River High's rebel wild, scary and mean. He's known around school for his fighting, and his messed-up home life seems to reinforce his actions. Matt is dangerous to himself, some feel he's dangerous to others, and his name has become sy...

---

The Intruder

Having made the big adjustment to life at Cedar River, Lexi Leighton thought her family had settled into a routine and life was normal again. She couldn't have been more wrong!

Lexi senses that something's bothering her mother; she's so quiet a...

---

Broken Promises

Lexi Leighton's friend Peggy has become Chad's close friend--very close--to the exclusion of everybody else. Despite the warnings, spending all their free time alone is bad news--for them and their friends. Then comes the day when the fun sto...

---

Working at Love

Marli McKensie and her friend Christie open a vintage clothing section in Marli's mother's store as a school business class project, leading to wild financial success and romantic problems when the two girls hire single male help....

---

Silent Tears No More

Lexi Leighton's friend Binky is interested in a guy at school but feels out of it. Her clothes, her hair everything seems out of style. The perfect solution seems to be a babysitting job that will allow her to get a new wardrobe. Everything begins to...

---

---

My Mutant Stepbrothers

Darcy has trouble adjusting to her stepdad and two stepbrothers when her mother remarries....

---

Fill My Empty Heart

Cedar River High has just taken on a new practice teacher who's envied and talked about by the entire school.

Mr. Cartwright, a weightlifter and football player in college, is everybody's idol perfect muscles, handsome, and he knows it.

B...

---

Tomorrow's Promise

In Yesterday's Dream Lexi Leighton's personal world collapses around her and her faith in God is shaken, but in the end she is assured that He is still with her. Yet her beloved grandmother only gets worse and so does the darkness of the circumstance...

---

Yesterday's Dream

Lexi Leighton has always been there for her friends--a consistent source of help and stability for those in need. But an early morning phone call from the hospital begins a series of events that starts her personal life on a downward spiral. The ...

---

Paige

Paige Bradshaw's world is turned upside down the day a dark-suited stranger enters her family's life. When he claims to be her missing uncle, her father decides the man is after a share of the Bradshaw inheritance and angrily orders him to stay away ...

---

Something Old, Something New

Lexi Leighton's friend Peggy is returning to Cedar River, and only Lexi knows the reason why she left to have her baby and give it up for adoption Lexi wonders whether Peggy will have changed and whether they'll still be friends.Meanwhile, Le...

---

Vanishing Star

Although Lexi doesn't like it, many of the kids in Cedar River have gotten into horror flicks, especially the not-so-nice Hi-Fives. Even her friend Binky is fascinated with them and has gotten hooked on the thrill. Cedar River is such a bore in compa...

---

No Turning Back

Though Lexi Leighton is thrilled at Todd's new position as quarterback, she wonders if Peggy's and Chad's problems will ever end. Now that Peggy finally looks like she can pull her life together, Chad seems to be falling apart. Chad h...

---

Second Chance

Lexi's boyfriend, Todd Winston, has had everything going for him quarterback of the high-school football team, handsome, a great personality, and smart. Then comes a serious injury in a football game that leaves his whole future in uncertainty. Much...

---

---

---

Lost and Found

Peggy Madison had been through an incredible year, but all her friends hope that the worst is behind so that she can get a fresh start on life. The facts soon become obvious though: Chad's death has left hurts that aren't yet healed. Her behavior has...

---

Unheard Voices

Lexi Leighton thinks she knows all about how tough it is to be the new girl in town until the late fall day when Ruth Miller is introduced to her class. So sweet looking, so pale and frightened, Lexi's heart aches for her. Then it turns out that ...

---

Lonely Girl

Lexi Leighton first noticed the pretty new girl in the dark hallways long after school had let out. Why would anyone hang around school so late? Seeing the same girl early the next morning getting ready for school in the restroom, Lexi's curiosit...

---

More Than Friends

Lexi Leighton was so excited she could hardly wait to tell the news to her friends at Cedar River. Her very best friend from Grover's Point was coming to visit, and they'd all finally get to meet the girl Lexi had told so many stories about! ...

---

---

The Discovery

Everyone is excited when Todd's older brother, Mike, announces his engagement to Nancy Kelvin. A pediatric nurse at the Cedar River Hospital, Nancy is bubbly and outgoing, just the opposite of her husband-to-be. Mike and Nancy's spring weddin...

---

Never Too Late

Todd's older brother, Mike, has a new girlfriend and it shows! The body shop he owns has become a disaster area, and Todd's been left to organize the mess and juggle both of their responsibilities. Lexi thinks Nancy's really great, but To...

---

A Special Kind of Love

Jennifer Golden's latest excitement is the party she's secretly planning for her parents' 30th anniversary, and she's got Lexi and the rest of the gang helping her make it a success. They've dug out old pictures, letters, and clippings to put into a ...

---

---

---

---

---

Three's a Crowd

Brock Taylor is the new guy in Cedar River, and he's very interested in getting to know Lexi better much better. In fact, Brock seems determined to ignore the friendship Lexi and Todd have built over the years. Lexi's flattered, but Todd ...

---

Sarah's Dilemma

As they gather material on how handicapped people are treated for the student-run television news show at their high school, Sarah's friends gain insight into the difficulties she faces being confined to a wheelchair...

---

Silent Thief

Strange symptoms dizziness, clumsiness, confusion have been plaguing Lexi Leighton's mother for weeks. Sometimes it appears as if her mom is drunk! Tripping over her feet, dropping food on the floor, wearing sunglasses inside the house what is go...

---

The Suspect

Egg and Binky McNaughton are thrilled to be named class managers for the School Store and when they take over, the little hole-in-the-wall shop becomes a top-notch retail store. Sales are way up and things are going great until money starts disappear...

---

---

---

Pamela

Pamela Warren is eager to make a name for herself when she takes a dream job as a sports reporter for a Canadian newspaper. Her first assignment: to interview Tyler "the Tiger" Evans, an arrogant hockey star with a less than stellar reputation. His g...

---

Heartless Hero

When a hotshot football star moves to Cedar River, students are buzzing with excitement. Roger Mason is one of the state's top-ranked players but is he worth the trouble? Egg and Binky McNaughton have dark memories of Roger from grade school, whe...

---

Worlds Apart

When Todd's family takes in a seventeen-year-old exchange student from Greece, Lexi and her friends learn a great deal about the handsome boy's home country and watch him become the center of attention at school...

---

---

Never Look Back

Angela Hardy seems like the least likely person to cause trouble. Quiet, sincere, and always sweet, Angela is one of Lexi Leighton's favorite friends. But almost without warning, Angela's behavior begins to change. Her boyfriend, Egg McNaughton, noti...

---

Tell Me No Lies

Judy Baer, Jan Duffy, Peggy Stoks, and Jeri Odell

Four complete novellas, each set in a different region of contemporary America. As couples are reunited, we learn how they've grown in their understanding of God and themselves....

---

Forever Friends

As Egg McNaughton graduates from high school and heads for college, much to the dismay of his sister Binky, Lexi must rely on her Christian faith when her parents insist that she break up with Todd because they seem to be getting too serious, and she...

---

Jenny's Story

A powerful first novel in a series about three lifelong friends. Jenny is a young widow struggling with grief over the sudden loss of her husband and the subsequent deception she discovers. The love and support of her two best friends help Jenny find...

---

Libby's Story

THE AMNESIAC DOCTOR? He fell at her feet, literally, out in the Australian rainforest. Nurse Sam Abbot knew the man was injured, and it wasn't just his ankle; the only thing he could remember was some medical knowledge. Was he a doctor? Eithe...

---

Tia's Story

Because Tia has focused solely on her career, she really doesn't know herself, let alone the God who loves her. Tia's Story will touch the hearts of today's women with a message of hope and faith....

---

Slices of Life

Once you visit the charming village of Acorn Hill, tucked away in rural Pennsylvania, you'll never want to leave. Townsfolk relax on their porch swings or gather to discuss the day's events at the Coffee Shop over homemade pie....

---

The Whitney Chronicles

spin.ster: noun 1 : an unmarried woman or a woman for whom marriage seems dubious 2 : a woman who spins or weaves for a living Her mother, sister and friends (?) fear spinsterhood may be the fate of thirty-year-old Whitney Blake. And while she...

---

Million Dollar Dilemma

"I'm a P.K., preacher's kid (or if I want to get fancy, a T.O., a theologian's offspring). I grew up afraid of my own allowance...." So when over $20 million falls into her lap shortly after she moves to Minneapolis, Cassia Carr views her Midas to...

---

Be My Neat-Heart

I've been told the reason I'm still single at twenty-nine is because there'll never be a man tidy enough for me. I'm a professional organizer, so everything in my world is in perfect order. Well...everything except my love life. But I think I've m...

---

Norah's Ark

Hi, my name is Bentley. I'm a mutt with a dash of pit bull in the soup, and I have issues. I'm not likely to win any beauty pageants, and I'm afraid of cats. But my human, Norah Kent, thinks I'm the greatest despite all my shortcomings. The pro...

---

Recipes & Wooden Spoons

Recipes & Wooden Spoons is one of more than twenty-five books in the series Tales from Grace Chapel Inn. Once readers visit the charming village of Acorn Hill, they'll never want to leave. And they'll love spending time with the Howard sisters, w...

---

Mirror, Mirror

A new reality show plans to answer that old question with on-air makeovers. Even though it isn't her idea of reality, model Quinn Hunter reluctantly agrees to host the show. That way, she can help a needy friend and follow her true calling--teaching ...

---

The Baby Chronicles

Whitney Black left spinsterhood behind when she became Mrs. Chase Andrews, and marriage is all she'd hoped for. But when her friends Mitzi and Kim start going baby-crazy, she longs for her own little bundle of joy. Wouldn't it be fun if they all coul...

---

Sleeping Beauty

Will Suze Sleepwalk Into The Arms Of Her Dream Man? Chronic sleepwalker Suze Charles's nocturnal rambles were legendary among her friends and family. But then she was up for a promotion in her career as an insurance adjuster. And it was anyone's g...

---

Oh, Baby!

I, Molly Cassidy, am a pregnant woman's dream -- and one man's nightmare! From the moment we met, obstetrician Clay Reynolds scorned my profession as a birthing coach. His scathing remarks left me crying on the shoulder of my potbellied pig, Ger...

---

The Way We Were

Once readers visit the charming village of Acorn Hill they'll never want to leave. Three sisters-Louise, a widow from Philadelphia; Alice, an unmarried nurse who lived with her father; and Jane, a divorced chef from San Francisco-reunite in the sleep...

---

Tempest in a Teapot

With a beloved natural landmark in danger, the Howard sisters must find a way to save the beauty of God's creation.

When an out-of-state developer wants to drain Fairy Pond -- a beloved piece of Acorn Hill's past -- and put in a gas station, a st...

---

The Cinderella List

Wanted: One Smart, Kind, Thoughtful -- And Totally Gorgeous -- Man! Since she was a child, Marlo Mayfield has kept a list of traits her Prince Charming must possess. After a series of bad relationships, Marlo's beginning to lose hope that her ideal ...

---

An Unlikely Blessing

Meet Alex Armstrong, new pastor and lifelong city dweller, who has just accepted his first parish assignment, a small parish in the wilds of North Dakota. Hilltop Township, a farming community, blooms from the prairie like a wild pink rose lovely and...

---

Blessings from Acorn Hill

Enjoy two beloved Tales from Grace Chapel Inn books in a single volume! In The Way We Were, Jane's college roommates gather for a reunion at Grace Chapel Inn where they reconnect, uncover old wounds, and confess long-buried secrets. Will their ga...

---

Mending Her Heart

From Big-City Life to Small-Town Love After quitting her high-powered job, Catherine Stanhope heads home to Pleasant, Minnesota, to rest and regroup. When she arrives at her late grandmother's house, Hope House, she finds a handsome caretaker and hi...

---

Surprising Grace

The charming and often hilarious Forever Hilltop series follows the experiences of former city dweller Alex Armstrong as he settles into his new role as pastor of a Scandinavian community in rural North Dakota. Alex is sometimes baffled by his parish...

---

The Bachelor Boss

Widowed mother Hannah St. James didn't expect to meet her next employer by crashing into his new Mercedes. But she's in no financial shape to pass up the position that workaholic businessman Tyler Matthews offers: live-in caregiver to his grandmother...

---

Love Finds You in Frost, Minnesota

When Jack Frost returns home to Minnesota, he meets the town's newcomer. She's bubbly, beautiful, and his latest adversary. Considering that her name is Merry Noel Blake and she was born on Christmas Eve, it's not surprising that Frost, Minnesota'...

---
Frequently Asked Questions (FAQ)
Judy Baer has published 74 books.
Judy Baer does not have a new book coming out soon. The latest book, Love Finds You in Frost, Minnesota, was published in October 2013.
The first book by Judy Baer, Girl Inside, was published in September 1984.
Yes. Judy Baer has 6 series.