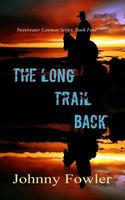 Newest Release
Bibliography:

26 Books - 1 Series

First Book:

November 2010

Latest Book:

August 2014

Rating:
Full Series List in Order
1 - Mountain Woman (Nov-2010)
3 - Mountain Woman Bound for Texas (Apr-2012)
4 - Snake River Blizzard (Jun-2012)
Book List in Order:
26

titles
Mountain Woman

The torture and murder of a mine executive sends the US Marshals on the trail of the killers, who have also kidnapped a widow woman. The chase leads them to the Snake River where Kate and Man must also face the worst blizzard in Idaho history. In ord...

---

Eclipse of the Heart

Helena Cornelius, an author experiencing writer's block after the success of her bestselling first novel, soon finds her life out of control. Her stepson is determined to destroy her reputation by claiming she plagiarized her novel from his dead fa...

---

Dea Conspiracy

Cora Beth Williams and Nat Hinson are narcotics agents. Cora Beth, an agent for the DEA, is betrayed by her supervisor. Hired killers are waiting when she arrived in Rio Valley. Nat, a narc with the Texas Department of Public Safety, rescues her and ...

---

Explosions of Fire

Jo Ann Brady meets Major Chuck Brooks in a cemetery while they're both there to place flowers on their spouses' graves. An immediate attraction between them results in a one-night stand - or so Jo Ann thinks. Chuck can't reveal he's on a mission to C...

---

Hidden Agenda

Cole Winters has left his corporate job to return to the family ranch after the death of his father. A drought and fire has destroyed his winter crops and a bank debt left by his father has put him in jeopardy of losing the ranch. He can see only one...

---

Kill Without Remorse

Kate Gurber is promoted into a management position over Rudy Flanders because of his alcohol abuse and quick temper. Ted Henderson, a former Navy SEAL, but also an employee, is assigned as Kate's bodyguard after Rudy makes death threats against her...

---

Love Walked in

Mary Jo Helms, a university professor, is surprised when Mark Dubois, a middle-aged man, enters her freshman journalism class. University policy forbids relationships between teachers and students, but an attraction between them leads Mary Jo to take...

---

Panhandle Blizzard

Vivian Leigh Campbell, a teacher from east Texas, is forced to flee a ruthless man determined to destroy her. As she runs for her life, she finds herself stranded in a blizzard in the Texas panhandle. In danger of freezing to death, she is rescued by...

---

Treason at White Sands

Jen Darling, an FBI agent working undercover, meets a New Mexico State policeman, John Paul Casey. Both are assigned to work undercover when weapons and sensitive data are reported missing at the White Sands Missile Range in New Mexico. An immediate ...

---

---

Diplomatic Immunity

Cory McMeans, a language expert, is utilized as an interrupter and analyzer for a special government agency. That is, until she is chosen for a very dangerous assignment. Cory must consent to work undercover with another agent, posing as husband and ...

---

The Mercenary's Daughter

Beth Ann Owens is the biological daughter of Rex Alexander, a notorious mercenary. Rex mailed Beth Ann a valuable document wanted by several cartels and foreign governments before he was murdered by a redhead. However, he talked before he died. The a...

---

Spanish Fly

Carol Lane leaves her boring office job for a new job working as a secret agent for the government. But she soon finds herself on an assignment confronting drug dealers that could get her killed. Despite the dangers, she discovers she's suited for a ...

---

Murder in the Loop

FBI agents, Kelton Brewer and Molly Belle Wade, are assigned the responsibility of finding the kidnapper and murderer of a wealthy mother and her daughter in New York City. The agents are given a list of possible suspects, all of whom are in a positi...

---

Vengeance Is Mine

Baxter Kline has retired from the DEA and moved home to manage the ranch after his father's death. A woman named Carmen initiates an introduction and they soon became a couple. Bax witnesses a drug drop and murder on his ranch and he recognizes the...

---

Hardy, Texas Ranger

In Book 1 of the Mary Hardy Series we meet Mary Hardy, the widow of a murdered Texas Ranger, as she teams up with Texas Ranger Jack Reynolds. Jack is on the trail of the Moss Gang after they murder everyone on a stagecoach. Hardy insists he take her ...

---

Right Place, Wrong Time

An intelligence agency discovers a terrorist cell working out of a nationwide corporation. Victoria Condron and Kevin Wilson are recruited to learn the identity of the terrorists. They are employees of the corporation and their snooping won't seem su...

---

---

Mountain Woman Rides Again

The saga of Kate McAlaster continues with another adventure in the Great Northwest, in a time when mountain men roam the peaks and valleys. Renegade Indians are still a threat to the settlers finding homesteads following their perilous journey on the...

---

Mountain Woman Bound for Texas

United States Deputy Marshal Kate and her husband Marshal Manchester are ordered to go to Texas and apprehend the Bright women. The Bright Gang has murdered fourteen people in a courtroom in Spokane before going on the run. Texas Rangers, Mary Hardy ...

---

---

Snake River Blizzard

The torture and murder of a mine executive sends the US Marshals on the trail of the killers, who have also kidnapped a widow woman. The chase leads them to the Snake River where Kate and Man must also face the worst blizzard in Idaho history. In ord...

---

Mountain Woman: Danger at Wolf Canyon

Bad things are happening in the town of Wolf Canyon. The citizens are being terrorized by their own corrupt lawmen and a crooked judge. After a US marshal sent to investigate these claims of brutality is murdered, Kate decides to pose as a bounty hun...

---

The Lawman of Sweetwater

United States Marshal Vince Ward has left the Oregon Territory for a warmer climate and a new life. He settles in Sweetwater, Texas, a sleepy little town where nothing much happens. Or, so he thought. Since his arrival prominent officials are murdere...

---

The Murder Campaign

Chief Marshal Manchester and Marshal Kate are ordered to investigate a potential presidential candidate, Senator Chandler. They think it will be a simple investigation until murders start happening all around them. After the attorney general of the U...

---

Six-Gun Justice

Life in Sweetwater is never dull. When a child mysteriously disappears while walking home from school, Texas Ranger Vince Ward must uncover the truth with no witnesses and no clues - it's as if the child has disappeared into thin air. In addition to ...

---

The Long Trail

Ranger Vince Ward is faced with the most critical challenge of his life, protecting himself and the woman he loves, Julie Bryce. Gunmen are launching attacks almost daily and he has no idea who the mastermind is. Or, are the attempts from more than o...

---

The Long Trail Back

When Vince Ward's life takes an unexpected turn, his friends must step in and join the fight against an enemy who is determined to get revenge. In Book Four of the Sweetwater Lawman series, Texas Rangers Hardy and Jack Reynolds and US Marshal Turner ...

---
Frequently Asked Questions (FAQ)
Johnny Fowler has published 26 books.
Johnny Fowler does not have a new book coming out soon. The latest book, The Long Trail Back, was published in August 2014.
The first book by Johnny Fowler, Mountain Woman, was published in November 2010.
Yes. Johnny Fowler has 1 series.