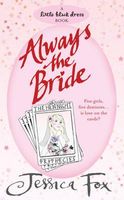 Newest Release
Bibliography:

8 Books - 1 Series

First Book:

February 2009

Latest Book:

February 2011

Rating:
Full Series List in Order
1 - The One That Got Away (Jun-2009)
2 - Eastern Promise (Dec-2009)
3 - Hard To Get (May-2010)
4 - Unlucky in Love (Dec-2010)
5 - Always the Bride (Feb-2011)
Book List in Order:
8

titles
Twisted Lies

Forced to live a lie after killing a drug lord's only son, Lena Caine and Gerald Taylor must flee the country for their own safety. When the assassin sent to kill them does not get paid and Lena Caine is kidnapped, Tripp must work with Assassin Vin...

---

The One That Got Away

It all starts at Zoe's hen night. When her sister hires a surprise tarot-card reader, it's just for a bit of fun. Every girl loves having her fortune told, right? But the spookily accurate readings are not so easy to laugh off... For Fern, the ne...

---

Eastern Promise

'In love, mother know best' When Priya is told this by a fortune-teller at her close friend Zoe's hen night, she's sceptical. Since when has she listened to her mother? But then Priya's TV assignment investigating miraculous events at an ashram co...

---

Hard To Get

'Love will come through hope alone' Or so a fortune-teller tells Charlotte at her furture sister-in-law Zoe's hen night. But the fact is Charlotte's love life is utterly hopeless. She's decidedly single and not happy about her ex-husband Richard w...

---

---

Unlucky in Love

Risk-taker Libby Foster wishes she thought things through more—maybe then she'd avoid being humiliated at work over her reckless romantic attachments. So it's just as well that she's swearing herself off men and escaping to a Thai island to work on...

---

---

---
Frequently Asked Questions (FAQ)
Jessica Fox has published 8 books.
Jessica Fox does not have a new book coming out soon. The latest book, Always the Bride, was published in February 2011.
The first book by Jessica Fox, Twisted Lies, was published in February 2009.
Yes. Jessica Fox has 1 series.