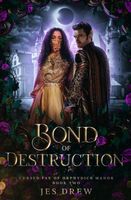 Newest Release
Bibliography:

31 Books - 7 Series

First Book:

June 2014

Latest Book:

March 2023
Full Series List in Order
1 - Castaways (Feb-2018)
2 - Fugitives (Apr-2018)
3 - Targets (Jun-2018)
1 - Red as Blood (Feb-2020)
2 - Sleep Like Poison (Sep-2020)
3 - Wisps at Night (Apr-2021)
1 - Mind of Darkness (Jan-2019)
2 - Fists of Injustice (Jun-2019)
3 - Heart of Steel (Aug-2019)
1 - Wolf Claw (Nov-2016)
2 - Wolf Curse (Nov-2016)
3 - Wolf Cure (Dec-2016)
1 - The Bachelor Missions (Feb-2017)
2 - In the Rogue (Dec-2017)
3 - Ruptured Reality (Oct-2018)
1 - The Time I Saved the Day (Jun-2014)
2 - The Time I Saved a Damsel in Distress (Jul-2014)
3 - The Time I Saved the World (Aug-2014)
1 - At Summer's End (Jun-2020)
2 - Echoes of Summer (Jul-2021)
Book List in Order:
31

titles
The Time I Saved the Day

High school sophomore, Charisa O'Dell, has enough to do between homework, karate, and an upcoming school dance. However, when she is accidentally endowed with superhuman powers, she adds one more thing to the list: crime fighting. Crime is a lot mo...

---

The Time I Saved a Damsel in Distress

When Charisa O'Dell goes to Washington D.C. on a field trip, she is reunited with her old crime fighting partner and is hired by a senator to rescue his kidnapped daughter. The kidnappers are professionals, and Charisa herself is a little out of pr...

---

The Time I Saved the World

Charisa O'Dell has enough on her plate trying to live a normal life despite her superpowers. But when a mysterious menace acquires superpowers of his own, she fights back. However, even with Hunter and her dad by her side, she is sorely outnumbered...

---

Wolf Claw

Jane Delane has always lived an unusual life, having survived a freak wolf accident and then growing up in the woods completely sequestered from 1920s society. But as her seventeenth birthday draws near, her life becomes even more unusual when her fa...

---

Wolf Curse

Fleeing with her brother to Scotland, Jane Delane boards a luxury cruiser in search of their estranged mother. Life is hard enough between nursing her brother back to health and nursing her own broken heart over having to leave behind Amos Hood, were...

---

Wolf Cure

Struggling with her guilt over what she's done to the love of her life and battling the insanity that comes with her lycanthropy, Jane isn't sure she can survive long enough, traveling with the motley group of allied enemies, to make it to her mother...

---

The Bachelor Missions

The good-guys, the bad-guys, and the wild card- it's the ultimate game of cloak and dagger... Kristian Clark, private eye, thought his days as a special agent were behind him, but when he's drafted into action, he finds himself reunited with his old ...

---

In the Rogue

The classic game of cat and mouse- but who's the cat and who's the mouse? Kristian Clark is still reeling from his accidental marriage to his rookie, Susan Deanna, when NEO anarchists attack their agency and they have to go on the run with his- their...

---

Castaways

Emily Rogers thought nothing could be worse than her family moving across the ocean. When the unthinkable happens and the ship goes down, she learns just how wrong she is. Now she's stranded on a deserted island with her two young cousins and Christo...

---

---

Fugitives

Emily Rogers hoped her most dangerous days were behind her when she escaped from the Island. But soon she realizes that trying to figure out her relationship with Christopher Williams and dodging nosy reporters are the least of her worries. The evil ...

---

Targets

Emily Rogers has had enough excitement for one summer. But even with the Masters behind bars, the drama isn't over. Now there's the court case to look forward to, as well as unwanted fame, and a hostile reporter. Then the 'accidents' begin. One by on...

---

Ruptured Reality

I'd tell you I love you... But then you'd make me change the baby's diaper. Kristian Clark can go undercover for months on end, combat multiple enemies at once, and even teleport through dimensions. He should be ready for everything. But having a new...

---

Mind of Darkness

Emily Rogers is ready for a summer that doesn't involve being cast away on islands or being chased around the globe. So when she's invited to an elite pre-college class along with her boyfriend, she jumps at the chance. But things are not all the...

---

Fists of Injustice

Charisa O'Dell is on the run with her boyfriend, Kyle Rivers, and Tim, their fellow superhuman. She will stop at nothing to bring to justice the scientist responsible for kidnapping them, and to avenge the broken girl they had to leave behind. But to...

---

Heart of Steel

Brainwashed students.Kidnapped superhumans.One family to rule them all . . .Charisa leads the front lines in a stint of guerrilla warfare against those who have incarcerated her father and who are slowly imprisoning the world one Cure vaccine at at t...

---

---

---

Red as Blood

The inauguration year of Queen Victoria means little in the wild west of the Americas... Rose Red is a respectable woman now, and her past as a member of Queenie's cattle-wrangling gang is securely behind her. Until the sister she left behind appears...

---

At Summer's End

She knows better than to trust anyone.He wants his best friend back.Together they will probably save the world. Most likely.The world is reeling from the near-apocalypse of the Dystopian Takeover that was only just averted by a motley crew of teenage...

---

---

---

Sleep Like Poison

The inauguration year of Queen Victoria hasn't yet reached across the ocean to the Caribbean Islands . . . Aurora has everything she could ever want now that her childhood sweetheart is her betrothed. Everything, that is, except her brother's freedom...

---

Eden In-Between (And Other Short Stories)

He's haunted by his past,Her choices,And his own self.All is not perfect in paradise . . . Also known as exile.Kristian Clark has survived purgatory. He and his children were kidnapped, his brain has been picked apart and put back together wrong, and...

---

My Wife, The President

I'm not the best of men, but I'm not the worst of them either. I'm simply a man with a hard job to do. A complicated one. One that can get a little bit dirty. But a duty that is absolutely necessary for the future of my nation.And as the husband of t...

---

The Ghost of You

Her redemption is keeping her child safe.His is to bring them in.Will they choose vengeance . . . or a second chance?I never have called myself a saint. Sure, I never meant to get so sucked into the life of death and deceit that I chose, but there's ...

---

Wisps at Night

He fell the moment he saw her- literally.She wants nothing to do with him.But she also needs to help him woo her to break her curse . . . The inauguration year of Queen Victoria sees a world where old magic and new technology coexist . . .Aladdin has...

---

Echoes of Summer

She knows better than to trust anyone.He wants his best friend back.Together they will probably save the world. Most likely.Violet is only just now acclimating team when she's assigned her first solo mission. Which is good, because she and Alex need ...

---

---

Kristian Clark and the Holy Heist

He's a capable in all things but romance.She's determined to recruit him one kiss at a time.One soul saved. One life spared. Two souls bound together for life.I thought I left my past as a special agent behind me. The government has other ideas. When...

---

Embrace of Shadows

/ Contemporary Romance

She's a mortal with no memories.As her fae liege, he knows only that he must protect her.But is he her hero . . . or her captor? Salma knows only her own name. She doesn't even remember why she's ill. Then a fae lord who claims he knows her snat...

---

---

Bond of Destruction

/ Contemporary Romance

***Warning: Contains spoilers for Book One***She is his greatest weakness.He is her grimmest threat.They need to break their fate-bond— or die.Salma is haunted by the truth of who she is and why she was brought to the Manor. She must break the ...

---

---
Frequently Asked Questions (FAQ)
Jes Drew has published 31 books.
The next book by Jes Drew, Bond of Destruction, will be published in March 2023.
The first book by Jes Drew, The Time I Saved the Day, was published in June 2014.
Yes. Jes Drew has 7 series.