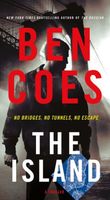 Newest Release
About the Author
Ben Coes is the New York Times bestselling author of international political and espionage thrillers including Power Down, Coup d'État, The Last Refuge, Eye for an Eye, Independence Day, First Strike, Trap the Devil, and Bloody Sunday. While fiction, all of Ben's books are based on current events and are strongly influenced by friends who are or were in the military or intelligence circles.

Ben went to Columbia College and was awarded the university's highest writing award, the Bennett Cerf Memorial Prize for Fiction.

Ben was a White House Intern under Ronald Reagan and served as a White House-appointed speechwriter to the U.S. Secretary of Energy during the Gulf War. He was a Fellow at Harvard University's Kennedy School of Government.

Ben lives in Massachusetts with his wife and children.
Full Series List in Order
1 - Power Down (Oct-2010)
2 - Coup D'etat (Oct-2011)
3 - The Last Refuge (Jul-2012)
4 - Eye for an Eye (Jul-2013)
5 - Independence Day (Jun-2015)
6 - First Strike (Jul-2016)
7 - Trap the Devil (Jun-2017)
7.5 - Shooting Gallery: A Novella (Jun-2018)
8 - Bloody Sunday (Jul-2018)
9 - The Island (Aug-2021)
1 - The Russian (Aug-2020)
Book List in Order:
12

titles
---

Power Down

Introducing a major new thriller writer -- in the vein of Vince Flynn and Brad Thor -- and an electrifying character, Dewey Andreas A major North American hydroelectric dam is blown up and the largest off-shore oil field in this hemisphere is dest...

---

Coup D'etat

Wanting only a peaceful, obscure life, Dewey Andreas has gone to rural Australia, far from turbulent forces that he once fought against. But powerful men, seeking revenge, have been scouring the earth looking for Dewey. And now, they've finally found...

---

The Last Refuge

Israeli Special Forces commander Kohl Meir has proof that Iran has finally succeeded in building its first nuclear weapon -- and plans on using it to attack Israel. But before Meir can recruit Dewey Andreas and execute his secret operation, he's abdu...

---

Eye for an Eye

In Ben Coes' latest, Eye for an Eye, Dewey Andreas faces the toughest odds of his life as one of China's most powerful men has decided to do whatever he must to take down Dewey -- and inflicts a horrifying loss. When Dewey Andreas uncovers the ide...

---

Independence Day

Dewey Andreas, former Delta and newly recruited intelligence agent, is sidelined after screwing up his last two operations. Still drowning in grief after the tragic murder of his fiancé, Dewey has seemingly lost his focus, his edge, and the confiden...

---

First Strike

Deep within the Pentagon, a covert, multi-billion arms-for-influence program was created. The objective was to protect the United States and its allies from terrorist acts by secretly enabling a hand-picked man to emerge as the most powerful leader i...

---

Trap the Devil

Only one man stands between a powerful cabal planning an invisible coup of the U.S. government and their brutal goals―Dewey Andreas. A group of some of the most powerful people in the government, the military, and the private sector, has begun a...

---

Shooting Gallery: A Novella

/ Thriller

A new short story by New York Times bestselling thriller writer Ben Coes -- with time running out, Dewey Andreas is the last hope for a prominent kidnapping victim. The newly sworn-in Vice President of the United States has a problem. Her son, o...

---

Bloody Sunday

North Korea, increasingly isolated from most of the rest of the world, is led by an absolute dictator and a madman with a major goal―he's determined to launch a nuclear attack on the United States. While they have built, and continue to successfull...

---

---

The Russian

As the brutal Russian mafia becomes the most powerful and deadly criminal enterprise in the country, the U.S. has a new hero, Rob Tacoma, in New York Times bestseller Ben Coes's new series. After the break-up of the Soviet Union, some of the most ...

---

The Island

CIA operative Dewey Andreas is America's last line of defense when terrorists take over Manhattan, targeting the U.N. and the President himself in The Island, the latest in this New York Times bestselling series by Ben Coes. America is about t...

---

A Day to Kill

/ Action Adventure

---
Frequently Asked Questions (FAQ)
Ben Coes has published 12 books.
Ben Coes does not have a new book coming out soon. The latest book, A Day to Kill, was published in September 2021.
The first book by Ben Coes, Power Down, was published in October 2010.
Yes. Ben Coes has 2 series.