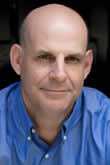 About the Author
Mystery and thriller author Harlan Coben was born and raised in New Jersey. He became a fraternity brother of author Dan Brown while both were attending Amherst College. After graduating with a degree in political science, he worked at a travel industry company owned by his grandfather. It was during his senior year at college when he discovered his desire to be a writer. His first book was published when he was 26. He later began writing a popular thriller series featuring the sports agent character, Myron Bolitar.

Coben has won a Shamus Award, Edgar Award, and Anthony Award. He is the first writer to have been honored with all three. He lives in New Jersey with his wife, pediatrician Anne Amstrong-Coben, and their four children.

Full Series List in Order
1 - Shelter (Sep-2011)
2 - Seconds Away (Sep-2012)
3 - Found (Sep-2014)
1 - Deal Breaker (May-1995)
2 - Drop Shot (Mar-1996)
3 - Fade Away (Dec-1996)
4 - Backspin (Aug-1997)
5 - One False Move (May-1998)
6 - The Final Detail (Jun-1999)
7 - Darkest Fear (Jun-2000)
8 - Promise Me (May-2006)
9 - Long Lost (Apr-2009)
10 - Live Wire (Apr-2011)
11 - Home (Sep-2016)
1 - The Stranger (Jan-2015)
2 - The Match (Jan-2022)
1 - The Boy from the Woods (Mar-2020)
2 - The Match (Jan-2022)
1 - Win (Jan-2021)
Book List in Order:
38

titles
---

---

Miracle Cure

They're one of the country's most telegenic couples: beloved TV journalist Sara Lowell and New York's hottest basketball star, Michael Silverman. Their family and social connections tie them to the highest echelons of the political, medical, and spor...

---

Deal Breaker

BONUS BABY, BLUES Myron drinks Yoo-Hoo and never forgets to call his mom. His assistant is a diminutive beauty who was once a Fabulous Lady of Wrestling. And his number-one client, a golden-boy quarterback, is tainted by suspicion of murder. Hard...

---

Drop Shot

POINT, SET, MATCH There's no love in tennis. Not with million-dollar shoe contracts, spoiled teenage stars, and hungry sports agents circling like sharks. But even in the anything--goes atmosphere of the U. S. Open, murder is a little over the top...

---

Fade Away

OLD ATHLETES NEVER DIE. THEY JUST FADE AWAY. Once Myron Bolitar was the best. Then an injury sent him to law school amid on to a second career as a big-time sports agent--a career fueled by savvy, Yoo-Hoo, and an athlete's broken heart. Now Myron'...

---

Backspin

SUDDEN DEATH Kidnappers have snatched the teenage son of super-star golfer Linda Coldren and her husband, Jack, an aging pro, at the height of the U.S. Open. To help get the boy back, sports agent Myron Bolitar goes charging after clues and suspec...

---

One False Move

Brenda Slaughter is no damsel in distress. Myron Bolitar is no bodyguard. But Myron has agreed to protect the bright, strong, beautiful basketball star. And he's about to find out if he's man enough to unravel the tragic riddle of her life. Twenty...

---

The Final Detail

For sports agent Myron Bolitar, it seemed like the perfect vacation. A tropical beach. A warm breeze. A little uncomplicated passion with a woman he barely knows. Myron is almost in heaven when his friend Win shows up with a message that blasts him b...

---

Darkest Fear

Edgar Award-winner Harlan Coben brings us his most astonishing-and deeply personal-novel yet. And it all begins when Myron Bolitar's ex tells him he's a father. .. of a dying thirteen-year-old boy. Myron never saw it coming. A surprise visit from ...

---

---

Tell No One

For Dr. David Beck, the loss was shattering. And every day for the past eight years, he has relived the horror of what happened. The gleaming lake. The pale moonlight. The pierci1ig screams. The night his wife was taken. The last night he saw her ali...

---

Gone for Good

As a boy, Will Klein had a hero: his older brother, Ken. Then, on a warm suburban night in the Kleins' affluent New Jersey neighborhood, a young woman--a girl Will had once loved--was found brutally murdered in her family's basement. The prime suspec...

---

No Second Chance

WHEN THE FIRST BULLET HIT MY CHEST, I THOUGHT OF MY DAUGHTER.... Shot twice by an unseen assailant, Dr. Marc Seidman lies in a hospital bed. His wife has been killed. His six-month-old daughter has vanished. But when the ransom note arrives, it gi...

---

Just One Look

When Grace Lawson picks up a newly developed set of family photographs, there is a picture that doesn't belong--a photo from at least twenty years ago with a man in it who looks strikingly like her husband, Jack. And though Jack denies her suspicions...

---

The Innocent

YOU NEVER MEANT TO KILL HIM... One night, Matt Hunter innocently tried to break up a fight--and ended up a killer. Now, nine years later, he's an ex-con who takes nothing for granted. His wife, Olivia, is pregnant, and the two of them are closing ...

---

Promise Me

Six years... That's how long it's been since entertainment agent Myron Bolitar last played superhero. In six years he hasn't thrown a punch. He hasn't held, much less fired, a gun. But all that is about to change . . . because of a promise. The s...

---

Entrapped

This volume compiles 18 gripping stories about relationships from some of the top mystery writers working today, including Harlan Coben, P.J. Parrish, Lee Child, Ridley Pearson, R.L. Stine, Jim Fusilli, Jeff Abbott, Charles Todd, and Tom Savage....

---

---

Hold Tight

How well do you really know your child? Tia and Mike Baye never imagined they'd spy on their kids. But their sixteen-year-old son Adam has been unusually distant lately, and after the suicide of his best friend Spencer Hill, they can't help bu...

---

Long Lost

It begins with an early-morning phone call. An old flame wakes Myron Bolitar from sleep. Terese Collins is in Paris, and she needs his help -- no questions answered. In her debt, Myron makes the trip and learns of a decade-long secret: Terese once h...

---

---

---

Live Wire

NO ONE STAYS ANONYMOUS ONLINE.... When former tennis star Suzze T and her rock star husband, Lex, encounter an anonymous Facebook post questioning the paternity of their unborn child, Lex runs off. Suzze, who is eight months pregnant, asks their a...

---

Shelter

After witnessing his father's death and sending his mom to rehab, Mickey Bolitar has to live with his estranged uncle Myron, and switch to a new school. The one saving grace is Ashley, Mickey's new girlfriend. But then Ashley vanishes without a trace...

---

Stay Close

Megan is a suburban soccer mom who once upon a time walked on the wild side. Now she's got two kids, a perfect husband, a picket fence, and a growing sense of dissatisfaction. Ray used to be a talented documentary photographer, but at age forty he fi...

---

Seconds Away

When tragedy strikes close to home, Mickey Bolitar and his loyal new friends -- sharp-witted Ema and the adorkably charming Spoon -- find themselves at the center of a terrifying mystery involving the shooting of their friend Rachel. Now, not only do...

---

---

Missing You

From #1 New York Times bestselling author Harlan Coben, a heart-pounding thriller about the ties we have to our past...and the lies that bind us together. It's a profile, like all the others on the online dating site. But as NYPD Detective Kat Do...

---

Found

It's been eight months since Mickey Bolitar witnessed the shocking, tragic death of his father. Eight months of lies, dark secrets, and unanswered questions. While he desperately wants answers, Mickey's sophomore year of high school brings on a w...

---

The Stranger

#1 New York Times bestselling master of suspense Harlan Coben delivers his most shocking thriller yet, proving that a well-placed lie can help build a wonderful life -- and a secret has the same explosive power to destroy it. The Stranger appea...

---

The Magical Fantastical Fridge

#1 New York Times Bestselling novelist Harlan Coben partners with a talented debut illustrator in this fantastical and funny adventure for fans of David Wiesner and William Joyce It's family dinner night, and Walden would like to be anywhere othe...

---

---

Fool Me Once

You think you know the truth. The truth is you know nothing. In the course of eight consecutive #1 New York Times bestsellers, millions of readers have discovered Harlan Coben's page-turning thrillers, filled with his trademark edge-of-your-sea...

---

Home

Ten years after the high-profile kidnapping of two young boys, only one returns home in Harlan Coben's gripping thriller. A decade ago, kidnappers grabbed two boys from wealthy families and demanded ransom, then went silent. No trace of the boys...

---

Don't Let Go

With unmatched suspense and emotional insight, Harlan Coben explores the big secrets and little lies that can destroy a relationship, a family, and even a town in this powerful new thriller. Suburban New Jersey Detective Napoleon "Nap" Dumas h...

---

---

The Boy from the Woods

A man with a mysterious past must find a missing teenage girl in this shocking thriller from the #1 New York Times bestselling author of Run Away. Thirty years ago, Wilde was found as a boy living feral in the woods, with no memory of his past. No...

---

Win

From the #1 bestselling author and creator of the hit Netflix series The Stranger comes a riveting new thriller, starring the new hero Windsor Horne Lockwood III -- or Win, as he is known to his (few) friends … Over twenty years ago, heiress P...

---

The Match

In this gripping new thriller from the #1 New York Times bestselling author of The Boy from the Woods, Wilde -- the ex-military operative with no memory of his past -- follows a tip that he hopes will finally solve the mystery of his abandonment, but...

---

Birds of Prey: The Harlan Coben Challenge

The world's greatest thriller writers prove they're up to a unique challenge in this action-packed, audio-original collection. It all started with a simple, yet sneakily difficult challenge from global best-selling author Harlan Coben: Pic...

---

I Will Find You

David and Cheryl Burroughs are living the dream - married, a beautiful house in the suburbs, a three year old son named Matthew - when tragedy strikes one night in the worst possible way. David awakes to find himself covered in blood, but not his ...

---
Award-Winning Books by Harlan Coben
Deal Breaker
1996 Anthony Award -- Paperback Original
Fade Away
1996 Shamus Award -- Paperback Original P.I. Novel
1997 Edgar Allan Poe Award -- Paperback Original
Tell No One
2002 Audies -- Mystery-Fiction
Frequently Asked Questions (FAQ)
Harlan Coben has published 38 books.
Harlan Coben does not have a new book coming out soon. The latest book, I Will Find You, was published in March 2023.
The first book by Harlan Coben, Play Dead, was published in June 1990.
Yes. Harlan Coben has 5 series.