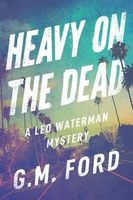 Newest Release
Bibliography:

21 Books - 2 Series

First Book:

May 1995

Latest Book:

July 2019

Rating:
Full Series List in Order
1 - Fury (Apr-2001)
2 - Black River (Jul-2002)
3 - A Blind Eye (Jul-2003)
4 - Red Tide (Jun-2004)
5 - No Man's Land (Jul-2005)
6 - Blown Away (Jul-2006)
1 - Who in Hell Is Wanda Fuca? (May-1995)
2 - Cast in Stone (Apr-1996)
3 - The Bum's Rush (May-1997)
4 - Slow Burn (Mar-1998)
5 - Last Ditch (Mar-1999)
6 - The Deader the Better (Feb-2000)
7 - Thicker Than Water (Jul-2012)
8 - Chump Change (May-2014)
9 - Salvation Lake (Jul-2016)
10 - Family Values (Sep-2017)
11 - Soul Survivor (Jul-2018)
12 - Heavy on the Dead (Jul-2019)
Book List in Order:
21

titles
Who in Hell Is Wanda Fuca?

...AND JUST WHO IS LEO WATERMAN? A soft-hearted sleuth with a rebellious streak left over from the '60s, Leo Waterman seems to get entangled in, every oddball situation from Seattle to Puget Sound. So when he's hired to locate Caroline Nobel, an e...

---

Cast in Stone

In the wild days of Leo Waterman's youth, Henry "Heck" Sundstrom was a god. But things haven't been going great lately for the p.i.'s burly ex-hero. First came the honeymoon boating accident that killed Heck's son and new daughter-in-law, Allison. An...

---

The Bum's Rush

Packed with all the outrageous shenanigans that quickly marked Who in Hell is Wanda Fuca? and Cast in Stone as two of the most original mysteries in years, G.M. Ford crafts a devilishly funny and bat-out-of-hell paced novel featuring his smart-aleck ...

---

Slow Burn

G.M. Ford's unconventional private detective, Leo Waterman, jolts the p.i. scene like a double shot of espresso from a sleek Seattle coffee bar. Aided by his band of scruffy irregulars -- "the Boys," a team of residentially challenged connoisseur of ...

---

Last Ditch

Seattle p.i. Leo Waterman knows the city like no one else. And he knows how to stretch the limits of the law, when necessary, to accomplish what needs to be done--a very useful talent Leo acquired from his late, larger-than-life father, once one of t...

---

The Deader the Better

Seattle p.i. Leo Waterman isn't looking for trouble when he and his forensic pathologist girlfriend Rebecca escape into the Washington wilder for a few days of relaxation -- it just seems to find him. An old friend has purchased some choice property ...

---

Fury

Frank Corso is a pariah -- a journalist once vilified for making up "facts" on a major crime story. Yet slow, sheltered Leanne Samples trusts no one but Corso to tell the world that her courtroom testimony that put Walter Leroy "Trashman" Himes on De...

---

Black River

There is the law, and there is justice. The two are not always the same.... There is no stronger argument for the death penalty than Nicholas Balagula -- but so far the elusive sociopath has escaped punishment through ruthless intimidation, jury t...

---

A Blind Eye

Beneath the rotting floorboards of an abandoned shed are human bones -- lots of them -- the last things a runaway rogue true-crime writer and his photojournalist ex-lover expected to find when they took shelter from a vicious Wisconsin blizzard. The ...

---

---

Red Tide

Something has been set loose in the city -- an airborne horror that leaves a tunnel full of corpses below the streets of Seattle just as experts from fifty nations are gathering at a downtown hotel for an international symposium on chemical and biolo...

---

No Man's Land

Arizona's Meza Azul penitentiary is a technological wonder built to hold the worst of the worst. But somehow a prisoner has breached the foolproof security, opened the cells, and now holds more than one hundred guards and workers hostage. Cold, brill...

---

Blown Away

The nightmare began a year ago with the curious and unfortunate death of a delivery driver-blown to pieces. With a little prodding from the media, the terror spread, burning a bloody swath from East Coast to West. Bodies are piling up as a series...

---

Nameless Night

He wowed critics with his Frank Corso and Leo Waterman series, catapulting to the upper ranks of contemporary crime writers with each riveting new thriller. Now, G.M. Ford is back with a brand-new book, his first stand-alone novel, featuring a man wi...

---

---

Thicker Than Water

Hard living collects its fair share of casualties, but somehow Leo Waterman avoided becoming one of them. Destined for a trust fund that was taking too damn long to kick in, he spent years eking out a living in Seattle as a private investigator. Alon...

---

Chump Change

Sometimes it's the things you don't do that come back to haunt you, just as surely as some questions are best left unanswered. When "Leo" is the last word a stranger speaks, the Seattle private eye launches himself into a search for answe...

---

Threshold

/ Police/Detective/Law Enforcement

Between the end of his marriage and the excessive force complaints against him, Detective Sergeant Mickey Dolan is running out of chances. When a powerful and connected city councilman reports that his wife and two daughters have disappeared, Dolan i...

---

Salvation Lake

At the end of an especially raucous day at his neighborhood bar, private eye Leo Waterman is surprised to see his old flame, Rebecca Duval, walk in the door. But King County's medical examiner is here on business, not pleasure. Two dead bodies, cov...

---

Family Values

Returning to Seattle after a business trip, retired PI Leo Waterman is shocked to find his girlfriend, Rebecca Duvall, unconscious on the bathroom floor, her house filled with gas. Officials believe it was a suicide attempt in the wake of a humiliati...

---

---

Soul Survivor

PI Leo Waterman is back at it -- investigating a very domestic crime that turns into a national nightmare in this upbeat page-turner of a mystery. Why would a teenager with no prior record suddenly assassinate a city councilman? Retired PI Leo Wat...

---

Heavy on the Dead

/ Police/Detective/Law Enforcement

One body on the sunny beach is all it takes for PI Leo Waterman to feel a chill. After seven months laying low in Ocean Beach, California, Seattle PI Leo Waterman has finally stopped looking over his shoulder -- specifically, for the vengeful band...

---
Frequently Asked Questions (FAQ)
G.M. Ford has published 21 books.
G.M. Ford does not have a new book coming out soon. The latest book, Heavy on the Dead, was published in July 2019.
The first book by G.M. Ford, Who in Hell Is Wanda Fuca?, was published in May 1995.
Yes. G.M. Ford has 2 series.