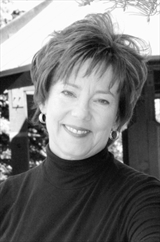 About the Author
Diane Mott Davidson didn't publish her first novel until she was 41. Her mystery novels feature protagonist, Goldy Schulz, a caterer.

Davidson is a N.Y. Times Bestselling Author and has won multiple awards including being named Rocky Mountain Fiction Writers' Writer of the Year.
Full Series List in Order
1 - Catering to Nobody (Jul-1990)
2 - Dying for Chocolate (Aug-1992)
3 - The Cereal Murders (Nov-1993)
4 - The Last Suppers (Oct-1994)
5 - Killer Pancake (Oct-1995)
6 - The Main Corpse (Sep-1996)
7 - The Grilling Season (Sep-1997)
8 - Prime Cut (Sep-1998)
9 - Tough Cookie (Mar-2000)
10 - Sticks and Scones (Apr-2001)
11 - Chopping Spree (Jul-2002)
12 - Double Shot (Oct-2004)
13 - Dark Tort (May-2006)
14 - Sweet Revenge (Sep-2007)
15 - Fatally Flaky (Apr-2009)
16 - Crunch Time (Apr-2011)
17 - The Whole Enchilada (Sep-2013)
Book List in Order:
19

titles
---

Catering to Nobody

Catering the wake of her son's favorite teacher is not Goldy's' idea of fun. Particularly when her former father-in-law passes out, nearly felled by a dose of rat poison. Investigating officer Tom Schulz, though smitten with Goldy and ...

---

Cold Turkey

CLAUDIA BISHOP AND NICK DICHARIO request the honor of your presence at a different kind of dinner party ... Festivities begin promptly at 8:3o. Sixteen short stories -- accompanied by dangerously delicious recipes -- will be served. Be the...

---

The Cottonwood Creek Caper

CHARLOTTE MACLEOD ruffles feathers on Beacon Hill...BARBARA PAUL visits with a fatally clumsy clan...D.R. MEREDITH tells a murderer to go fly a kite...AUDREY PETERSON pursues a shadowy gentleman caller...VALERIE FRANKEL tracks a catnapper in Brooklyn...

---

Dying for Chocolate

THE CATERER Meet Goldy Bear: a bright, opinionated, wildly inventive caterer whose personal life has become a recipe for disaster. She's got an abusive ex-husband who's into making tasteless threats, a rash of mounting bills that are taking ...

---

The Cereal Murders

Featuring original recipes for such mouth-watering morsels as Sugar Plum Cake, luscious Red 'n' White Cookies, and savory Nachos Schulz! A DELECTABLE DINNER Thanks to her recent adventures in Dying for Chocolate, Goldy Bear, the premier caterer o...

---

The Last Suppers

A BLISSFUL BRIDE... It should be the happiest day of Goldy's life. The Colorado caterer is about to tie the know with the man of her dreams, homicide detective Tom Schulz. But minutes before the ceremony is to begin, Tom phones with an urgent mess...

---

Killer Pancake

A GORGEOUS BANQUET... When Goldy, owner of Goldilock's Catering, faces the challenge of whipping up a sumptuous lowfat feast for the Mignon Cosmetics' company banquet, she rises to the occasion brilliantly...only to discover just how ugly the beauty ...

---

The Main Corpse

A GOLDEN OPPORTUNITY For caterer Goldy Schulz, who's been worrying about her cash flow, the chance to work for a high-powered company like Prospect Financial Partners seems like a dream come true. But it turns out to be murder...in every sense o...

---

The Grilling Season

CHILLY RECEPTION Caterer Goldy Schulz has been hired to host a hockey party. But the proceedings won't be all fun and games. Unfortunately, her client won't be satisfied until Goldy adds a hefty serving of revenge. AN EX-HUSBAND FROM HELL...

---

---

Prime Cut

A CATERER'S NIGHTMARE Caterer Goldy Schulz is convinced things couldn't get worse. An unscrupulous rival is driving her out of business. An incompetent contractor has left her precious kitchen in shambles. And she has just agreed to cater ...

---

Tough Cookie

When caterer Goldy Schulz is offered a temporary stint hosting a cooking show for PBS, she jumps at the chance. After all, she could use the money -- not to mention the great exposure. Plus taping the shows at Colorado's posh Killdeer Ski Resort ...

---

Sticks and Scones

For Colorado caterer Goldy Schulz, accepting a series of bookings at Hyde Castle is like a dream come true. It's not every day that she gets to cook authentic Elizabethan fare -- especially at a real castle that was brought over from England and ...

---

Chopping Spree

For Colorado caterer Goldy Schulz, business isn't just booming it's skyrocketing. Her friend Marla is constantly warning her, "Suceess can kill you." But Goldy doesn't take the warning literally until her next booking: a cocktail ...

---

Double Shot

Caterer supreme Goldy Schulz has more on her plate than she can handle. Her ultra-charming, ultra-wealthy, and seriously psychopathic ex-husband, Dr. John Richard Korman (aka "the Jerk"), is free now that the governor of Colorado has commuted...

---

Dark Tort

"I tripped over the body of Dusty Routt at half past ten on the night of October 19. . . ." Goldy Schulz has a lucrative new gig, preparing breakfasts and conference-room snacks for a local law firm. It's time-consuming, but Goldy is enjoying i...

---

Sweet Revenge

Goldy Schulz is thrilled to be catering a holiday breakfast feast for the staff of the Aspen Meadow Library. But little does she know that on the menu, alongside the Great Expectations Grapefruit, Chuzzlewit Cheese Pie, and Bleak House Bars, is a lar...

---

Fatally Flaky

It's been a long summer for Goldy Schulz, who is engaged in planning a wedding reception for Aspen Meadow's nuttiest bridezilla. But then Doc Finn, beloved local physician and the best friend of Goldy's godfather, Jack, is killed when his car tumbles...

---

Crunch Time

When the rental house shared by chef Yolanda Garcia and her irrepressible aunt Ferdinanda is destroyed by arson, the pair moves in with cop-turned-PI Ernest McLeod. But then Ernest is shot dead and his house is set on fire, nearly killing Yolanda, Fe...

---

The Whole Enchilada

Caterer and sleuth extraordinaire Goldy Schulz jumps from the frying pan into the fire as she tries to solve a puzzling murder that is much too close to home. Goldy Schulz knows her food is to die for, but she never expects one of her best friends...

---

---
Award-Winning Books by Diane Mott Davidson
Cold Turkey
1993 Anthony Award -- Short Story
Double Shot
2004 RT Reviewers Choice Award -- Amateur Sleuth
Frequently Asked Questions (FAQ)
Diane Mott Davidson has published 19 books.
Diane Mott Davidson does not have a new book coming out soon. The latest book, The Whole Enchilada, was published in September 2013.
The first book by Diane Mott Davidson, Catering to Nobody, was published in July 1990.
Yes. Diane Mott Davidson has 1 series.