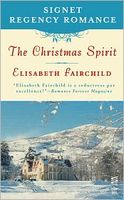 Newest Release
About the Author
Elisabeth Fairchild is half English and considers the British Isles her second home. With a degree in advertising from North Texas State University, Fairchild worked for ten years in advertising before turning to writing full-time.
Full Series List in Order
1 - Captain Cupid Calls the Shots (Dec-2000)
2 - Valentine's Change of Heart (Jan-2003)
1 - The Love Knot (Nov-1995)
2 - Lord Ramsay's Return (Mar-1996)
3 - The Rakehell's Reform (Feb-1997)
4 - Marriage a la Mode (Dec-1997)
5 - Provocateur (Feb-2013)
Book List in Order:
22

titles
---

The Silent Suitor

Beauty or the Beast? Miss Sarah Wilkes Lyndle was stunningly lovely. Nonetheless, she was startled to have two of the leading lords of the ton drawn to her on her very first visit to London. One was the handsome, elegant, utterly charming Stewart ...

---

The Counterfeit Coachman

A passionate Impropriety Miss Fanella Quinby knew where her proper duty lay. She had to find a husband with a social position to match that of her family, and with wealth enough to rescue her family from its impoverishment. Though Nell was not a d...

---

Miss Dornton's Hero

Fateful Attraction It was lovely young Miss Margaret Dornton's first London season. That was why she knew nothing of the fearful reputation of the dark and handsome Evelyn Dade until it was terribly too late. To be seen in this notorious gent...

---

Lord Endicott's Appetite

Feeding a Fever Food along with everything else had lost its savor for Lord Julian Endicott. And unless lovely and impoverished Jeannette Saincoeur could find a way to please his palate, she would lose her position as cook and return to the life o...

---

The Love Knot

The Man-Hunting Maiden Miss Aurora Ramsay had set her sights on a moneyed marriage to save her family estate -- and had found the perfect target. Not only was Lord Walsh wonderfully wealthy, he was her ideal of masterful masculinity and rugged goo...

---

Lord Ramsay's Return

Lovely, young Miss Prudence Stanhope was intimately acquainted with the danger of men's desires, and the devices and deceits designed to undo a lady's defenses. Already she had survived one such campaign of conquest with her illusions shatter...

---

A Fresh Perspective

A Surfeit of Suitors Miss Megan Breech was only a vicar's daughter, but her striking beauty and brilliant talent made up for her humble birth. The most Honorable, if most boring, Harold Burnham wanted her for his wife. The divinely handsome an...

---

The Rakehell's Reform

Her Foolish Heart Selina Preston knew her father loved her and that he was determined that his hard-earned wealth buy her happiness in the form of a high-born husband. Unfortunately, the man he chose to press on her was everything she found hatefu...

---

The Mistletoe Kiss

Hark, the herald angels sing as five of Signet's favorite Regency authors bring you a melodious collection of stories to make the season even brighter. Lush with the magic of the holiday, the stories in this Christmas Regency collection capture the t...

---

---

Marriage a la Mode

A Scandal Over Love The ton was in an uproar! The King was bringing divorce proceedings against the Queen. And Lady Melody Bainbridge was doing the same against the cruel lord she had wed a few years before. Now forced to hide her face behind the ...

---

Felicity's Forfeit

Make the season bright with these original stories of Christmas love, written by five award-winning Regency authors. Heartwarming, celebratory, and romantic, each delightful story captures the essence of the Yuletide spirit -- its loving good will an...

---

A Christmas Canvas

The gifts of Christmas are priceless -- good cheer, warm hearts, and happy times with friends. And now five bestselling Regency authors have made a special present to you--five brand-new stories. High-spirited and humorous, heartwarming and romantic ...

---

The Holly and the Ivy

A Merry Mary Mary Rivers's elderly Gran has predicted a wonderful London Christmas --- and a wonder is what it will take to soothe Mary's heart, lonely for her country relatives. So when their neighbor, the dashing, though usually prickly, Lord Balf...

---

Breach of Promise

Stung by Love The village of Chipping Campden is abuzz with gossip when the local honey merchant, Miss Susan Fairford, leases her former home to a mysterious young gentleman. Miss Fairford went from belle to beekeeper after her marriage to a cad w...

---

Love Will Find a Way

THE GRAND HOTEL... The most fashionable place to rest your head -- and warm your heart Brand-new and breathtakingly stylish, London's Luxurious Grand Hotel is the perfect setting for romantic rendezvous, glittering celebrations -- and Cupid...

---

Captain Cupid Calls the Shots

Battles of the Heart Captain Alexander Shelbourne was known as Cupid to his friends for his uncanny marksmanship in battle. But when he accompanied a fellow soldier home and met the lovely Penny Foster, he himself became a target -of scorn and gos...

---

Sugarplum Surprises

Seasonal Sweets When her father the Baron died, Jane Nichol thought she had lost every chance at happiness--and her newly-widowed step-mother's plans for her made things frightfully worse. Now, having escaped the Baroness's clutches by...

---

A Game of Patience

Winning at Love Patience Ballard has fond memories of her two best childhood friends-fim-Ioving Pip and dear, dependable Richard. But now that she is ready to marry, it is Pip she wants-and she's come to London to find him. ... Patience is cr...

---

Valentine's Change of Heart

Heart and Soul Valentine Wharton has been drowning is sorrow ever since he lost his beloved Penny Foster to the town gossips. But Wharton no longer cares what the members of the ton have to say--not since high society scorned his beloved Penny. No...

---

---

The Christmas Spirit

/ Historical Romance

An Earl gets his Christmas spirits lifted in this original Signet Regency Romance from Elisabeth Fairchild. For Christmas, Kirkland Fleming, Earl of Copeland, promises his guests a fortnight of eating, drinking, and hunting ghosts at Broomhill H...

---

Captain Cupid

/ Historical Romance

Captain Cupid, A Regency RomanceEveryone in Appleby assumes the marksman brought home from Waterloo by Valentine Wharton, is called Captain Cupid for his way with women, just as everyone assumes Penny Foster, the town "touch-me-not" is a fallen w...

---

Provocateur

/ Historical Romance

Can a dangerous provocateur with much to hide and a young woman who sees into the hearts and souls of dangerous men, save England? His Majesty's Secret Servant, the mysterious Gargoyle, risks revealing his rakish reputation is nothing but a guise, ...

---
Award-Winning Books by Elisabeth Fairchild
Miss Dornton's Hero
1995 RT Reviewers Choice Award -- Regency Novel
Sugarplum Surprises
2001 RT Reviewers Choice Award -- Regency Romance
Frequently Asked Questions (FAQ)
Elisabeth Fairchild has published 22 books.
Elisabeth Fairchild does not have a new book coming out soon. The latest book, Captain Cupid, was published in February 2013.
The first book by Elisabeth Fairchild, The Silent Suitor, was published in April 1994.
Yes. Elisabeth Fairchild has 2 series.