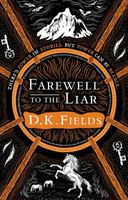 Newest Release
Bibliography:

3 Books - 1 Series

First Book:

November 2019

Latest Book:

August 2021

Rating:
Full Series List in Order
1 - Widow's Welcome (Nov-2019)
2 - The Stitcher and the Mute (Nov-2020)
Book List in Order:
3

titles
Widow's Welcome

Dead bodies aren't unusual in the alleyways of Fenest. Muggings, brawls gone bad, debts collected—Detective Cora Gorderheim has seen it all. Until she finds a Wayward man with his mouth sewn shut. As Detective Gorderheim pieces together the dead ma...

---

The Stitcher and the Mute

Detective Cora Gorderheim has found the man who strangled the Wayward storyteller, but he was just a small part of a much bigger tale. Someone powerful ordered a murder on Cora's patch. That someone still lurks in the shadows. But as she continue...

---

Farewell to the Liar

There's power in stories. But power comes at a price. Detective Cora Gorderheim is a detective no longer. Stripped of her badge, her job now is to protect her sister, Ruth, the new Wayward storyteller. Ruth must tell her tale of the Tear widening if...

---
Frequently Asked Questions (FAQ)
D.K. Fields has published 3 books.
D.K. Fields does not have a new book coming out soon. The latest book, Farewell to the Liar, was published in August 2021.
The first book by D.K. Fields, Widow's Welcome, was published in November 2019.
Yes. D.K. Fields has 1 series.