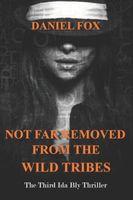 Newest Release
Bibliography:

13 Books - 1 Series

First Book:

February 2009

Latest Book:

March 2022

Rating:
Full Series List in Order
1 - Dragon in Chains (Feb-2009)
2 - Jade Man's Skin (Feb-2010)
3 - Hidden Cities (Mar-2011)
Book List in Order:
13

titles
Dragon in Chains

From award-winning author Daniel Fox comes a ravishingly written epic of revolution and romance set in a world where magic is found in stone and in water, in dragons and in men -- and in the chains that bind them. Deposed by a vicious usurper, a you...

---

Jade Man's Skin

In this soaring epic, Daniel Fox weaves the ancient myths and legends of feudal China into a fantasy world of brutal war and brittle passion, immortal gods and mystical creatures. With the long-chained dragon now free and the rebels' invasion smas...

---

Hidden Cities

The mythic beasts and glorious legends of feudal China illuminate a world at war in this, the conclusion to Daniel Fox's critically acclaimed series. Whatever they thought, this was always where they were going: to the belly of the dragon, or the...

---

The Wizard, the Farmer, and the Very Petty Princess

The evil undead are marching. As the human kingdoms stand on the brink of extinction, the reluctant farmer Idwal is forced into adventure, shanghaied by a vain princess, tricked out of his money by a cackling miser, and finds much to his surprise tha...

---

Trident's Flame

/ General Fiction

Teenager Jake Sloan wants to spend time with his dad on a special science trip to Alaska. He had always wanted to enter the world of espionage—his dad's world. Someday. But when a father-son fishing trip in Alaska turns into a full-blown mission...

---

Encyclopedia Terrorificus: The Deepest, Darkest, Dungeness Crab

She brought up... the Curse of the Blood-Curdling Crab! There's something wrong with the prize-winning crab Abilene brought up from the dark ocean waters - everybody who tries to give her grief ends up in hot water, and she's sure the crustacean has ...

---

Encyclopedia Terrorificus: Reduce, Reuse, Recykill!

Discount prices on... DANGER! Nobody can quite remember the used-clothing shop moving into town - but with such low prices on such high-quality items, nobody wants to worry. But worry they will when everyone wearing the discount apparel starts to act...

---

Hag's Trail

CAN HE BE BAD ENOUGH TO BE A GOOD MAN? An ancient witch has gone and made the worst mistake in her eras-old life - she went and took the daughter of Louis Doyle. And if there's one thing Louis Doyle won't abide, it's people taking his property. Pulli...

---

In The Dark

What would you do if you couldn't remember your own life? If all you had were fragmented and foggy memories that seemed out of place?That's how I'm learning to live. I catch myself questioning everything and everyone.Every person is a stranger ...

---

---

The Case of the Scandalous Vandal

There's a vandal loose in the village of Punky-yarn destroying public property, wrecking the re-election, and even threatening the lives of the locals. Worst of all an innocent eleven year-old boy is being blamed and there is only one Private Inves...

---

Lies That Bind

Running, lying, pretending.All of my life, that's all I have ever known. It's how my family has survived. In those small spaces between the mundane day-to-day tasks. That's where most people make real connections with each other....Or so I've heard. ...

---

No Human Involved

Dive back into noir-laden Los Angeles.It's 1950. Ida Bly is back and this time she's living life large. Closing out the Skid Row Sally story has made her famous. She's chased by movie studio executives, wooed by silver screen sex symbols, and most im...

---

Not Far Removed From The Wild Tribes

Some things you can never escape.Ida Bly has left everything she knew in her rear-view mirror, determined to make a new life for herself. One free from fear, pain, and heart-break.She didn't stand a chance.Drawn back into the city that she both loves...

---
Frequently Asked Questions (FAQ)
Daniel Fox has published 13 books.
Daniel Fox does not have a new book coming out soon. The latest book, Not Far Removed From The Wild Tribes, was published in March 2022.
The first book by Daniel Fox, Dragon in Chains, was published in February 2009.
Yes. Daniel Fox has 1 series.