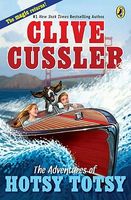 Newest Release
About the Author
Clive Cussler grew up in Alhambra, California, and left Pasadena City College to join the Air Force. He went on to a successful advertising career, winning many national honours for his copywriting. His first novel won a Mystery Writers of America award. Now a full-time bestselling author with a tremendous international reputation, he has also explored the deserts of the American Southwest in search of lost gold mines, dived in isolated lakes in the Rocky Mountains looking for lost aircraft and hunted under the seas for shipwrecks of historic significance, discovering and identifying nearly forty.
An avid enthusiast of classic automobiles whose collection contains many beautiful examples of handbuilt coachwork, Clive Cussler lives and works in the foothills overlooking Denver, Colorado. He has a wife and three children
Full Series List in Order
1 - Pacific Vortex! (Jan-1983)
2 - The Mediterranean Caper (Nov-1973)
3 - Iceberg (Sep-1975)
4 - Raise the Titanic! (Oct-1976)
5 - Vixen 03 (Oct-1978)
6 - Night Probe! (Aug-1981)
7 - Deep Six (May-1984)
8 - Cyclops (Jan-1986)
9 - Treasure (Apr-1988)
10 - Dragon (Apr-1990)
11 - Sahara (Jun-1992)
12 - Inca Gold (Jun-1994)
13 - Shock Wave (Jan-1996)
14 - Flood Tide (Sep-1997)
15 - Atlantis Found (Dec-1999)
16 - Valhalla Rising (Aug-2001)
17 - Trojan Odyssey (Dec-2003)
18 - Black Wind (Nov-2004)
19 - Treasure of Khan (Dec-2006)
20 - Arctic Drift (Dec-2008)
21 - Crescent Dawn (Nov-2010)
22 - Poseidon's Arrow (Nov-2012)
23 - Havana Storm (Nov-2014)
24 - Odessa Sea (Nov-2016)
25 - Celtic Empire (Nov-2018)
26 - The Devil's Sea (Nov-2021)
Dirk Pitt Revealed (Oct-1998)
1 - The Adventures Of Vin Fiz (Feb-2006)
2 - The Adventures of Hotsy Totsy (May-2010)
Multi-Author Series List
1 -
The Chase
(Jan-2007)
Book List in Order:
22

titles
---

The Mediterranean Caper

A LUFTWAFFE ACE WHO WOULDN'T DIE... A BRUNETTE BEAUTY WITH DANGEROUS SECRETS... LETHAL, BILLION-DOLLAR CARGO! On an isolated Greek island, a World War I fighter plane attacks a modern U.S. Air Force base...a mysterious saboteur preys on an Amer...

---

Iceberg

A BIZARRE OCEAN VESSEL WITH A CREW OF CORPSES... A DEADLY ARCTIC CONFRONTATION... A VICIOUS INTERNATIONAL CONSPIRACY TO HIJACK A CONTINENT! Frozen inside a million-ton mass of ice -- the charred remains of a long-missing luxury yacht, vanished en ro...

---

Raise the Titanic!

A PRICELESS ORE INSIDE AN UNDERSEA WRECK... A U.S. MISSILE PROJECT LEAKED TO THE SOVIETS... A DESPERATE SALVAGE MISSION--IN A DEADLY HURRICANE! The President's secret task force develops the ultimate defensive weapon. At its core: byzanium, a ra...

---

Vixen 03

1954. Vixen 03 is down. The plane, bound for the Pacific carrying thirty-six Doomsday bombs--canisters armed with quick-death germs of unbelievable potency--vanishes. Vixen has in fact crashed into an ice-covered lake in Colorado. 1988. Dirk Pitt,...

---

Night Probe!

Dirk Pitt proved invincible in RAISE THE TITANIC! Now, with the future of virtually every person in the world at stake, he is enlisted to spearhead his most daring mission yet--the rescue of a vital document for the United States. For an energy-starv...

---

Pacific Vortex!

Dirk Pitt, death-defying adventurer and deep-sea expert, is put to the ultimate test as he plunges into the perilous waters of the Pacific Vortex--a fog-shrouded sea zone where dozens of ships have vanished without a trace. The latest victim is the a...

---

Deep Six

A TRAIL OF VICIOUS MURDERS... A MAZE OF STOLEN CARGOES... A PLOT AS COLD AND RUTHLESS AS THE SEA! A deadly tide of poison flows into ocean waters. A ghost ship drifts across the empty northern Pacific. A luxury Soviet liner blazes into a funeral p...

---

Cyclops

A FATAL OCEAN TREASURE HUNT...A BEAUTIFUL WOMAN ON A SECRET MISSION... AN INTERNATIONAL STAND-OFF ON THE SURFACE OF THE MOON! A wealthy American financier disappears on a treasure hunt in an antique blimp. From Cuban waters, the blimp drifts towar...

---

---

---

Treasure

AN ANCIENT SHIP FOUND IN GREENLAND'S FROZEN WASTES...THE PRICELESS SPLENDORS OF A LOST CIVILIZATION...A PLOT TO PLUNGE THE WORLD INTO BLOODY CHAOS! Charts of lost gold...breathtaking art and rare volumes... maps of hidden oil and mineral deposits...

---

Dragon

A PLUNDERED TREASURE IN THE PHILIPPINE ISLANDS...A DEVASTATING NUCLEAR EXPLOSION IN THE PACIFIC...AN EVIL PLOT TO BRING THE WEST TO ITS KNEES! Japan, 1945: Two U.S. bombers take off with atomic bombs. Only one gets through. The Pacific, 1993: J...

---

Sahara

A CIVIL WAR GUNBOAT THAT VANISHED IN 1865...A WORLD FAMOUS AUSTRALIAN AVIATRIX WHO DISAPPEARED IN 1931...A DEADLY TIDE OF POISON THAT THREATENS THE WORLD WITH DOOM! 1996, Egypt. Searching for a treasure on the Nile, DIRK PITT thwarts the attempted...

---

Inca Gold

A MYSTERIOUS ANDEAN TREASURE LOST FOR NEARLY FIVE CENTURIES ... TWO DIVERS MISSING IN A FATHOMS-DEEP PERUVIAN SINKHOLE ... A POWERFUL CRIME FAMILY BACKING A GANG OF ARTIFACT LOOTERS... When a tsunami hit a Spanish treasure galleon, all trace of a go...

---

Shock Wave

A MYSTERIOUS PLAGUE IN THE ANTARCTIC... A DIAMOND EMPIRE RUN BY AN EVIL GENIUS... A DEVASTATING NEW TECHNOLOGY THAT THREATENS TO ANNHILATE MILLIONS! Tasman Sea, 1856. A British clipper ship bound for Australia's penal colony is crushed in a ragi...

---

Flood Tide

An underwater graveyard in the Pacific Northwest... A mysterious seaport in the bayous of Louisiana... A diabolical plot to destroy America! Unknown waters, 1948. The Princess Dou Wan, a sea-weary cruise ship covertly seized by Chiang Kai-shek, s...

---

Dirk Pitt Revealed

With nearly 100 million copies of his bestselling books in print, Clive Cussler is an extraordinary author whose life parallels that of his fictional hero, DIRK PITT. Whether searching for famous shipwrecks or cruising in classic cars from his privat...

---

Atlantis Found

An Antarctic whaler stumbles across an aged wreck--her frozen crew guarding a priceless treasure. A team of anthropologists is buried under a mountain by a deliberate explosion. A ship that should have died fifty-six years ago reappears, and al...

---

Valhalla Rising

It is July 2003. In the middle of its maiden voyage, the luxury cruise ship Emerald Dolphin suddenly catches fire and sinks. What caused it? Why didn't the alarms go off? What was its connection to the revolutionary new engines powering the ship? NUM...

---

Trojan Odyssey

At the end of Valhalla Rising, #1 New York Times bestselling author Clive Cussler shocked the world -- and his own protagonist -- with the introduction of Dirk Pitt's children. Born to a woman Dirk thought he had tragically lost more than twenty year...

---

---

The Adventures Of Vin Fiz

Have you ever wanted to fly? Ten-year-old twins Lacey and Casey Nicefolk certainly have. But kids can't fly . . . or can they? They can if they know the mysterious Sucoh Sucop -- a man who claims to have an enchanted box that can transform any toy i...

---

The Chase

April 1950: The rusting hulk of a steam locomotive is raised from a Montana lake. Inside are the remains of three men who died forty-four years before .. . 1906: For two years, the western states of America have endured a string of bank robberies ...

---

The Adventures of Hotsy Totsy

Take a look at Casey and Lacey Nicefolk and you'll see two regular, all-American kids. But these brother-and-sister twins have a secret. Hidden in the family barn is the most magical-and coolest-gadget unknown to man: a mystical box that can turn any...

---
Frequently Asked Questions (FAQ)
Clive Cussler has published 22 books.
Clive Cussler does not have a new book coming out soon. The latest book, The Adventures of Hotsy Totsy, was published in May 2010.
The first book by Clive Cussler, The Mediterranean Caper, was published in November 1973.
Yes. Clive Cussler has 2 series.