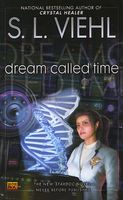 Newest Release
Bibliography:

13 Books - 1 Series

First Book:

January 2000

Latest Book:

August 2010

Rating:
Full Series List in Order
1 - Stardoc (Jan-2000)
2 - Beyond Varallan (Jul-2000)
3 - Endurance (Jan-2001)
4 - Shockball (Nov-2001)
5 - Eternity Row (Sep-2002)
6 - Blade Dancer (Aug-2003)
7 - Rebel Ice (Jan-2006)
8 - Plague of Memory (Jan-2007)
9 - Omega Games (Aug-2008)
10 - Crystal Healer (Aug-2009)
11 - Dream Called Time (Aug-2010)
Book List in Order:
13

titles
Stardoc

On the outer fringes of the galaxy lies Kevarzangia Two--home to over 200 different sentient species, fewer than one percent of which are human. The variant breeds live together in colonies across the planet's surface, and every individual contribute...

---

Beyond Varallan

SANCTUARY FOR A SURGEON Dr. Cherijo Grey Veil Torin has had a bad year. With her identity as a genetically enhanced clone revealed, the Allied League of Worlds has declared her a non-sentient and demanded her return to Earth--where she will be han...

---

Endurance

SWORN TO HEAL. FORCED TO SURVIVE. Colonel Shropana was willing to destroy the Jorenians just to capture Dr. Cherijo Torin for the Allied League of Worlds--so she felt little remorse for selling him out to brutal Hsktskt slave traders. But just as ...

---

Shockball

Having freed themselves from the Hsktskt slave traders, Cherijo and her husband, Duncan, wanted to start looking for a nice, quiet part of the universe where Cherijo's Creator, Joseph Grey Veil, wouldn't find them. But Joseph Grey Veil never gives up...

---

Eternity Row

Beginning in Stardoc S. L. Viehl's smart, savvy surgeon, Cherijo Torirr, has ventured across the universe in and out of danger and love, driven by two great forces--her sworn duty to heal the sick and her constant fear of the demented man who created...

---

Blade Dancer

Jory Rask is a professional shockball player. The N", fastest runback in the game, she is loved across Terra. But Jory has a secret that she's lived with for twenty-four years. In a xenophobic world that despises aliens, she is not quite human. Wh...

---

Bio Rescue

Commander Dair mu T'resa heads up a squadron of SEAL (surgically enhanced/altered life-form) pilots. They provide planetary patrol for the Pmoc Quadrant, including Dair's home planet, Kevarzangia Two--a world populated by the underwater-dwelling 'Zan...

---

---

Rebel Ice

Now the interstellar surgeon is back, trapped on a frozen world that's about to heat up.... Two years ago Dr. Cherijo Torin's ship crash-landed on the ice-covered world of Akkabarr. Struggling to survive in the hostile landscape, she has no memory...

---

---

Plague of Memory

Though she has returned safely to her ship, Dr. Cherijo Torin is not herself. With no memory of her past -- or even of the man she loved -- she sees herself as a different person and has no desire to remember who she once was. But now Cherijo's talen...

---

Omega Games

Now the intrepid surgeon uncovers psychological horrors even she can't cure.... After regaining her memories and saving the reptilian Hsktskt from a devastating plague, Dr. Cherijo Torin faces a different kind of epidemic: a mysterious black cryst...

---

Crystal Healer

Now the intrepid surgeon combats a killer plague.... Genetically engineered interstellar surgeon Dr. Cherijo Torin, her husband, Duncan Reever, and a handpicked crew journey to the planet oKia to find a cure for the lethal black mineral that has cau...

---

Dream Called Time

In the thrilling new novel of the epic series interstellar surgeon Cherijo Torin finds she is out of time...in more ways than one. Confronted with having no memory of the last four years of her life, Dr. Cherijo Torin struggles to understand the pol...

---
Frequently Asked Questions (FAQ)
S.L. Viehl has published 13 books.
S.L. Viehl does not have a new book coming out soon. The latest book, Dream Called Time, was published in August 2010.
The first book by S.L. Viehl, Stardoc, was published in January 2000.
Yes. S.L. Viehl has 1 series.