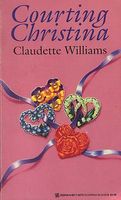 Newest Release
Bibliography:

35 Books - 4 Series

First Book:

January 1976

Latest Book:

March 1996

Rating:
Full Series List in Order
1 - Lord Wildfire (Oct-1984)
2 - Regency Star (Mar-1985)
1 - Naughty Lady Ness (May-1980)
2 - Mary, Sweet Mary (Sep-1980)
1 - Blades of Passion (Mar-1978)
2 - Passion's Pride (Apr-1980)
1 - Myriah (May-1978)
2 - Lacey (Dec-1979)
Book List in Order:
35

titles
Spring Gambit

She was the joy and despair of every eligible London gentleman. Nicole Beaumont's first social season was a smashing success. The high-spirited beauty enchanted every young man who met her. She was the talk of the town and had a string of ardent ...

---

Sunday's Child

A bewitching lady takes Paris by storm... Barbara Rochdale was desperately in need of help. In order to insure her inheritance, she had to marry, and her guardians had already selected the bridegroom. Babs detested him. There was only one perso...

---

Blades of Passion

From a lush subtropical island to the shores of England -- the lusty novel of a young woman's sensual awakening Kate had never been stirred by a man -- until now. Kate's first glimpse of the man who was to turn her life upside down wa...

---

Myriah

It started with a stolen kiss … Fiery Myriah Whitney is wild of nature, contrary, and independent. But when her father catches her kissing the handsome Sir Roland (how else is she to determine if he is the one who will make her feel thunder and ...

---

Cotillion for Mandy

A DANGEROUS, ROMANTIC ADVENTURE -- AND A DREAM OF INNOCENCE... Silken locks of flaxen gold, dark eyes flashing, Mandy was breathtaking in her young loveliness. But so far the only man she had ever loved was her twin brother, Ned. Now, suddenly,...

---

---

After the Storm

An enchanting new novel of poignant love and rollicking adventure "I cannot marry anyone... not anyone... because I have nothing to give. My heart has been given to another," Jenny said sadly. "I have not asked for your heart, Jenny...

---

---

Lacey

There was no way beautiful and spirited Lacey Burton would marry the fortune-hunting Lord Collymore, who was known to be dallying with her stepmother. Disguised as a man, Lacey took off for Bussingham Towers, determined to keep her identity -- and fo...

---

---

Passion's Pride

"For you I want no loveless marriage, no marriageless love..." Windmera, as lovely as she was illegitimate, heard again the words of her mother as she found herself between two rivals - the bold young buccaneer captain and the bastard son of her fath...

---

Naughty Lady Ness

HER NAUGHTINES, THE WAYWARD LADY NESS.... Her real name was Vanessa and she was forever getting into scrapes that titillated her peers and shocked her parents. This time she'd really started the gossips mongering, so the lovely Lady Vanessa...

---

Mary, Sweet Mary

STEAL HER BELOVED'S HEART FROM A FEMME FATALE? 'TWAS POSSIBLE…IF THE RIGHT GAME WERE PLAYED! As much as she disliked untruths, and love games, Mary Montlaine was persuaded she had no alternative if she hoped to win Richard's heart. Make...

---

Desert Rose, English Moon

Desert Rose She was just nineteen, exotically beautiful, and the daughter of one of the country's richest and most powerful men... An arranged marriage with a man she despised would make Holly Winslow a prisoner for life, and so she ran from her...

---

Lady Brandy

SOMETHING WAS TERRIBLY AMISS AT QUENDON ABBEY! Alluring Brandy Fernwood knew her friend Lara too well to believe that Lara had simply given up her affection for Sir Reginald. What could account for her sudden change of heart? And what was the matt...

---

Hotspur & Taffeta

LADY TAFFETA WAS EVERYTHING AN HEIRESS COULD HOPE TO BE -- AND MORE! She was as high-spirited as her own Arabian gelding; as beautiful as the assembled jewels and lush lace that adorned Almack's at the height of her very first, very successful s...

---

Sweet Disorder

Even though the irascible old Squire Ingram felt his end was near, he still wanted to control the future. To that end, he summoned his two nieces and his two nephews in an effort to pair them off. That way, the line would be guaranteed. But spitfi...

---

Lady Magic

"HOW WILL YOU FIND A WAY OUT? YOU ARE ON YOUR WAY TO MARRY A MAN YOU DO NOT WANT. YOU ARE BEING DELIVERED TO THAT MAN BY THE MAN YOU DO WANT. AND THAT MAN MAY THINK YOU NO BETTER THAN A...A JADE OF A HIGHWAYGIRL:" When the lovely madcap Lady Magic...

---

Song of Silkie

Silkie's mother had spurned Wade Ashford's affections and now he was going to make her daughter pay for it. After Silkie's mother died, Wade sworn to ruin her daughter so no decent man would want her. But a young sea captain was in love with Silkie a...

---

Lord Wildfire

She was hiding an outrageous secret... LADY SATIN WAVERLY HAD DONE AN UNFORGIVABLE THING. SHE HAD WRITTEN A NOVEL. ... Under a pseudonym, of course. It had the town in panic, because it was all about "them." If it were ever revealed ...

---

---

Fire and Desire

His touch ignited flames of desire deep within her... BURNING LOVE From the drawing rooms of Regency London to the wild ranches of exotic Argentina In a luminous gown of white and silver, Lady Jessica Stafford bows to society at the season's...

---

Regency Star

ANYONE COULD SEE THEY WERE MISMATCHED...AND DANGEROUSLY BOUND FOR A MATCHLESS LOVE! OF ALL THE POMPOUS, CONCEITED RAKES! Young Star Berkley had seen her share of presumptuous London beaus, but never the likes of this arrogant Sir Edward. Never ...

---

---

---

Lady Madcap

This old fidget of a duke command orders on her head? The devil he did! The unchaperoned Miss Felicia Easton, holed up happy and alone in Easton Manor, had no intention of being fetched away by the old Duke of Somerset, her ogre of a guardian. ...

---

Cherry Ripe

SHE RAN FROM ONE MAN AND FELL IN LOVE WITH ANOTHER SHE HAD NO CLUE THEY WERE ONE AND THE SAME! Shauna Elton was beside herself! Imagine her own mother arranging her marriage to a man she'd never met! She'd run away! Surely she could find work as a...

---

Lady Barbara

Though her mind knew he was promised to another, her heart wouldn't listen to reason. SHE SIMPLY MUST SET EVERYTHING TO RIGHTS--THOUGH SHE'LL KICK UP QUITE A FUSS TO DO IT! Lady Barbara Saunders--or Lady Bee as the saucy minx was affectionately...

---

Heart of Fancy

against the fiery backdrop of the Napoleonic wars, she found love -- and adventure -- in the arms of a stranger. KIDNAPPED AS A LARK, FANCY SOON FOUND HERSELF A HOSTAGE TO PASSION.... Alone and penniless, Fancy Kingston is bound for the home of...

---

Lady Runaway

"YOU ARE A GREEN GIRL AND MUST OBVIOUSLY BE PROTECTED FROM YOURSELF." Spirited Chelsea decided she'd sooner run away to London than return to her vain and selfish guardian, Aunt Augusta. But in her wildest dreams, she never imagined he...

---

Lady Sunshine

DID THE ARROGANT BLADE REALLY BELIEVE SHE WAS OUT TO SEDUCE AND MARRY HIS YOUNG NEPHEW? Charming, witty, and refreshingly candid, lovely Serena Moorely captured hearts young and old alike. She well understood that young Freddy Wathering's puppy lo...

---

---

A Daring Deceit

Is sweet justice worth the price of true love? A RECKLESS LADY Vivacious Lillian Aulderbury couldn't have been more delighted! Her very first London season had presented her with a perfect opportunity to foil Sir Anthony Meade, the scheming b...

---

The Convenient Romance

in A June Courtship

Lady Minerva's vast fortune goes to whichever of her three grandsons wins the hand of her ward...and the chase is on. But Shawna has her own notions about love and marriage......

---

Lady Velvet

A dazzling beauty has suitors aplenty...and a mind of her own. TWO'S COMPANY...THREE'S A LOVER'S DILEMMA! When Lady Velvet made her debut before the discriminating Paris ton, the gentlemen gaped and the Marquis of Talgarth gasped. H...

---

Masquerade Waltz

A mischievous mix-up turns a lady's love life topsy-turvy... TWO MR. WRONGS...MAY ADD UP TO THE RIGHT LORD TO LOVE! Lord Waremont was the very pink of the haut ton...too wild by half, and much too flirtatious. But what he had just done was ...

---

A Rake's Folly

a mysterious rogue returns to claim his estate -- and a lady's heart... His return caused a sensation... All of Nottingham is abuzz with the news that the notorious Earl of Cortland has returned home from far-off India. Everyone knows about...

---

Courting Christina

THE LADY HAD MUCH TO LEARN... Before her guardian died, Christina had been a happy, high-spirited country beauty with no pretensions. She concealed her fair hair under a cap, wore britches, and rode to hounds like a hunt master. She didn't want...

---
Frequently Asked Questions (FAQ)
Claudette Williams has published 35 books.
Claudette Williams does not have a new book coming out soon. The latest book, Courting Christina, was published in March 1996.
The first book by Claudette Williams, Spring Gambit, was published in January 1976.
Yes. Claudette Williams has 4 series.