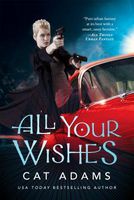 Newest Release
About the Author
This is the pen name of Cathy Clamp and C.T. Adams (co-authors of the Thrall trilogy and the Sazi series published by Tor). They created this name to write under to make it easier for new fans (or old) to find them on the book shelves.
Full Series List in Order
1 - Blood Song (Jun-2010)
2 - Siren Song (Oct-2010)
3 - Demon Song (Mar-2011)
4 - The Isis Collar (Mar-2012)
5 - The Eldritch Conspiracy (Feb-2013)
6 - To Dance with the Devil (Nov-2013)
7 - All Your Wishes (Oct-2016)
Book List in Order:
8

titles
Frequently Asked Questions (FAQ)
Cat Adams has published 8 books.
Cat Adams does not have a new book coming out soon. The latest book, All Your Wishes, was published in October 2016.
The first book by Cat Adams, Magic's Design, was published in February 2009.
Yes. Cat Adams has 1 series.