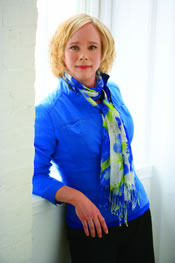 About the Author
Carla Neggers grew up in rural western Massachusetts. Assorted cats, dogs, chickens, sheep, pigs, and a cow accompanied her large family. She started writing at a young age, often up in a tree with a pad and pen. She graduated magna cum laude with a degree in journalism from Boston University. After working briefly as an arts and entertainment writer, she began to write fiction full-time. Her readers love her for her blend of fast-paced action, suspense and romance

Carla loves to travel and research her books. She also enjoys hiking, karate and kayaking. She is married with two children and a mountain home in Vermont near Quechee Gorge.

Full Series List in Order
1 - Cold Pursuit (Jan-2008)
2 - Cold River (Dec-2009)
3 - Cold Dawn (Nov-2010)
4 - Cold Moonlight (Aug-2012)
1 - The Widow (Oct-2006)
2 - The Angel (May-2008)
3 - The Mist (Jul-2009)
4 - The Whisper (Jul-2010)
1 - The Carriage House (Feb-2001)
2 - The Cabin (Jan-2002)
3 - Stonebrook Cottage (Aug-2002)
4 - The Harbor (Jan-2003)
1 - Cold Ridge (Aug-2003)
2 - Night's Landing (May-2004)
3 - The Rapids (Dec-2004)
4 - Dark Sky (Jul-2005)
5 - Breakwater (Feb-2006)
6 - Abandon (Jun-2007)
7 - Shelter Island (Jul-2003)
1 - Apple of My Eye (Feb-1985)
2 - Interior Designs (Aug-1985)
1 - Trade Secrets (Jul-1987)
2 - Family Matters (Feb-1988)
3 - All in a Name (Jun-1988)
0.5 - Rock Point (Jul-2013)
1 - Saint's Gate (Sep-2011)
2 - Heron's Cove (Aug-2012)
3 - Declan's Cross (Sep-2013)
4 - Harbor Island (Sep-2014)
5 - Keeper's Reach (Aug-2015)
6 - Liar's Key (Sep-2016)
7 - Thief's Mark (Sep-2017)
8 - Impostor's Lure (Aug-2018)
9 - Rival's Break (Sep-2019)
1 - Secrets of the Lost Summer (Feb-2012)
2 - That Night on Thistle Lane (Feb-2013)
3 - Cider Brook (Feb-2014)
3.5 - Christmas at Carriage Hill (Dec-2014)
4 - Echo Lake (Feb-2015)
5 - A Knights Bridge Christmas (Oct-2015)
6 - The Spring at Moss Hill (Feb-2016)
7 - Red Clover Inn (Apr-2017)
8 - The River House (Apr-2018)
9 - Stone Bridges (Feb-2019)
Multi-Author Series List
Dancing Season
(Mar-1983)
Night Watch
(Oct-1993)
Wisconsin Wedding
(May-1992)
Book List in Order:
79

titles
---

Dancing Season

COULD SHE LOVE A MAN WHO EXPECTED HER TO BE THERE ... OR A MAN WHO'D BE THERE FOR HER? For a year, the man in Leah Bradstreet's life had been Jakob Anderson, the celebrated dancer. But romance had to wait for the moments they could find between Ja...

---

Matching Wits

The battle was on from the moment they met...as Ryan Davis tried to outmaneuver the lovely Abigail Lawrence. From the first Abigail knew she'd met her match in the clever, urbane, and devastatingly handsome Back Bay businessman. And Ryan admitted...

---

Outrageous Desire

IT IS THE SUMMER OF 1874 AND ELIZABETH STANTON HARTE HAS A PROBLEM. When Jared Inman of San Francisco claims to have traveled three thousand miles to see her, Beth -- Vassar graduate, suffragette and reformer -- is both delighted and outraged by h...

---

Heart on a String

Witty, unconventional JoAnna Radcliff fell off a ladder into brilliant heart surgeon Paul Houghton Welling's arms. But one look at him told her he belonged in the stuffy Philadelphia society world she'd escaped for a cottage in Pigeon Cove. She firml...

---

A Touch of Magic

When tragedy made Sarah Blackstone president of her family's corporation, she had put her personal life on hold. But, promising herself one last adventurous fling before her thirtieth birthday, she bicycled up the Hudson to visit the farm that had b...

---

Delinquent Desire

Beautiful Casey Gray prided herself on being a cool executive - tops in the world of management consulting. But underneath was a slight zany and very generous woman who gave up her vacation each summer to teach at a camp for delinquent girls in the i...

---

The Venus Shoe

INTRUDER OF THE HEART The quiet island where she used to pick blueberries with her father was as beautiful as ever. It was the first time since her parents died that Artemis Pendleton had been back to the great estate where she spent the happy day...

---

The Knotted Skein

DANGEROUS DESIRE Ann Chadwick was stunned to see Mark Whitney. He was supposed to be dead! And here he was in Vermont, cross-examining her about how her sister-in-law had died. Although their families had long been linked by the Chadwick-Whitn...

---

Southern Comfort

Fascinated by the past, Charlotte Butterfield felt perfectly at home working in Nashville's legendary Tolliver House--the elegant mansion steeped in Civil War history. It was said the library was haunted by the ghost of a Confederate soldier, but the...

---

---

Apple of My Eye

What was she doing? She was up a tree--an apple tree! And who was she--the newly hired associate of a renowned New York literary agent or a private eye? Meg Oakes had been assigned to rind and win back the agency's most valuable--and elusive--cli...

---

The Uneven Score

DEADLY PERFORMANCE Whitney McCallie, musician and conductor of an upstate New York community orchestra, hadn't heard from her friend Victoria Paderevsky in eight years. But the eccentric, world-famous conductor now reappeared from the past--an...

---

Interior Designs

She was a designing woman. Lizzie Olson had come all the way from Kansas to take New York by storm--beginning with high-powered literary agent Michael Wolfe. All she needed was one break, an opportunity to show off her interior-designing talents in M...

---

Captivated

Who needed a man who oozed sensuality? To her annoyance Sheridan Weaver found out she did. Richard St. Charles, with his free and easy life-style, didn't fit into her routine . . . damn his beautiful black eyes. But wouldn't you know he'd come ...

---

Claim the Crown

Who is Ashley Wakefield? That was the question that puzzled a lot of people. For five years anonymity had been Ashley's refuge, until the day the lawyer announced that she and her twin brother, David, were the beneficiaries of an enormous trust f...

---

Trade Secrets

She was spoiling for a fight Juniper Killibrew could be as prickly as her namesake plant. She prided herself on that. That and her dedication to the family firm. But when the company was sold out from under her, she wound up nose to nose with the in...

---

Family Matters

Other matters were far more pressing Sage Killibrew hadn't seen her grandfather for twenty years. Yet when she got an urgent telegram asking her to meet him, the adventurer in her said yes. Something told her, however, that this rendezvous would ...

---

All in a Name

Trouble was brewing Michael Pennington was the first and only man Kate O'Smiley had loved. And he, too, was bewitched. But when a war of wills sent them their separate ways, all she took with her were memories, her recipes . . . and Michael's name...

---

A Winning Battle

There was a place for everything When Page B. Harrington found a cheeky message on her answering machine, she smelled a rat. Christopher O. Battle, a nationally syndicated columnist, was challenging her to organize him, But she knew the highly irr...

---

Finders Keepers

She was tongue-tied Holly Wingate Paynter was a storyteller by trade--and by nature. She planned to use her gift of gab to reclaim a family heirloom, a pair of sterling silver Paul Revere goblets, from one Julian Danvers Styles. Julian insisted...

---

---

Within Reason

She had her reasons Charity Winnifred Bradford wasn't the type to do anything crazy or impulsive. And if she did want to do something outrageous -- like run off to Tennessee and blow all her money on a horse -- she figured that we her business. It...

---

That Stubborn Yankee

North versus South! Beth Stiles considered herself well rid of ex-husband Harlan Rockwood. So when she found him hiding in her attic, she ordered him out! Never mind a horse swindler was after him. This time, she wouldn't let that seductive Southe...

---

Wisconsin Wedding

WELCOME TO TYLER. WEDDING BELLS ARE RINGING. Liza and Cliff are getting married. It's a big affair. Share the joys and learn the secrets of America's favorite hometown. WEDDINGS BRING FAMILY TOGETHER Byron Forrester arrives for his brother's ...

---

Trying Patience

SKYSCRAPERS GAVE HER STRESS! Nature writer Patience Madrid didn't want to be in New York city. The stuffed moose head in her mountain cabin was a better conversationalist than most New York cabdrivers! Besides, she liked being a hermit. But her si...

---

Tempting Fate

Dani Pembroke had lost her mother long ago--but the mysterious circumstances of her disappearance still kept the people of Saratoga whispering. Now, successful and fiercely independent, Dani wanted to forget the past and concentrate on running her bu...

---

Bewitching

Just like Romeo and Juliet... At long last, writer Hannah Marsh had found the perfect man. Win Harling was a gorgeous, successful businessman, and they seemed like a perfect match. But things weren't perfect for long. As luck would have it, their fa...

---

Night Watch

Once Upon a Time... There was a handsome hero who would do anything to protect a beautiful, reclusive maiden.... Burned-out cop Joe Scarlatti had a gut feeling that Rowena Willow was in grave danger. She'd testified against a slick con artist and no...

---

Tricks of Fate

In the springtime, our thoughts do turn to love...to the sweet thrill of a first kiss...a romantic walk at twilight...a glance across a crowded room that says, your're mine. Now savor the magic of love everlasting with five new tales of romance and i...

---

Husband for Hire

10... 9... 8... He swirls you across the dance floor one last time... 7...6...5... You uncork champagne, don your party hat and grab your noisemaker... 4...3...2... He wraps his arms around you and you look into his eyes... 1... His lips meet your...

---

Finding You

Vermont newspaper editor Cozie Hawthorne was shocked at the money she made when her book of Yankee cracker-barrel wisdom hit the bestseller lists. That didn't mean she was ready to buy a dress that cost more than her rusted Jeep. She prided herself o...

---

---

The Groom Who (Almost) Got Away

The groom who almost got away? Completely got away is more like it. Max Slade just up and left Calley Hastings without a word. But now, three little Slades suddenly send for her.... What she learns: 1) Max left her to raise his orphaned brothe...

---

A Rare Chance

An elegant career woman. A tough ex-cop. Great chemistry. Big trouble. Gabriella Starr has silk suits, champagne tastes, a great new career ... and a stranger following her. She's definitely in danger, according to ex-cop and new D.A. Cam Yeager. ...

---

Just Before Sunrise

Annie Payne realizes her dream when she moves to San Francisco and opens an art gallery. But when she accepts a secret commission to bid for a painting going on the auction block, she finds herself thrown into a haunting swirl of events linked to a f...

---

Night Scents

This time Piper Macintosh's great-aunt has really gone too far. Eighty-seven-year-old Hannah, who fancies herself a witch, has sold her historic Cape Cod house to a Tennessean whom she claims is the man for her niece. Piper doesn't think they're a li...

---

---

Kiss the Moon

He was heir to the Sinclair fortune. She was a beautiful adventurer. And one night, Colt Sinclair and Frannie Beaudine disappeared. Their small plane was never found, and their fate remained a mystery. Until now -- almost fifty years later. Restle...

---

---

The Waterfall

Three years after the sudden death of her husband, Lucy Blacker Swift has finally got things under control. Leaving behind the cutthroat world of Washington, Lucy and her two children move to a Vermont farmhouse and start to rebuild their lives. But ...

---

The Carriage House

Fun and a little hard work. That's all Tess Haviland had in mind when Ike Grantham paid her for her graphic design work with the run-down, 19th-century carriage house on Boston's North Shore. Then Ike disappeared and now Tess finds herself with m...

---

The Cabin

Vengeance, money and murder are menacing companions when they meet in the quiet stillness of an Adirondack winter. Texas Ranger Jack Galway knows his wife Susanna loves him, so when their marriage hits a rough patch, he supports her decision to ta...

---

---

Stonebrook Cottage

Kara Galway thought moving home to Texas after years in New England would put her life back in perspective. An up-and-coming defense attorney, she intends to concentrate on her career and on spending time with her Texas Ranger brother, Jack, and his ...

---

The Harbor

In a small coastal Maine town, a killer strikes -- then disappears without a trace. Shattered by her father's murder, Zoe West abandoned her plans to become an FBI agent and left her hometown of Goose Harbor, Maine. But a new home and job did noth...

---

Shelter Island

Heather Graham: "Will they make it? And if they do, how on earth will they manage? And last, but never least, will they survive together? The combination of romance and suspense is irresistible. I love the genre, and hope to give back just a percent...

---

Cold Ridge

Carine Winters accepts the job of photographing Sterling Rancourt's historic Boston home knowing she's taking a risk -- she could run into Tyler North, the pararescuer who once saved Rancourt's life and the man who all but left Carine at the altar a ...

---

Night's Landing

Archaeologist Sarah Dunnemore is prepared for almost anything when she returns to her family home in Night's Landing, Tennessee...except the news that her twin brother, Rob, has just been seriously wounded in a sniper attack in Central Park. She rush...

---

Close Call

Somewhere, at this very moment, a woman's caring and commitment is changing a life in her community...and changing the world. Five of these compassionate, dedicated women have been chosen from nominees across North America to become Harlequin's More ...

---

The Rapids

She has no time to take a break after playing a key role in the arrest of dangerous fugitive Nicholas Janssen. But with Janssen fighting extradition from his Dutch prison, U.S. diplomatic security agent Maggie Spencer isn't about to back off - even w...

---

Dark Sky

Deputy U.S. Marshal Juliet Longstreet has made her share of enemies, and now one of them is out of prison and threatening to kill her. Her mission: find him first. But hot on her suspect's trail is Special Forces officer Ethan Brooker, who has a w...

---

Breakwater

An idyllic cottage. An unlikely suicide. A conspiracy out to blow the lid off the Department of Justice. Three months ago Quinn Harlowe left the high-pressure hallways of the Justice Department to become an independent consultant and have more con...

---

The Widow

Four days after Abigail Browning's wedding, her life changed in a way she never expected: her husband was shot, meeting his death along the rocky Mount Desert Island coast. Was it a random act of violence, or could someone have wanted Christopher d...

---

---

Abandon

A missing federal informant. A fugitive on the loose. And a new deputy marshal who's already broken her own rules. On what is supposed to be a quiet long weekend in New Hampshire, Deputy U.S. Marshal Mackenzie Stewart is viciously attacked at the ...

---

Cold Pursuit

A prominent ambassador is killed in a suspicious hit-and-run in Washington, D.C. Hours later, his stepdaughter vanishes in the mountains of northern New England. Back in her hometown of Black Falls, Vermont, to do damage control on her career,...

---

The Angel

Her passion for myth and magic leads a woman into the heart of a murderous evil... On a remote stretch of the rugged coast of Ireland, folklorist and illustrator Keira Sullivan pursues the mysterious Irish legend of an ancient Celtic stone angel. As...

---

On the Run



When some of the top thriller writers in the world came together in Thriller: Stories to Keep You Up All Night, they became a part of one of the most successful short-story anthologies ever published. The highly anticipated Thriller 2: Storie...

---

The Mist

IN THE MIST, FEW CAN BE TRUSTED, AND APPEARANCES CAN DECEIVE... Things looked bad when Lizzie Rush finally found hard evidence that thrill-seeking billionaire Norman Estabrook heads an international criminal network. But when he disappears after a...

---

Cold River

Hannah Shay has finally shown the town of Black Falls what she's worth. Her Three Sisters Cafe is a success, and she's soon to become a prosecutor. When the cafe becomes an epicenter for investigators trying to pierce a violent crime ring that's leav...

---

The Whisper

It was meant to be an adventure -- a night alone on a remote Irish island. Archaeologist Sophie Malone never expected to find Celtic treasure or to end up in a fight for her life in a dark, desolate cave. Now, a year later, she's convinced answers to...

---

Cold Dawn

A new day. A new danger. The small town of Black Falls, Vermont, finally feels safe again -- until search-and-rescue expert Rose Cameron discovers a body, burnt almost beyond recognition. Almost. Rose is certain that she knows the victim's identity....

---

Saint's Gate

CAUGHT AT THE CROSSROADS OF ART AND MURDER New York Times bestselling author Carla Neggers is widely acclaimed as a master of atmospheric romantic suspense. Now she returns with an engrossing tale of two people isolated by their pasts, and the obses...

---

Secrets of the Lost Summer

A wave of hope carries Olivia Frost back to her small New England hometown nestled in the beautiful Swift River Valley. She's transforming a historic home into an idyllic getaway. Picturesque and perfect, if only the absentee owner will fix up the ey...

---

Heron's Cove

New York Times bestselling author Carla Neggers returns with a gripping story of romantic suspense, where FBI agents Sharpe and Donovan must decide whether working alone or standing together is the only way to outwit an enemy set to tear them apart. ...

---

Cold Moonlight



Prepare for heart-racing suspense in this original collection by thirty of the hottest bestselling authors and new voices writing romance suspense today. Bodyguards, vigilantes, stalkers, serial killers, women (and men!) in jeopardy, cops, th...

---

That Night on Thistle Lane

More than just make-believe Librarian Phoebe O'Dunn deals in stories, but her passion for history has taught her that happy endings are rare. Her life in Knights Bridge, Massachusetts, is safe and uneventful…until she discovers the hidden room. ...

---

Rock Point

/ Thriller

New York Times bestselling author Carla Neggers enthralls readers with her suspenseful Sharpe & Donovan series. Read the untold story of one of her most beloved characters in this special prequel novella, Rock Point. Seven years after suffering an...

---

Declan's Cross

An escape to an idyllic Irish seaside village is about to turn deadly in this riveting new novel by master of romantic suspense Carla Neggers. For marine biologist Julianne Maroney, two weeks in tiny Declan's Cross on the south Irish coast is a ch...

---

Cider Brook

Unlikely partners bound by circumstance…or by fate? Being rescued by a good-looking, bad-boy firefighter isn't how Samantha Bennett expected to start her stay in Knights Bridge, Massachusetts. Now she has everyone's attention -- especially that...

---

Harbor Island

In this vivid and suspenseful addition to her widely acclaimed Sharpe & Donovan series, New York Times bestselling author Carla Neggers takes readers on a heart-stopping journey from Boston to Ireland to the rocky coast of Maine Emma Sharpe, gran...

---

Christmas at Carriage Hill

/ General Fiction

Celebrate the holidays with this magical Swift River Valley novella from New York Times bestselling author Carla Neggers

When fashion designer Alexandra Rankin Hunt is asked to create the dresses for Olivia Frost's Christmas wedding in tiny K...

---

Echo Lake

In snowy Swift River Valley, unexpected romance is just around the corner… Heather Sloan has landed her dream job -- the renovation of Vic Scarlatti's stately 1912 country home overlooking the icy waters of Echo Lake in Knights Bridge, Massachu...

---

Keeper's Reach

New York Times bestselling author Carla Neggers returns with this absorbing, twisting tale of suspense, romance and fast-paced action, the latest in her popular Sharpe & Donovan series. Emma Sharpe and Colin Donovan, two of the FBI's most valuabl...

---

A Knights Bridge Christmas

New York Times bestselling author Carla Neggers celebrates the joy and romance of Christmas in New England Clare Morgan is ready for a fresh start when she moves to the small Massachusetts town of Knights Bridge with her young son, Owen. Widowed ...

---

The Spring at Moss Hill

New York Times bestselling author Carla Neggers returns to charming Swift River Valley, where spring is the time for fresh starts and new beginnings… Kylie Shaw has found a home and a quiet place to work as an illustrator of children's books in...

---

Secret Hideaway

/ Romantic Suspense

She was supposed to be cooling off. Instead, things are heating up, and now no one is safe. Ellen Galway has been living life on overdrive. It's not just her job as a newly minted prosecutor. Her relationship with Texas Ranger Luke Jackson is a...

---

Liar's Key

An FBI legend, a mysterious antiquities specialist and a brazen art thief draw top FBI agents Emma Sharpe and Colin Donovan into a complex web of blackmail, greed and murder in the eagerly awaited new novel in the highly acclaimed Sharpe & Donovan se...

---

Red Clover Inn

New York Times bestselling author Carla Neggers delivers an irresistible story about love, family and finding a place to call home.. Marine archaeologist Charlotte Bennett is no stranger to risk, but her dives into sunken wreckage are always meti...

---

Thief's Mark

A murder in a quiet English village, long-buried secrets and a man's search for answers about his traumatic past entangle FBI agents Emma Sharpe and Colin Donovan in the latest edge-of-your-seat Sharpe & Donovan novel As a young boy, Oliver York ...

---

The River House

In this charming novel about the search for love, home and family, New York Times bestselling author Carla Neggers takes readers on a journey to an irresistible town they'll want to return to over and over again Felicity MacGregor loves organizi...

---

Impostor's Lure

Master of suspense and New York Times bestselling author Carla Neggers delivers an exhilarating page-turner where the disappearance of a federal prosecutor launches the latest high-stakes case for FBI agents Emma Sharpe and Colin Donovan. Newlywed...

---

Stone Bridges

New York Times bestselling author Carla Neggers has captivated readers with Knights Bridge -- a scenic New England town where families and friends experience joy and face challenges together. With its world of inns, old houses, wonderful, quirky char...

---

Rival's Break

A deadly poisoning, a stolen painting and a criminal mastermind challenge the skills of FBI agents Emma Sharpe and Colin Donovan as never before in their latest high-stakes case. New York Times bestselling author Carla Neggers has crafted a gripping ...

---
Award-Winning Books by Carla Neggers
All in a Name
1988 RT Reviewers Choice Award -- Harlequin Temptation
Tempting Fate
1994 RT Reviewers Choice Award -- Contemporary Romance
Wisconsin Wedding
1993 RT Reviewers Choice Award -- Harlequin Tyler
Frequently Asked Questions (FAQ)
Carla Neggers has published 79 books.
Carla Neggers does not have a new book coming out soon. The latest book, Rival's Break, was published in September 2019.
The first book by Carla Neggers, Dancing Season, was published in March 1983.
Yes. Carla Neggers has 8 series.