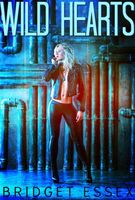 Newest Release
Bibliography:

48 Books - 2 Series

First Book:

November 2013

Latest Book:

March 2020
Full Series List in Order
1 - The Protector (May-2014)
1 - Eternal Hotel (Nov-2013)
2 - Eternal Kiss (Jan-2014)
3 - Eternal Thief (Feb-2014)
4 - Eternal Dance (Mar-2014)
5 - Eternal Heartbreak (Oct-2014)
6 - Eternal Game (Mar-2016)
Book List in Order:
48

titles
---

---

---

---

---

---

---

---

---

---

---

---

A Wolf for the Holidays

/ General Fiction

Mandy's not having a great December. She was given a rescue "dog" (who looks much more like a wolf) by her lackluster girlfriend as a Christmas present. Mandy lives in a studio apartment and can't keep her new pet, but that turns out to be th...

---

Don't Say Goodbye

What if you fell for the most impossible woman: your best friend's girlfriend? Maxine "Max" Hallwell has spent her entire life making the safe, responsible decisions. It's not that she never had dreams, but while her childhood best friend, Jo...

---

The New Year's Party

/ General Fiction

Juline Brewer isn't going to go to her sister's New Year's party. She's thought of every excuse in the book why she can't make it, but the truth is, Juline can't imagine going to a New Year's party that her ex is going to attend. Shane and Juline bro...

---

The Valentine's Day Party

/ General Fiction

Misty Hoover thinks she's content with her simple life as a substitute teacher. She's single, yes, but she has a dog she loves and a sense of humor about everything that gets her by. But when she's called in one morning to sub for a first grade class...

---

Forever and a Knight

A warrior woman, a DJ from Boston, and a love story that's out of this world... Josie Beckett is a shock jock DJ--she's sarcastic, funny and doesn't believe in anything at all, certainly not in magic. But she's going to start believing when she f...

---

A Wolf for Valentine's Day

Trish Dalton has put her wild, adventurous days behind her. She's grown up and settled down in her veterinarian practice she built from the ground up, but a secret part of her misses the untamed woman she used to be. Now her life is quiet, safe, and ...

---

The Guardian Angel

Erin McEvoy tries to be an optimist, but her life is in a downward spiral. Her job as a reporter at a small Boston news station and her love life are going nowhere, but the thing that worries her most is the fact that Erin has started seeing things. ...

---

Falling for Summer

Twenty years ago, Amanda Tedlock's life changed forever when her little sister drowned in Lake George, New York. Amanda was only seventeen at the time, but she should have been there that night, and she blames herself for her sister's death... Now, o...

---

---

Wolf Queen

When they were teenagers, Amber and Stevie were so deeply in love that nothing could drive them apart. Until the one night, when Amber needed Stevie to be there...and, instead, Stevie disappeared without a trace. Seven years later, Stevie appears in ...

---

---

The Christmas Wolf

/ Contemporary Romance

When Kat meets potential roommate Jewel, she has high hopes. For one, Jewel's gorgeous as hell. Distracted by that fact, Kat's budgetary concerns for the holidays fly out the window, and an intoxicating chemistry begins to brew between Jewel and hers...

---

Date Knight

Once, there was a librarian, a warrior woman, and a love story that was out of this world...and now they're back in an all-new adventure Holly would never have believed that the gorgeous woman who appeared in her backyard one magical night (wielding...

---

---

---

Raised by Wolves

Meet Becca Swift She's got the most overbearing family in the world-because she was raised by wolves. Literally. Becca is a werewolf, and she is part of a loud and crazy, up-in-your-business pack. In her day-to-day life, she tries to keep the fact t...

---

Eternal Game

/ General Fiction

What if you finally got what you always wanted?Rose Clyde fell in love with a vampire -- but before her love story could unfold, the mysterious Kane Sullivan was snatched away from her. Now, the beautiful vampire has finally broken off her relations...

---

---

A Dark and Stormy Knight

A warrior woman, a lonely artist, and a love story that's out of this world... Mara, a painter, lives in a quirky artist community in downtown Buffalo, and though she loves her roommates like family, she has always felt alone. But, each night, a sexy...

---

---

Howl for the Holidays

/ Contemporary Romance

Georgia's past mistakes still haunt her, and on her way home for Christmas, she runs into the girl who'd stolen her heart, bewitching, beautiful Carol. Now, fifteen years later, Carol is hardly happy to see her. And as a snowstorm moves o...

---

Beauty and the Wolf

Even a beast can be beautiful... Bella has lived her whole life in the little town of Paris, Vermont. Her family's restaurant, the Rose Garden Diner, has been a point of pride...until they're forced to sell it. Unfortunately, the diner's buyer is An...

---

Just One Knight

A warrior woman (sort of), a baker, and a love story that's out of this world... Cinda has been baking cakes since she was old enough to measure sugar, and she'd tell you that she has a good life. A relationship with one of the sexier royal knight...

---

---

Love Spell

Escape into the magical, passionate pages of LOVE SPELL. In this rich collection of lesbian romantic short stories and novellas, best-selling author Bridget Essex offers romantic tales of love found and broken hearts mended, magic, werewolves, witche...

---

Sugar Moon

/ Contemporary Romance

Love is magic…Elise sells magic, charms and dreams out the back door of her brightly painted wagon. A Witch and daughter of the Maja, she believes that everything happens for a reason, but she has never quite understood why there is a hollow fe...

---

---

The Longing

Sydney is haunted by her past. The trauma of Sydney's dark childhood is something she would do anything to forget. Now only nineteen, she's trying to start over with a new life and a new name, but you can't escape the past... Caroline is the most stu...

---

Under Her Spell

What if love was magic? Isabella Fox is a very mediocre witch. Run out of the last few towns for spells gone wrong, she's ready to settle down but can't quite find a place to call home. Fortunately, there's one town where her mediocrity might not act...

---

Thief of Hearts

Only love can set her free... Envy is a lucky lady with a secret vice: she's (arguably) one of the best thieves in the kingdom-something her current employer, the queen herself, has no knowledge of. When one of her more audacious gambles gets her cau...

---

---

---

Protect Her

All Maggie wants is to be left alone. She bought a house in the middle of nowhere, a secluded, private place where she thought she'd live out the rest of her life alone. But fate has other plans... All Catherine wants is to disappear. Maggie finds a ...

---

Choosing Eternity

/ Contemporary Romance

Is love forever?Rose Clyde is irrevocably in love with the alluring vampire Kane Sullivan...but their passionate love affair has seemingly been doomed from the very start.Once, long ago, Kane made an immortal enemy...and now that enemy has returned a...

---

Choosing Eternity:

Is love forever? Rose Clyde is irrevocably in love with the alluring vampire Kane Sullivan...but their passionate love affair has seemingly been doomed from the very start. Once, long ago, Kane made an immortal enemy...and now that enemy has returned...

---

The Wolf Diaries

Who said anything about love? Jadin Fields is a werewolf with a big heart. She loves her work as a dog trainer at a pet store, and she loves spending time with her kid sister. She has such a big heart, in fact, that when a complete (and gorgeous) str...

---

The Bodyguard

Guarding her heart was never part of the contract... Annie Bellfield is walking her dog early one morning when, from out of nowhere, a gorgeous stranger approaches her and starts to walk with her. The captivating woman's name is Nova, and Annie finds...

---

---

Hot Blooded

If she falls in love, there'll be hell to pay...Billie Cross isn't afraid of anything. A quick witted, sarcastic trouble maker, she knows how to rock a good lipstick, a pair of heels...and a sharp dagger. Billie has one of the most dangerous—an...

---

Wild Hearts

/ Contemporary Romance

There's no such thing as werewolves...Ella Rivers doesn't know it, but she's supposed to die tonight. In the dark of night, and in the middle of a snowstorm, someone is after her. Maybe the same someone who killed her mother...But just when Ella is a...

---
Frequently Asked Questions (FAQ)
Bridget Essex has published 48 books.
Bridget Essex does not have a new book coming out soon. The latest book, Wild Hearts, was published in March 2020.
The first book by Bridget Essex, Eternal Hotel, was published in November 2013.
Yes. Bridget Essex has 2 series.