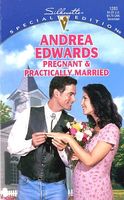 Newest Release
Bibliography:

31 Books - 4 Series

First Book:

May 1983

Latest Book:

November 1999

Rating:
About the Author
Anne Mikita and Edward Kolaczyk were native mid-westerners, they married on 1972. She taught elementary school, but after the marriage she became a restless housewife and mother of four kids. He was a bored marketing executive of IBM group, where he worked during 23 years until he quit on 1982. On 1976, she started to write romance novels, on 1981 she had a few novels published, and her husband decided collaborate with her, and they became a marriage writing team under female pennames. They discovered, that they are very different, but complementary. They used the pseudonyms of Anne Hillary, Anne Benson, Kathryn Jessup, Erika Bryant, Anne Edwards, Andrea Edwards, and Adriene Edwards, they also signed novels with real names Anne and Ed Kolaczyk. The marriage write in their house in Illinois, where they share housework, cooking and childrearing.
Full Series List in Order
1 - If I Only Had a...Husband (May-1999)
2 - Secret Agent Groom (Aug-1999)
3 - Pregnant & Practically Married (Nov-1999)
1 - The Paternity Question (May-1998)
2 - Who Will She Wed? (Jun-1998)
1 - On Mother's Day (May-1996)
2 - A Father's Gift (Aug-1996)
3 - One Big Happy Family (Nov-1996)
1 - A Ring and a Promise (Jan-1995)
2 - A Rose and a Wedding Vow (Mar-1995)
3 - A Secret and a Bridal Pledge (May-1995)
Multi-Author Series List
Kisses and Kids
(Sep-1995)
17 -
Just Hold on Tight!
(May-1994)
Book List in Order:
31

titles
Now Comes the Spring

AWAKENING OF LOVE He was the surly, tough-talking star reporter. She was warm and outgoing, a creative photographer. Josh Rettinger and Tracy Monroe couldn't have been less alike. Yet as they worked side by side on the latest news stories, their f...

---

Power Play

She had done her job too well. Her discovery could ruin those who had grown rich from the profits of clever corporate swindling. But they knew how to take care of a troublesome woman. Attempts to sabotage her career were nothing new. Yet this tim...

---

All Too Soon

Spine creasing very light. Top edge has a roller stamp. Front cover has an erased price. Couple pages have a small bottom dog-ear. No other marks than stated, clean and tight. Ships very quickly and packaged carefully!...

---

Rose in Bloom

For orderly Rose Landen, work belonged in the department store, play stayed on the soccer field, and love...well, love remained in a box labeled Empty. Someday a man might fit one of her niches, but he wouldn't be devil-may-care landscape architect R...

---

Say It With Flowers

Top-notch nurse Cristin OLeary's practical jokes kept the children's ward filled with warmth and laughter. She never guessed that one of her pranks would backfire into an unlikely romance with hospital hero Dr. Sam Rossi. Cristin kept telling hers...

---

Ghost of a Chance

When widowed Holly Carpenter moved into a creaky old house, she became reluctant landlady to an elusive poltergeist and a flesh-and-blood handyman. And what flesh! But though Zach Phillips patched leaky pipes and captivated Holly's mother and daughte...

---

Above Suspicion

NO WAY OUT When attorney Jonathon Tyler met Claire Heywood, he was shocked. Not only was the bewitching woman the image of his late wife, she was also in deep trouble. Jon wanted to help Claire, but when he discovered she was spying on him, he won...

---

Violets Are Blue

Widower Ryan Crawford's three rambunctious children had sent a procession of housekeepers packing. He desperately needed help putting the family's chaotic life in order, and throwing himself on the mercy of Valerie Dennison's home services agency was...

---

Places in the Heart

Folks in backwater Edwardsburg had always made Matt feel like an outsider. Except sweet Tessa. Fresh as the morning sunshine, she'd shared his hopes, his uncertainties ... his youthful passions. Still, he'd had to move on and Tessa had up and...

---

---

Make Room for Daddy

Overworked and once burned by love, dyed-in-the-wool romantic Kelly Farrell had become the neighborhood matchmaker rather than seek a man of her own. She promptly checked out all newcomers for her deserving friends, and strong, silent Ben Peterson, c...

---

Starting Over

THE REAL THING Years ago, social worker Jessie Taylor had loved, lost....and given up her baby for adoption. Now it was her job to make sure ALL kids got a break, even while risking the wrath of sexy new police captain Ben Adamanti. Jessi found h...

---

Home Court Advantage

Jenna Lauren wouldn't call herself happy, exactly; settled was more like it. Thirteen years after the best and worst time of her life, she was back in high school, as a teacher, and back on an even keel...until Rob Fagan returned to rock the boat. A...

---

Sweet Knight Times

Her sass drove him crazy; her smile drove him wild. She drove a delivery truck that had died in his driveway. But did that mean Stephen Van Home had to open his door--and his heart--to this pint-size pizza princess? Yet open he did--and in rushed ...

---

Father: Unknown

Good golly, Miss Molly! Thought Jeff Spencer as preacher's daughter Molly Cahill rolled back into town with a feisty, fatherless nine-year-old. When Molly the Mouse had fled a decade ago, Jeff had been a moody, broody, teen James Dean, too wild and ...

---

Man of the Family

Police detective Mike Mancini thought he knew everything about kids, dogs and things that go bump in the night. But he never counted on his daughter showing up for an unexpected visit, the presence of a huge dog named Fudge . . . or finding that his ...

---

The Magic of Christmas

When pigs flew. When snow filled Death Valley. When three-hundred-pound chickens came to roost in Mentone, Indiana. That's when grouchy single father Peter MacAllister would risk falling in love again. Why, between long-distance parenting and his mom...

---

Just Hold on Tight!

IT TAKES A VERY SPECIAL MAN TO WIN THAT SPECIAL WOMAN! If fiercely independent Gabriella Monroe could rear a teenager--solo--she could survive anything. Still, sometimes in her darkest hours, the adoptive mom secretly craved a helping hand--prefer...

---

A Ring and a Promise

Montana cowboy Jake MacNeill knew that only the land lasted, while love was as reliable as a grinning rattlesnake. Heck, prairie fires were easier to handle than a woman. So why was he heeding an eerie siren call from the city, seeking a lady with an...

---

A Rose and a Wedding Vow

Gruff city cop Matt Michaelson felt as thorny as the rosebush of Stony Mountain's ghostly, lovelorn legend. His kid brother had messed up bad, leaving a widow and son-and leaving Matt responsible for the whole damn caboodle! Worse, the widow Liz drov...

---

---

A Secret and a Bridal Pledge

Although in a witness-protection program, Amy Warren fought to keep her independence - a battle that pitted her against U.S. Marshal Mark Miller. His protective instincts warmed Amy's heart and made her think of long-lost dreams. But Mark's steely ga...

---

Kisses and Kids

IT COULDN'T HAVE HAPPENED TO AN UNLIKELIER GUY... Congratulations, Patrick Stuart! You survived the 'hood. Became a hometown hero. And you've just been awarded a classy new van to chauffeur you down Easy Street in style! There's only one hitch. Y...

---

On Mother's Day

A MOTHER'S GIFT A baby's kiss. An infant's cry. Warm milk and nightly cuddling. Taking those first steps. These were all things that Fiona Scott had missed learning about her own daughter - moments that could never be recaptured. Then handsome...

---

A Father's Gift

Jack Merrill wasn't conceited, but he knew he was a good catch. So why did Cassie Scott refuse to acknowledge his pursuit? She got along wonderfully with his daughters, charmed his aunt and brought life and laughter wherever she went. But Jack wa...

---

One Big Happy Family

A DATE WITH MR. DESTINY... When Samantha Scott was six years old, a mysterious old woman promised her true love if she found the courage to fight for it. Twenty years later, Sam was convinced that Mr. Right had taken a permanent vacation. Then...

---

Christmas Magic

THE PETS WHO SAVED CHRISTMAS "What kind of cat burglar brings her kitties?" groused tough state policeman Mike Burnette. Then Mike learned that his irrepressible intruder was actually Casey Crawford, his new -- unwelcome -- housemate... for the ...

---

The Paternity Question

DOUBLE WEDDING: After switching identities, twin brothers find themselves on the road to marriage! "Will you father my child?" Confirmed bachelor Neal Sheridan stared at Lisa Hughes in disbelief. What kind of a question was that to ask a fell...

---

Who Will She Wed?

ACCIDENTALLY YOURS Unlike his love-'em-and-leave-'em celebrity twin Neal, country veterinarian Nick Sheridan had suffered a heartful of hurt. So why not accept Neal's challenge to trade places on a glamorous jaunt with world-class seductress Colle...

---

If I Only Had a...Husband

Family duty brough millonaire bachelor Brad Corrigan back to Chesterton-the birthplace of his secret, unfulfilled longings. He'd become successful, prominent, and wealthy, but something was missing from his life. And that something was someone-Penny ...

---

Secret Agent Groom

THE AGENT's SECRET Years ago, Alex Waterstone had been reckless and charming -- every girl's dream date. But Heather Mahoney never really dated -- she hadn't even gone to the prom. Still, she would go to a wedding -- HERS. And Alex would make t...

---

---

Pregnant & Practically Married

KNIGHT... IN WHITE STETSON? One minute, pregnant and single Karin Spencer was daydreaming about being swept away by a white knight, and one wallop-to-the-head later she was. But her rescuer was no knight -- he was a cowboy! Surely rock-solid rod...

---

---
Frequently Asked Questions (FAQ)
Andrea Edwards has published 31 books.
Andrea Edwards does not have a new book coming out soon. The latest book, Pregnant & Practically Married, was published in November 1999.
The first book by Andrea Edwards, Now Comes the Spring, was published in May 1983.
Yes. Andrea Edwards has 4 series.