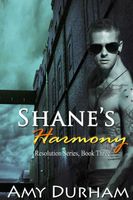 Newest Release
Bibliography:

8 Books - 1 Series

First Book:

February 2012

Latest Book:

September 2017

Rating:
Full Series List in Order
1 - Asher's Mark (Aug-2014)
2 - Gabe's Secret (Apr-2016)
3 - Shane's Harmony (Jul-2017)
4 - Caleb's Chance (Sep-2017)
Book List in Order:
8

titles
Once Again

Reincarnation sucks! Unless it comes with a cute guy. That's what sixteen year-old Layla Bradford discovers when she moves to Sky Cove, Maine, a small-town she thought was ordinary, but turns out to be an episode of "Cold Case" on steroids. Lay...

---

Once And For All

An updated version of this book has been released. Please find ONCE AGAIN (Sky Cove) (Volume 2) if you wish to purchase this book. The price remains the same - $10.99 - however, the cover has been updated and the size of the book has been adjusted....

---

---

---

Asher's Mark

Grace Ballard has been in love with Asher Howell for a long time. When she was sixteen, he became her hero, and she fell head over heels for the boy with a ring through his eyebrow, a big heart, and an unending sense of justice. But two years ago he ...

---

Gabe's Secret

Gabe Jenkins has a secret...Nobody knows that Gabe Jenkins comes from money... and from scandal. And he wants to keep it that way. He's perfectly happy managing Ugly Mug, a coffee shop in Flagstaff, Arizona, leaving his trust fund untouched and his p...

---

Shane's Harmony

/ Christian

Will their tortured pasts pull Sydney and Shane into the shadows and ruin their chance at happiness? Or will they find the courage to reach for the hope of a brighter future together? Some things you want to forget…Trapped in a nightmare after a...

---

Caleb's Chance

What a cliche, to fall in love with your brother's best friend…Growing up in a small Kentucky town, bright spots in Brenna Malone's childhood are rare. With her mother dealing with crippling depression and a completely disinterested father, Bre...

---
Frequently Asked Questions (FAQ)
Amy Durham has published 8 books.
Amy Durham does not have a new book coming out soon. The latest book, Caleb's Chance, was published in September 2017.
The first book by Amy Durham, Once Again, was published in February 2012.
Yes. Amy Durham has 1 series.