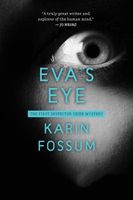 Length:

13 Books

First Book:

August 2013

Latest Book:

August 2019

Genres:

Police Procedural

Rating:
The Inspector Sejer Series in Order (13 Books)
Book Descriptions for series: An Inspector Sejer Mystery
---

Don't Look Back

Book - 2


Don't Look Back heralds the arrival of an exotic new crime series featuring Inspector Sejer, a smart and enigmatic hero, tough but fair. The setting is a small, idyllic village at the foot of Norway's Kollen Mountain, where neighbors know neighbors a...

---

He Who Fears the Wolf

Book - 3


Inspector Sejer is hard at work again, investigating the brutal murder of a woman who lived alone in the middle of the woods. The chief suspect is another loner, a schizophrenic recently escaped from a mental institution. The only witness is a twelve...

---

When the Devil Holds the Candle

Book - 4


When two teenagers steal a purse from a stroller, it results in an infant's death. Unaware of the enormity of their crime, Zipp and Andreas are intent on committing another. They follow an elderly woman home, and Andreas enters her house with his s...

---

Calling Out for You // The Indian Bride

Book - 5


GUNDER JOMANN THINKS HIS LIFE HAS BEEN MADE COMPLETE WHEN HE RETURNS FROM A TRIP TO INDIA A MARRIED MAN. BUT ON THE DAY HIS BRIDE ARRIVES IN NORWAY SHE VANISHES. THEN HIS QUIET TOWN IS SHOCKED BY THE NEWS OF AN INDIAN WOMAN FOUND BLUDGEONED TO DEATH ...

---

Black Seconds

Book - 6


Ida Joner gets on her brand-new bike and sets off toward town. A good-natured, happy girl, she is looking forward to her tenth birthday. Thirty-five minutes after she should have come home, her mother starts to worry. Hundreds of volunteers comb the ...

---

The Water's Edge

Book - 8


Inspector Sejer must track down a sinister figure who fled from the scene of a terrible crime.

Walking through the woods one warm September day, Reinhardt and Kristine Ris pass a man who is in a state of agitation. Unusually in a small town, h...

---

Bad Intentions

Book - 9


In the wake of Stieg Larsson's best-selling novels, readers are discovering the rich trove of modern Scandinavian crime fiction. If you've devoured the Millennium trilogy and are looking for your next read, Karin Fossum and her bone-chillingly bleak ...

---

The Caller

Book - 10


One mild summer evening, a young couple are enjoying dinner while their daughter sleeps peacefully in her stroller under a tree. When her mother steps outside she is stunned: The child is covered in blood. Inspector Sejer is called to the hospi...

---

---

The Murder of Harriet Krohn

Book - 11


Charlo Torp, a newly recovered gambler, makes his way through the slush to Harriet Krohn's apartment, flowers in hand. Determined to pay off his debts, Charlo plans to steal the old woman's antique silver collection. But he didn't expect her to...

---

The Drowned Boy

Book - 12


A new addition to the captivating Inspector Sejer series, the first since The Caller, from Norway's finest crime writer Carmen and Nicolai failed to resuscitate their son, Tommy, after finding him floating in their backyard pond. When Inspector ...

---

---

The Whisperer

Book - 14


In this tense and twisty latest from Norway's maven of crime, time shifts between Inspector Sejer's interrogation of the accused Ragna Reigel and the shocking events that led up to her arrest. How did this lonely, quiet woman come to kill a man -...

---
Awards
Calling Out for You // The Indian Bride
2007 L.A. Times Book Prize -- Mystery/Thriller
Frequently Asked Questions (FAQ)
There are 13 books in The Inspector Sejer series.
The Inspector Sejer series does not have a new book coming out soon. The latest book, The Whisperer (Book 14), was published in August 2019.
The first book in The Inspector Sejer series, Eva's Eye, was published in August 2013.
The Inspector Sejer series primarily falls into the Police Procedural genre.