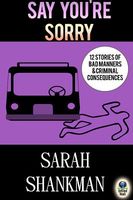 Newest Release
Bibliography:

14 Books - 2 Series

First Book:

December 1985

Latest Book:

December 2009

Rating:
Full Series List in Order
1 - First Kill All the Lawyers (Jun-1988)
2 - Then Hang All the Liars (May-1989)
3 - Now Let's Talk of Graves (1990)
4 - She Walks in Beauty (1991)
5 - The King Is Dead (1992)
6 - He Was Her Man (1993)
7 - Digging Up Momma (Feb-1998)
1 - I Still Miss My Man But My Aim is Getting Better (Apr-1996)
Book List in Order:
14

titles
Impersonal Attractions

Sunshine, the brilliant blue Pacific, and the Golden Gate Bridge overhung with fog. The perfect backdrop for romance? Well…in San Francisco, good weather is easy to find; straight men are not. A San Francisco woman needs stamina, patience, cunning,...

---

First Kill All the Lawyers

DEAD LAWYERS DON'T TELL TALES After her turbulent years on the West Coast, Samantha Adams had come home to Atlanta, lured by the memory of old fashioned gentility, the sweet scent of wisteria--and a cushy job on the Journal-Constitution. And for a...

---

Keeping Secrets

What's a nice Southern Jewish girl like Emma Fine doing married to an angry but beautiful and incredibly sexy black artist like Jesse Tree? Emma Tree's marriage is falling apart. Jesse's obsession with Skytop, the old inn he's renovating, pul...

---

Then Hang All the Liars

DEATH COMES A-COURTIN' Randolph Percy was by birth and by breeding a gentleman. His lucrative game was beautiful, rich ladies of a certain age. They loved his white-haired charm and the gracious manners that, even in the South, were passing away ...

---

Now Let's Talk of Graves

It's Mardi Gras, and ace crime reporter Sam Adams has flown to New Orleans to visit her old college roomie Kitty whose debutante niece is about to be crowned queen of Comus. At the airport Sam first glimpses Harry Zack, a s...

---

She Walks in Beauty

The fourth suspenseful mystery starring ace crime reporter Sam Adams--from the author of First Kill All the Lawyers. Sam has just turned 40, and the last thing she wants to do is cover the Miss America Pageant. But in Atlantic City Sam discovers what...

---

The King Is Dead

Crime reporter Samantha Adams is working on a book called American Weirdwhen her boyfriend, Harry Zack, persuades her to join him at a barbecue cookoff in Tupelo, Mississippi. As Harry puts it, the King's birthplace "ought to be lousy with weird." Be...

---

He Was Her Man

Sam Adams hugged the rain-slick two-lane and sang the blues all five hundred miles from New Orleans to Hot Springs, Arkansas, where Olive Adair--sole proprietor of the Gas 'N Grub--was the first person all day to lift her spirits. Sam's sexy boyfrien...

---

I Still Miss My Man But My Aim is Getting Better

Aspiring country songwriter Shelby Kay Tate finds her big shot at stardom complicated by the return of her no-good ex-husband, as well as by a too-friendly cop, a mix of jealous women, scouting agents, and a big-name star. Reprint....

---

---

Digging Up Momma

In her witty, southern-fried suspense novels, Sarah Shankman delivers nonstop action with a hilarious bite. Now she sends her acclaimed, irreverent heroine--New Orleans writer Samantha Adams--to a southwestern New Age hot spot, to unearth a secret pa...

---

All You Need Is Love

in The Night Awakens

The crowned Queen of Suspense, #1 New York Times bestselling author Mary Higgins Clark, has no peer in the realm of stylish, sophisticated thrillers -- brilliant, breathtaking tales that delve into the deepest affairs of the heart, the darkest crimes...

---

---

A Confederacy of Crime

In a chilling anthology of never-before-published short stories, twelve popular authors--including Jeffery Deaver, Bret Lott, Margaret Maron, Joan Hess, Michael Malone, Julie Smith, and Thomas H. Cook, among others--offer a revealing glimpse of crime...

---

Say You're Sorry

/ Mystery

""Yes, ma'am," "No, ma'am," elbows off the table, and thank you notes, all examples of the good manners that Southern mothers drill into their young. But the characters in these mostly Southern stories by Sarah Shankman know the deeper meaning of the...

---
Frequently Asked Questions (FAQ)
Sarah Shankman has published 14 books.
Sarah Shankman does not have a new book coming out soon. The latest book, Say You're Sorry, was published in December 2009.
The first book by Sarah Shankman, Impersonal Attractions, was published in December 1985.
Yes. Sarah Shankman has 2 series.