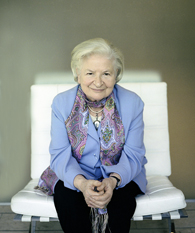 Aug 03, 1920 - Nov 27, 2014 (age 94)

P.D. James has written twenty novels, many of which have been turned into popular television specials in the U.S. and other countries. Before she began writing, James spent 30 years working in various departments of the British Civil Service including the Police and Criminal Law department. She also served as a magistrate and director of the BBC.

James has won many awards for her writing including the Grand Master Award from the Mystery Writers of America, induction into the International Crime Writing Hall of Fame, and was created Baroness James of Holland Park. In 2000, she turned 80 and wrote her autobiography, Time to Be in Earnest. Her favorite film is The Third Man. James currently resides in London and Oxford.
Book List in Order:
31

titles
The Part-Time Job

I wasn't in any particular hurry to kill him. What was important was to make sure that the deed was done without suspicion settling on me. Follow P D James, 'Queen of Crime', as she takes us into the mind of a man who has waited decades to enact his...

---

The Victim

Faber Stories, a landmark series of individual volumes, presents masters of the short story form at work in a range of genres and styles. On the whole, it was easier than I had expected. Only once did I feel myself at risk. That was when the Inspec...

---

Sleep No More

When it comes to crime, it's not always a question of "who dunnit?" Sometimes there's more mystery in the why or the how. And what about the clever few who carry out what appears to be the perfect crime? Or whose most essential selves are cha...

---

The Mistletoe Murder: And Other Stories

Four previously uncollected stories from one of the great mystery writers of our time--swift, cunning murder mysteries (two of which feature the young Adam Dalgliesh) that together, to borrow the author's own word, add up to a delightful "entertainme...

---

Death Comes to Pemberley

A rare meeting of literary genius: P. D. James, long among the most admired mystery writers of our time, draws the characters of Jane Austen's beloved novel Pride and Prejudice into a tale of murder and emotional mayhem. It is 1803, six years sin...

---

Talking About Detective Fiction

To judge by the worldwide success of Arthur Conan Doyle's Sherlock Holmes and Agatha Christie's Poirot, it is not only the Anglo-Saxons who have an appetite for mystery and mayhem. Talking about the craft of detective writing and sharing her personal...

---

The Private Patient

/ Police/Detective/Law Enforcement

Cheverell Manor is a lovely old house in deepest Dorset, now a private clinic belonging to the famous plastic surgeon George Chandler-Powell. When investigative journalist Rhoda Gradwyn arrived there one late autumn afternoon, scheduled to have a dis...

---

Time to Be in Earnest

/ General Fiction

In 1997, P. D. James, the much loved and internationally acclaimed author of mysteries, turned seventy-seven. Taking to heart Dr. Johnson's advice that at seventy-seven it is "time to be in earnest," she decided to undertake a book unlike any she had...

---

The Lighthouse

/ Police/Detective/Law Enforcement

A secure and secluded retreat for the rich and powerful becomes the setting for an unsettling series of murders. Combe Island, off the Cornish coast, is a restful haven for the elite. But when one of its distinguished visitors is found hanging from ...

---






---

The Murder Room

/ Police/Detective/Law Enforcement

When Commander Dalgliesh is persuaded by an old friend to visit the Dupayne, a small private museum on the edge of Hampstead Heath, he can have no idea that he will return to it one week later under very different circumstances. One of the family tru...

---

Death in Holy Orders

/ Police/Detective/Law Enforcement

On the East Anglican seacoast a small theological college hangs precariously on an eroding shoreline and an equally precarious future. Then, the body of a student is found buried in the sand, and the boy's influential father demands that Scotland Yar...

---

A Certain Justice

/ Police/Detective/Law Enforcement

"Venetia Aldridge is a criminal lawyer of large talents and small personal charm, working at a venerable London firm...As she tries to save a young lower-class tough who is accused of murdering his prostitute aunt, we learn that she is in a position ...

---

Tales of Obsession

Fourteen spine-tingling stories of suspense include P. D. James's ""The Victim,"" in which a gorgeous celebrity uses her infatuated ex-husband as a murder weapon, and tales by Ruth Rendell, Patricia Highsmith, and other authors....

---

Original Sin

/ Police/Detective/Law Enforcement

Innocent House, a mock-Venetian palace occupied by Britain's oldest book publisher. Here, after a spate of malicious pranks, someone killed Gerard Etienne, the ruthless managing director, and jammed the office mascot, a stuffed snake, in his mouth. ...

---

The Children of Men

It begins in England, in 2021, in a world where all human males have become sterile and no child can ever be born again. The final generation has turned twenty-five, and civilization is giving way to strange faiths and cruelties, mass suicides, and d...

---

Devices and Desires

/ Police/Detective/Law Enforcement

A serial killer stalking women on a lonely stretch of Norfolk coastland-that's only one of the passionate offenses awaiting Commander Adam Dalgliesh when he takes up residence in a picturesque windmill/cottage left to him by an eccentric aunt. Under ...

---

In Murderous Company

Three novels written by P.D. James. Unnatural Causes, An Unsuitable Job for a Woman and The Black Tower....

---

A Taste for Death

/ Police/Detective/Law Enforcement

Their throats slit, the two men have turned the old vestry of St. Matthew's church red with blooed. In death united, in life no men could have been more disparate: onea Baronet and Minister of the Crown; the other and alcholic derelict. Commander Ada...

---

Trilogy of Death

Commander Adam Dalgliesh investigates a murder in a forensic science lab, Philippa Palfrey, an eighteen-year-old adoptee, learns that her natural mother was a murderess, and Cordelia Gray tries to solve the murder of houseparty guest...

---






---

---

The Skull Beneath the Skin

Actress Clarissa Lisle was famous for her ravishing beauty--and her unscrupulous manipulations. Now on the death-shrouded island of Courcy, her schemes win her a starring role in a nightmare in which she can trust no one--not her deceived husband; he...

---

Innocent Blood

ADOPTED AS A CHILD, PHILIPPA PALFREY HAD THE BEST OF EVERYTHING. But, at eighteen, she wanted more. She wanted to know the identity of her real parents. Having always fantasized herself the illegitimate daughter of an aristocrat and a parlour maid, s...

---

Murder in Triplicate

Three complete murder mysteries by P. D. James in one book: Unnatural Causes, An Unsuitable Job For a Woman, and The Black Tower....

---

Crime Times Three

Three novels written by P.D. James. Cover Her Face, A Mind to Murder and Shroud for a Nightingale....

---

Death of an Expert Witness

/ Police/Detective/Law Enforcement

On the surface, Dr. Lorrimer was the picture of a bloodless, coldly efficient scientist. Only when his brutally slain body was discovered and his secret past dissected did the image being to change. Once again, Chief Inspector Adam Dalgliesh would...

---

The Black Tower

/ Police/Detective/Law Enforcement

The Killer Played No Favorites The first victim was a priest without an enemy. He left behind not a clue to his killer. The second victim was a monster of a man who spread hate wherever he went. He left behind only too many suspects. The third...

---

An Unsuitable Job for a Woman

A SEEDY SORT OF DEATH Handsome Mark Callender did not die the way a well-brought-up young gentleman should. He was found hanging by his neck, a lipstick stain on his mouth and a picture of a nude girl nearby. The official verdict was suicide, but ...

---

Shroud for a Nightingale

/ Police/Detective/Law Enforcement

Two student nurses lie dead, the great hospital nursing school of Nightingale House is shadowed with terror, and a secret medical world of sex, shame, and scandal is about to be exposed. It is the job of Adam Dalgliesh of Scotland Yard to probe even ...

---

Unnatural Causes

/ Police/Detective/Law Enforcement

Maurice Seton was a famous mystery writer--but no murder from his imagination could equal the ghastliness of his own death. When his grotesquely mutilated corpse was found in a drifting dinghy, ripples of horror spread among his bizarre friends: the ...

---






---

A Mind to Murder

/ Police/Detective/Law Enforcement

When the administrative head of the Steen Psychiatric Clinic is found dead with a chisel in her heart, Superintendent Adam Dalgliesh of Scotland Yard is a called in to investigate. Dalgliesh must analyze the deep-seated anxieties and thwarted desires...

---

Cover Her Face

/ Police/Detective/Law Enforcement

The slain seductress Sally Jupp was a sly and sensuous young woman who had used her body and her brains to make her way up the social ladder. Now she lay across her bed with dark bruises from a strangler's fingers forever marring her lily-white th...

---
Complete Series List in Order
An Adam Dalgliesh Mystery
1) Cover Her Face (1962)
2) A Mind to Murder (1963)
3) Unnatural Causes (1967)
4) Shroud for a Nightingale (1971)
5) The Black Tower (Aug-1975)
6) Death of an Expert Witness (Oct-1977)
7) A Taste for Death (1986)
8) Devices and Desires (1989)
9) Original Sin (1994)
10) A Certain Justice (Nov-1997)
11) Death in Holy Orders (Apr-2001)
12) The Murder Room (Nov-2003)
13) The Lighthouse (Nov-2005)
14) The Private Patient (Sep-2008)
Cordelia Gray
1) An Unsuitable Job for a Woman (1972)
2) The Skull Beneath the Skin (Jul-1982)
Multi-Author Series List
Jane Austen's Pride and Prejudice
Death Comes to Pemberley
(Dec-2011)
Award-Winning Books by P.D. James
A Taste for Death
1987 Macavity Award -- Mystery Novel