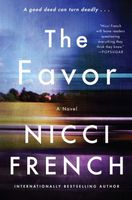 Newest Release
Bibliography:

28 Books - 1 Series

First Book:

January 1998

Latest Book:

October 2022

Rating:
Full Series List in Order
1 - Blue Monday (Mar-2012)
2 - Tuesday's Gone (Apr-2013)
3 - Waiting for Wednesday (Apr-2014)
4 - Thursday's Children (Apr-2016)
5 - Friday on My Mind (Oct-2016)
6 - Dark Saturday (Jun-2017)
7 - Sunday Silence (Jan-2018)
8 - The Day of the Dead (Jul-2018)
Book List in Order:
28

titles
The Memory Game

A psychological thriller in which the body of a 16 year-old girl, missing for 25 years is found buried in the garden of a country house. When it is established she had been murdered, her sister-in-law begins her own investigation....

---

The Safe House

The Safe House is a scintillating psychological thriller by the Top Ten bestselling author, Nicci French You open your home and your heart to a victim. But your house is anything but safe . . . Samantha Laschen is a doctor specialising in post-trauma...

---

Killing Me Softly

Alice Loudon has it all: a devoted boyfriend, a marvelous circle of friends, a challenging job as a research scientist. Then one morning, on her way to work, she exchanges a lingering look with a man so devastatingly attractive he takes her breath aw...

---

Beneath the Skin

Three very different London women discover they are being watched by a sadistic sexual predator, and become sisters closer than kin. As each woman receives threatening, macabre letters, each faces a horrible truth, and police must pry into each of th...

---

The Red Room

The first time London police psychiatrist Kit Quinn interviews a homeless sexual predator named Michael Doll, he slashes her face with a broken mug. Months later, after the emotionally vulnerable Kit is asked to question Doll about the killing of a t...

---

Land of the Living

THEY SAY YOUR MEMORY CAN'T BE TRUSTED. THEY SAY YOU WERE NEVER BLINDFOLDED...STARVED... OR IMPRISONED. BUT YOU KNOW IT HAPPENED. AND YOU KNOW IT CAN HAPPEN AGAIN. LAND OF THE LIVING Abbie Devereaux lies flat on her back, her arms and le...

---

Secret Smile

Miranda's sister, Kerri, has a new boyfriend. He's a raven-haired, handsome charmer who seems to dote on Kerri. But Brendan isn't the man he says he is. Miranda should know, because she broke off her own affair with him just a few weeks ago when she ...

---

Catch Me When I Fall

YOU'RE A WHIRLWIND. YOU'RE A SUCCESS. YOU'RE LIVING YOUR LIFE ON THE EDGE. BUT YOUR NEXT STEP CAN TAKE YOU INTO THE ABYSS. Holly Krauss lives her life in the fast lane. A successful, happily married businesswoman, she is loved and admired by ev...

---

Losing You

It's Nina Landry's birthday, and she's supposed to have her kids ready to leave in a few hours for a Christmas holiday in Florida with her new boyfriend, but her fifteen-year-old daughter Charlie spent the night at a friend's and hasn't come home yet...

---

---

Until It's Over

Astrid Bell has known most of her housemates for years, but while they have a tangled history together--romantic pairings, one-night stands, friendships--each of them also has a past. Astrid is on her way home one day when her neighbor accidentall...

---

What to Do When Someone Dies

What do you do when your husband dies in a horrific car accident? How should you react when you learn another woman was by his side? Where do you turn when the image of your perfect marriage is lying in tatters? For grieving widow Ellie Falkner there...

---

The Other Side of the Door // Complicit

Who is more dangerous? An enemy? A friend? Or a lover? Bonnie Graham stands in the open door of her friend's apartment. She is alone, except for the dead body lying in a pool of blood on the floor. What happened? What will Bonnie do now? Whom can ...

---

Blue Monday

The stunning first book in a new series of psychological thrillers introducing an unforgettable London psychotherapist Frieda Klein is a solitary, incisive psychotherapist who spends her sleepless nights walking along the ancient rivers that have ...

---

Tuesday's Gone

Internationally bestselling authors Nicci Gerard and Sean French, writing as Nicci French, have sold more than eight million copies of their books worldwide. But nothing they've written written before has grabbed the attention of reviewers and read...

---

#Youdunnit

/ Mystery

One crowdsourced storyline, three finely crafted stories by Penguin authors Nicci French, Tim Weaver and Alastair Gunn.

What crime has been committed?Who is the victim?And who will solve the case?

Write a short crime story, using plot ...

---

Waiting for Wednesday

In the third volume of the bestselling Frieda Klein Mystery series, the brilliant but troubled London psychotherapist returns -- only to journey into a darkness from which there may be no return. Ruth Lennox, mother of three, is found dead in a p...

---

---

Thursday's Children

Drawn to brilliant and solitary London psychotherapist Frieda Klein, a growing readership is discovering Nicci French's acclaimed series with each chilling installment. In Thursday's Children, Frieda faces her most personal case yet when a former...

---

Friday on My Mind

In Nicci's French's thrilling fifth book, London psychotherapist Frieda Klein herself becomes the prime suspect in a murder A bloated corpse turns up in the Thames, throat slashed, and the only clue is a hospital wristband reading Dr. F. Klei...

---

---

---

Dark Saturday

Enter the world of NICCI FRENCH with DARK SATURDAY, an electrifying, sophisticated psychological thriller about past crimes and present dangers, featuring an unforgettable protagonist... A decade ago, 18-year-old Hannah Docherty was arrested for t...

---

Sunday Silence

It started with Monday. But it doesn't end with Sunday. Lover of London, gifted psychologist, frequent police consultant -- Frieda Klein is many things. And now she's a person of interest in a murder case. A body has been discovered in the most un...

---

Sunday Morning Coming Down

THE CHILLING SEVENTH INSTALMENT IN THE BESTSELLING FRIEDA KLEIN SERIES 'Menacing' Guardian Someone is coming for Frieda, someone deadly . . . Psychotherapist Frieda Klein has believed serial killer Dean Reeve escaped justice for years. Despite what t...

---

The Day of the Dead

A decade ago, psychologist Frieda Klein was sucked into the orbit of Dean Reeve -- a killer able to impersonate almost anyone, a man who can disappear without a trace, a psychopath obsessed with Frieda herself. In the years since, Frieda has worke...

---

The Lying Room

One little secret between a married woman, her lover, and a killer. In this thrilling standalone from the internationally bestselling author of the Frieda Klein series, a married woman's affair with her boss spirals into a dangerous game of ches...

---

House of Correction

In this heart-pounding standalone from the internationally bestselling author that People calls "razor sharp," a woman accused of murder attempts to solve her own case from the confines of prison -- but as she unravels the truth, everything is ca...

---

The Unheard

In this new heart-pounding standalone from the internationally bestselling author that People calls "razor sharp," a single mother suspects her young daughter has witnessed a horrible crime when the girl draws a disturbing picture -- but the dead...

---

---
Frequently Asked Questions (FAQ)
Nicci French has published 28 books.
Nicci French does not have a new book coming out soon. The latest book, The Favor, was published in October 2022.
The first book by Nicci French, The Memory Game, was published in January 1998.
Yes. Nicci French has 1 series.