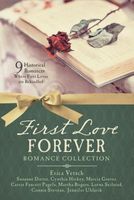 Newest Release
Bibliography:

46 Books - 6 Series

First Book:

December 2009

Latest Book:

April 2018

Rating:
Full Series List in Order
1 - Bernie's Journey (Jun-2012)
2 - Bernie Goes to the Beach (Oct-2012)
3 - Bernie Finds a Friend (Mar-2013)
1 - Love Stays True (May-2013)
2 - Love Finds Faith (Feb-2014)
3 - Love Never Fails (Nov-2014)
1 - Love On Trial (Mar-2015)
2 - Forgiving Love (Apr-2015)
3 - Lessons on Love (Jun-2015)
1 - Summer Dream (Jun-2011)
2 - Autumn Song (Oct-2011)
3 - Winter Promise (Jan-2012)
4 - Spring Hope (May-2012)
1 - Garden of Love (Apr-2016)
2 - Designs for Love (May-2016)
3 - Hearts Open to Love (Feb-2017)
1 - Becoming Lucy (Dec-2009)
2 - Morning for Dove (May-2010)
3 - Finding Becky (Oct-2010)
4 - Caroline's Choice (Jan-2011)
5 - Christmas at Holly Hill (Sep-2012)
Amelia's Journey (Jan-2012)
Multi-Author Series List
Love Comes to the Bluebonnet Inn
(Mar-2016)
31 -
Mistletoe and Roses
(Mar-2017)
Christmas Blessing
(Oct-2015)
7 -
Behind the Mask
(Oct-2017)
7 -
Love Comes Around
(Sep-2017)
Summer's Surprise
(Jun-2016)
6 -
Bride on the Run
(May-2017)
8 -
Be True
(Mar-2017)
Book List in Order:
46

titles
Becoming Lucy

WILL HEIRESS HEIRESS LUCINDA BISHOP LEARN THE MEANING OF TRUE LOVE AND FORGIVENESS ON THE OKLAHOMA PLAINS? In 1896, after her parents' deaths, seventeen-year-old heiress Lucinda Bishop is sent to Oklahoma to live with her aunt and uncle. But Oklahom...

---

Morning for Dove

CAN LOVE OVERCOME INTOLERANCE IN THE OKLAHOMA TERRITORY? When Luke Anderson falls in love with Dove Morris, he is aware of her Native American heritage. What he is not prepared for is the prejudice suddenly exhibited by his mother against Dove. To...

---

Key to Her Heart

in A Riverwalk Christmas

A vivid setting, rich in cultural history, Christmastime along the San Antonio Riverwalk is a delightful setting for four modern romances. Ecko finally meets the right kind of guy, but can he trust h...

---

Finding Becky

WILL BECKY'S NEWFOUND INDEPENDENCE LEAD HER AWAY FROM FRIENDS, FAMILY, AND EVEN GOD? Rob Frankston has waited four years for Becky Haynes to come home, but she arrives back in Barton Creek newly graduated from college with an independent spirit th...

---

Caroline's Choice

WILL CAROLINE FINALLY FIND THE ADVENTURE SHE LONGS FOR OR IS SHE FLEEING THE VERY THINGS THAT MATTER MOST? At age twenty-six, Caroline Frankston is certain life is passing her by in the town of Barton Creek. Her feelings for Matthew Haynes appear...

---

Summer Dream

The first book in the Seasons of the Heart series is set in Connecticut in 1888, the year of what historians call "The White Hurricane." The story reveals the power of God's love to change lives and heal hearts. Summer Dream tells of a young co...

---

Autumn Song

Why does everyone think a girl's only lot in life is to find a husband and settle down? Kathleen Muldoon is twenty-three and tired of ranch living. Fiercely independent and determined to become a nurse, she has left her family's ranch to study medic...

---

Amelia's Journey

For Ben Haynes it is love at first sight, but can a Boston socialite find true happiness with a cowboy from Kansas? Once childhood friends, Ben Haynes is taken with Amelia Carlyle when he runs into her at her sister's wedding. Although he will be ...

---

Winter Promise

A painful past has left Doctor Elliot Jensen uninterested in love. Until he meets Abigail. Single, educated, and looking for a new start, Abigail Monroe decides to join her brother and his wife in Portersville, Texas. Near her twenty-fifth birt...

---

---

Spring Hope

Can runaway Libby Cantrell finally get a new start? Libby Cantrell's life has gone from bad to worse since her mother's death. After working in a brothel to support her abusive father, she sees no hope for her future until one cold winter nigh...

---

Bernie's Journey

This is a story about an earthworm who digs in the dirt and goes places that are always an adventure. What Bernie experiences coincides with real life and how we can learn from an earthworm how to cope with people, places, and things. ...

---

Christmas at Holly Hill

Can Clayton Barlow prove he has changed his ways in time for Christmas? It is October 1898, and Clayton Barlow has just returned home after serving time in prison for his part in a bank robbery. His family welcomes him, but the townspeople are ske...

---

---

Bernie Finds a Friend

Travel with Bernie as he goes on an adventure, experiencing a new and unlikely friendship. He finds out that sometimes you can become friends with someone you never thought possible

Also, look for the first two books in the series; "Bernie's J...

---

Love Stays True

It is April 1865, can Sally and Manfred overcome the distance that the war has put between them and find love? Three strong women from the South forge ahead to new territories to establish a new life and find happiness through their staunch faith....

---

Best Laid Plans

/ Christian

Welcome to Bloomfield, where life is simple, love is real, and stories are shared. Architect and hometown boy Hal McKenzie is called back to Bloomfield when the mayor needs help figuring out how to expand the city hall and courthouse. That will me...

---

Love Finds Faith

Why can't people see what is on the inside? Hannah Dyer has just moved to Texas to help her brother-in-law in his medical practice. Despite her handicap of having one leg much shorter than the other, she is a great nurse whose skills help make ...

---

Love Never Fails

At odds over their beliefs and separated by the war, Molly and Stefan must learn to depend of God. In book three of the Homeward Journey series, Daniel and Sally Delaney's daughter Molly finishes school and returns to her home to teach. When ol...

---

Love On Trial

Kristina Graves and Warren Hughes were engaged in law school until Warren betrayed her trust. Now a defense attorney and a prosecutor, they face each other in court. Warren is willing to do anything to regain Tina's trust and her love. When her mot...

---

---

---

Forgiving Love

Tyler loves Hailey, but will that love survive the secrets of her past? While fulfilling her probation by volunteering at a homeless mission center, Hailey Carson , makes friends with Marly Matthews who introduces her to Tyler Jacobs. Marly knows the...

---

Lessons on Love

When Bryce Dorrell married a girl he met in college, his high school sweetheart Mary Lee Matthews buried herself in teaching in order to forget the man who broke her heart. Now he's back as coach of the high school football team and a widower with ...

---

Texas Sweethearts

(Formerly titled Sugar and Grits and Biloxi Brides) Grab a glass of sweet tea and meander down to the edge of the Texas coast to meet three of the South's most unlikely brides. Loaded with southern hospitality and charm, Texas Sweethearts will leav...

---

Christmas Blessing

/ Contemporary Romance

Annelle Pugh is the daughter caretaker of her retired sea captain father who is in poor health. As she approaches age thirty, he smothers any of her attempts at a social life, and Nelle becomes discouraged and fearful she'll never have a home of he...

---

Love Comes to the Bluebonnet Inn

Jolene Burns is the innkeeper's daughter, in her late twenties and still single. Jolene's mom and her friends are anxious for Jolie to find a good man and settle down like her brothers, but she is content managing the bed and breakfast and forget...

---

Garden of Love

Because of her past failures at romance, Carrie Sutton has lost her trust in men and has buried herself in her work as a children's librarian. Landon Moore has delayed seeking a wife until he is successful with his landscaping business. Now that he h...

---

Designs for Love

After a broken engagement weeks before the wedding, Amanda Russell's trust in men is at point zero. Reed Benson is working on changing his college days reputation as a lover boy. When Reed meets Mandy, he is immediately attracted to her but fears his...

---

Summer's Surprise

Summer Patterson, a photo-journalist for a popular magazine, is on a mission to capture the charm and nostalgia of the old Route 66 through the West Texas Panhandle in story and picture, but when her car breaks down in a "middle of nowhere" town, her...

---

A House Love Built

/ Contemporary Romance

Callie Armistead has long dreamed of going away to school and studying medicine. She's read medical journals and textbooks for several years with that goal in mind and has helped care for the citizens of Pine Grove since the death of their town doc...

---

---

Christmas at Stoney Creek

When newspaper reporter Tom Whiteman befriends a homeless man named Joe, Tom decides to bring him home to Stoney Creek, Texas. Joe begins to work odd jobs around town and make new friends, but contradictions in the man's manner and speech cause Tom...

---

Faces of Her Past

Evils from the past threaten to destroy the future. After the deaths of her adopted parents, Claire Dennison begins a search with only faded photographs and a few trinkets to guide her to find the mother and sister she never knew. Although her lawyer...

---

Hearts Open to Love

Despite the happy marriages of her two best friends, Allie Spencer's childhood memories keep her heart closed to any relationship with a man until Brent Hudson comes into the picture. He may be just the one to help open her heart to love, but when th...

---

Be True

Kari Benson's Marine fiancé died in Afghanistan and she is determined that won't happen again. Even though her great-grandfather, grandfather, father and brother are all military, she vows to stay away from any man associated with the military. ...

---

Mistletoe and Roses

Mikayla Pruitt returns home to help her mother with settling her father's estate and organizing their year-round Christmas store in Mistletoe, Oklahoma. She finds herself embroiled not only in a battle to keep the town as it is with all its quaintn...

---

Always On My Mind

Cassie Miller is awarded a fellowship to study at a prestigious music school, but mistakes by Marc Rossi, the man in charge, threaten to ruin her success at the school and lead to her dismissal. As they work together to find the truth, they discover ...

---

Bride on the Run

Kelly Morgan looks forward to her marriage to Darrell, but something isn't right and her childhood friend, Tyler, sees it. When a domineering soon to be mother-in-law takes over, changes honeymoon plans and dashes all hopes of Kelly decorating her ow...

---

Mission of Love

When Chelsea and Ryan accompany the youth from their church on a mission trip to Wyoming, they find more than the beauty of Yellowstone Park and Jackson Hole. As they work with the teenagers in serving a church in Sheridan, they grow to care about ea...

---

Hidden Heiress

To escape men only interested in her inheritance, Emma Weatherby flees Chicago for Texas disguised as her grandmother's lady's maid. Preston Morton, a cowboy on her uncle's ranch, sees her as a loving Christian girl and falls in love. When her secret...

---

A Gamble on Love

When Lance Weston finds himself the sole guardian of his niece and nephew, his first impulse is to run as fast as his horse will take him back to his wild old days of wine, women, and gambling. Melissa Donavan, the preacher's daughter, doesn't see ho...

---

---

The Gardener's Rose

With his family's disgrace hanging over his head, Collin Frazier seeks to renew his lost love, but Rose Anne Billings wants an explanation as to why he left her so many years ago without a word of good-bye. Family secrets and an unforgiving heart thr...

---

Love Comes Around

/ Contemporary Romance

Twice broken hearted, Alicia Ferrell is in no mood for matchmaking schemes. However, the inheritance from her grandmother carries with it one handsome lawyer, Cliff Morrison. He is the attorney designated to help Alicia fulfill the requirements her g...

---

Hemmed in Faith

After her husband's execution as a thief and murderer, Luisa Banning moves with her children to Texas and the safety of her parents' home. On the train she meets Erik Swenson, the new doctor in town. Coming out of an abusive relationship, Luisa i...

---

Behind the Mask

Leah Murphy, the mayor's daughter and would be suffragette, is met with frustration in her attempts to involve the ladies of Canfield, Texas by one Carson Bannister, the local newspaper editor and her long time friend. As she plans the Christmas Masq...

---

Icebound Christmas

Kaci Spears plans to spend a fun Christmas holiday with her parents at a dude ranch in Texas, but one of the cowboys on the ranch is Chase Harper, the man to whom she was engaged in college, but broke it off because she didn't want to live anywhere...

---

---

After the Ball

in First Love Forever

"A first love is never easily forgotten...and coming face to face with that person again can be awkward when the heartstrings are still holding on to the ""what ifs."" In settings from 1865 to 1910, nine couples are thrown back on the same...

---
Frequently Asked Questions (FAQ)
Martha Rogers has published 46 books.
Martha Rogers does not have a new book coming out soon. The latest book, After the Ball, was published in April 2018.
The first book by Martha Rogers, Becoming Lucy, was published in December 2009.
Yes. Martha Rogers has 6 series.