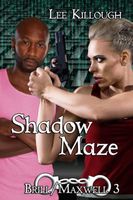 Newest Release
Bibliography:

17 Books - 2 Series

First Book:

December 1978

Latest Book:

July 2020

Rating:
Full Series List in Order
1 - Doppelganger Gambit (Jul-1979)
2 - Spider Play (Jul-1986)
3 - Dragon's Teeth (May-1990)
1 - Blood Hunt (Mar-1987)
2 - Bloodlinks (May-1988)
3 - Blood Games (Sep-2010)
Book List in Order:
17

titles
A Voice Out of Ramah

The women served, bred, and obeyed-never questioning the dark Divine Will that yearly claimed the lives of their sons. The men ruled, meditated, and sired-if they survived. That was the way it had always been on Marah, where a deadly virus attacked y...

---

Doppelganger Gambit

THE ULTIMATE ALIBI The starship broker OD'd on a particularly nasty drug -- and his files showed his personal responsibilities for a series of space disasters. Suicide? Policewoman Janna Brill was ready to buy that, but her oddball sidekick, Ma...

---

The Monitor, the Miners and the Shree

ROUTINE MISSION The team from the Department of Surveys and Charters wasn't anticipating anything special on Nira. DSC policy called for periodic studies of developing races on proscripted worlds, and it was merely time for another look at the win...

---

Deadly Silents

Ten and Roban, police officers newly arrived on the planet Egar from Earth, attempt to solve the murder of a fellow officer with little understanding of the criminal motives of the planet's two alien races...

---

---

Liberty's World

The planet seemed like salvation for the dying colony ship Inuictus, except... within a day of landing, the colonists found the world to be inhabited and themselves caught between two opposing cannibalistic armies. For Liberty Ibarra, who learned...

---

Spider Play

SPACE CORPSE It started out as a routine vehicle theft. But when the stolen hearse and the body within it later turned up horribly mutilated, Detective Janna Brill and her male partner Mama Maxwell felt they were on to something much bigger; and muc...

---

Blood Hunt

A TIME TO LIVE Garreth Mikaelian buried his grief at the death of Marti in his work. He had to go on now, and a murderer stalking the streets of San Francisco gave him something to do, gave him purpose. A TIME TO DIE Mikaelian cornered the murderer,...

---

The Leopard's Daughter

Her mother is a princess. Her father is a leopard. Her allies are the wild hunting beasts of the night. FEAR JENEBA THE FIERCEST WARRIOR OF THE DARK JUNGLE Seeking vengeance against the man who betrayed her tribe, Jeneba rides into unknown for...

---

---

Bloodlinks

Two years ago Garreth Mikaelian was turned into a vampire by the seductive Lane Barber. He tracked her to a small Kansas town and when she tried to kill him, killed her. He thought. But a call comes from his old partner in San Francisco that seems to...

---

---

---

Wilding Nights

Homicide detective Allison Goodnight has a big problem. One look at the mutilated victim in her latest case tells her he has been killed by a rogue werewolf. She ought to know; she's a werewolf, too. Her whole family is--members of an ancient species...

---

Killer Karma

In Lee Killough's Killer Karma, published by Books We Love, Inspector Cole Dunavan finds himself in the middle of a parking garage with no memory except of his murder. After remembering who he is and accepting that he is now a ghost, he has more prob...

---

Blood Games

From Lee Killough, the author of BloodWalk, Meisha Merlin presents the new Garreth Mikaelian vampire novel Blood Games Garreth Mikaelian has an enemy... Time. He thought he knew all about being a vampire. After all, he has had fifteen years in the li...

---

Aftershock

/ General Fiction

In Lee Killough's Aftershock, published by Books We Love, it would be logical for the culture of a distant planet unconnected to Humans to be...well...alien. A different social and family structure, different legal system, different religion. But m...

---

Shadow Maze

Detectives Janna Brill and Mama Maxwell are chasing shadows. They have an attempted robbery of a political fund-raiser, another of a society bash, and a dead billionaire businessman. All under the eyes of state-of-the-art security. The brass want the...

---
Frequently Asked Questions (FAQ)
Lee Killough has published 17 books.
Lee Killough does not have a new book coming out soon. The latest book, Shadow Maze, was published in July 2020.
The first book by Lee Killough, A Voice Out of Ramah, was published in December 1978.
Yes. Lee Killough has 2 series.