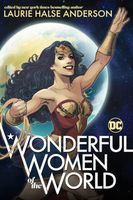 Newest Release
Bibliography:

42 Books - 2 Series

First Book:

June 1996

Latest Book:

September 2023

Rating:
Full Series List in Order
1 - Chains (Oct-2008)
2 - Forge (Oct-2010)
3 - Ashes (Oct-2016)
1 - Fight for Life (May-2000)
2 - Homeless (May-2000)
3 - Trickster (May-2000)
4 - Manatee Blues (Sep-2000)
5 - Say Good-bye (Mar-2001)
6 - Storm Rescue (Mar-2001)
7 - Teacher's Pet (Mar-2001)
8 - Trapped (Sep-2001)
9 - Fear of Falling (Sep-2001)
10 - Time to Fly (Mar-2002)
11 - Masks (Sep-2002)
12 - End of the Race (Apr-2003)
13 - New Beginnings (Feb-2012)
14 - Acting Out (Sep-2012)
15 - Helping Hands (Aug-2013)
16 - Treading Water (Apr-2014)
17 - Left Behind (Apr-2016)
Multi-Author Series List
Wonder Woman: Tempest Tossed
(Jun-2020)
Wonder Woman: Tempest Tossed
(Jun-2020)
Book List in Order:
42

titles
Ndito Runs

Every day many children in Kenya run miles to school--so does Ndito. From her village in the highlands she runs barefoot, across ridges and down hills, under baobab trees and through tall grass. As she runs she calls up animal dreams to keep her comp...

---

Turkey Pox

On their way to Thanksgiving at Nana's house, Charity's family notices that Charity has chicken pox, and it looks like there will not be any Thanksgiving celebration for Charity, until Nana comes up with a big surprise....

---

---

---

Fight for Life

Maggie has a mission Maggie MacKenzie is great with dogs, but her homework is out of control. Dr. Mac, her veterinarian grandmother, puts her on a short leash until her grades improve. Four new volunteers show up to help Gran in the clinic, but no...

---

Homeless

Volunteer at Wild at Heart Animal Clinic with Brenna, Zoe, David, Maggie, and Sunita. Sunita: Socrates is missing! We've looked everywhere. But instead of finding Dr. Mac's cat, we found a pack of feral cats -- hundreds of them, living outside in th...

---

Trickster

As soon as he sees Trickster, the new horse at Quinn's Stables, David knows he's found the horse he was born to ride. But David's got a reputation as a troublemaker . . . and Trickster's still recuperating from an accident. David is determine...

---

Fever 1793

During the summer of 1793, Mattie Cook lives above the family coffee shop with her widowed mother and grandfather. Mattie spends her days avoiding chores and making plans to turn the family business into the finest Philadelphia has ever seen. But the...

---

Manatee Blues

Dr. Mac has brought Brenna, Maggie, and Zoe to Florida to visit her friend Gretchen, a marine biologist who runs a manatee rescue center that's in desperate need of money. Brenna's immediately drawn to the endangered, gentle giants, and wants to ...

---

---

Say Good-bye

Yum-Yum is an adorable shih tzu and one of Zoe's favorite clients. When Zoe and Yum-Yum visit a ward of cancer patients, she is amazed by how much joy the tiny dog can spread in an instant. But then Yum-Yum is diagnosed with cancer himself. How can...

---

Storm Rescue

Sunita Patel is book smart and good with cats. When a hurricane approaches, Sunita realizes that Lucy, a diabetic cat with a broken leg, is in danger, along with her owner, Mrs. Clark. When the vets are called out on emergency, the evacuation starts....

---

Teacher's Pet

Maggie's still getting used to middle school. One of her teachers is, too - Mr. Carlson, her new science teacher, is blind, and is working with a guide dog for the first time. Scout is a love of a German shepherd and really wants to do his job, but M...

---

Fear of Falling

The biggest challenge... David is determined to learn to jump on horseback if it kills him. And sometimes he?s afraid it might? like when Comet balks and won?t go over the crossbar. Now that David?s father is back in town, he?s promised to teach D...

---

Trapped

Someone's been setting animal traps in the nature preserve behind Brenna's house. She and her older brother, Sage, are furious - not only is that illegal, it's hurting and killing defenseless animals where they should be safe. They both want to do so...

---

Time to Fly

Zoe: I'm stunned. There's a flock of parrots in our backyard! No one knows where they came from or how well they can survive in the wild, out of their natural environment. But they aren't as a big a surprise as the sight of my mom, who has just arriv...

---

Masks

Sunita loves her cat, Mittens, just as much as she loves volunteering at Dr. Mac's veterinary clinic. But when Mittens eats some yarn from her Halloween costume and becomes ill, Sunita wonders if she is cut out to work for a vet after all. She tries ...

---

---

Wild at Heart

Just when Zoe is starting to feel at home in Ambler, Pennsylvania, living with her veterinarian grandmother and learning about a flock of wild parrots, her actress mother arrives to take her to a new home in Los Angeles....

---

Love & Sex

Lust, Desire, Fantasy, Obsession, Love In one outstanding volume, ten of today's finest authors of adult and young-adult literature lend teir talent and their vioces to take a hard, clear look at love and sexuality. From balancing abstinence and des...

---

---

End of the Race

It all starts when an injured greyhound is brought to the clinic, and Maggie and Dr. Mac learn that a neighbor is keeping sick racing dogs at her house. They come from a dog track in Connecticut. Dr. Mac, Maggie, and Taryn, the newest Vet Volunteer, ...

---

---

---

Chains

If an entire nation could seek its freedom, why not a girl? As the Revolutionary War begins, thirteen-year-old Isabel wages her own fight...for freedom. Promised freedom upon the death of their owner, she and her sister, Ruth, in a cruel twist of ...

---

Wintergirls

 

The New York Times bestselling story of a friendship frozen between life and death

Lia and Cassie are best friends, wintergirls frozen in fragile bodies, competitors in a deadly contest to see who can be the thinnest. But then Cass...

---

The Hair of Zoe Fleefenbacher

Zoe Fleefenbacher has one blue eye and one green eye and bright red hair that goes on . . . forever. Her hair has always been unruly, but now she is in first grade and according to her teacher, Ms. Trisk, "first grade has rules." It takes countle...

---

Forge

WOULD YOU RISK EVERYTHING to be free? THE YOUNG SOLDIERS at Valley Forge are suffering from hunger, cold, and the threat of the British army. Their newly forged bonds of friendship might be enough to help them survive. But the chains of Curzon's pas...

---

Thank You, Sarah: The Woman Who Saved Thanksgiving

From the author of Speak and Fever, 1793, comes the never-before-told tale of Sarah Josepha Hale, the extraordinary "lady editor" who made Thanksgiving a national holiday! Thanksgiving might have started with a jubilant feast on Plymouth's shore. ...

---

New Beginnings

Meet Jules and Josh, the new twins in town! While Josh adapts quickly to Ambler, Jules accidentally makes an enemy of Maggie. Hoping a pet will help her feel better, Jules adopts the class rabbit, Chewie, but things go downhill when there are complic...

---

Acting Out

Zoe is back in Ambler after living with her mom in Los Angeles, and she doesn't know what to feel about it. It's fun to be back with the Vet Volunteers, but Zoe misses her mom, who is filming a movie in Canada. Meanwhile, there seems to be a rash of ...

---

---

Helping Hands

Jules and Josh are so excited when their parents hire ponies to attract customers to their sidewalk sale. But the Vet Volunteers notice that the ponies don't seem to be very healthy, and after an examination, they learn that the handler, Gus, has bee...

---

The Impossible Knife of Memory

For the past five years, Hayley Kincaid and her father, Andy, have been on the road, never staying long in one place as he struggles to escape the demons that have tortured him since his return from Iraq. Now they are back in the town where he grew u...

---

Treading Water

When the Vet Volunteers find some abandoned ducklings, they know there's no time to lose. Without a mother, the ducklings must learn to swim on their own. But where did they come from? When Brenna and the rest of the Volunteers learn that the ducklin...

---

Left Behind

When Sunita joins Dr. Gabe and another Vet Volunteer on a house call at a local horse farm, she is concerned to discover a lone lamb housed in one of the stalls. She knows that sheep are flock animals, and that without other sheep and lambs around, t...

---

Ashes

Return to the American Revolution in this blistering conclusion to the Seeds of America trilogy that began with the bestselling National Book Award Finalist Chains and continued with Forge, which Kirkus Reviews called "the best book you'll ever r...

---

Speak: The Graphic Novel

Melinda is a friendless outcast at Merryweather High. She busted an end-of-summer party by calling the cops, and now nobody will talk to her, let alone listen to her. As time passes, she becomes increasingly isolated and practically stops talking alt...

---

Milo's Barn

MILO'S BARN sanctuary and rescue was established in 2015 by Laurie Anderson. It is a Not-for-Profit located in Oklahoma City, Oklahoma. Anderson has always been an animal lover and realized this was the most productive way she could make a differe...

---

---

Hair of Zoe Fleefenbacher Goes to School

Acclaimed author Laurie Halse Anderson and vibrant illustrator Ard Hoyt style a hair-raising story that is sure to be a 'do! Zoe Fleefenbacher has one blue eye and one green eye and bright red hair that goes on...forever. Her hair has always bee...

---

Wonder Woman: Tempest Tossed

New York Times bestselling author Laurie Halse Anderson (Speak, Shout) and artist Leila del Duca reimagine Wonder Woman's origins in this timely story about the refugee experience, teenage activism, and finding the love and strength to create cha...

---

---

Wonderful Women of the World

Not all heroes wear capes!

Wonder Woman has been an inspiration for decades, and while not everyone would choose her star-spangled outfit for themselves, her compassion and fairness are worthy of emulation. We''ll be presenting tales of the re...

---

Rebellion, 1776

From New York Times bestselling author Laurie Halse Anderson comes an eerily timely historical fiction middle grade adventure about a girl struggling to survive amid a smallpox epidemic, the public's fear of vaccines, and the seething Revolutio...

---

The Big Cheese of Third Street

Being born so small that he can be rolled inside a snowball or placed atop a paper airplane, Benny Antonelli must keep clear of the other kids on the street in order to stay out of trouble, but during the Third Street block party, Benny finds an even...

---
Award-Winning Books by Laurie Halse Anderson
Chains
2009 Cybils -- Middle Grade Fiction
2009 Scott O Dell Award for Historical Fiction -- Historical Fiction
Fever 1793
2003 Rebecca Caudill Young Readers Book Award -- Grades 4-8
Forge
2011 New Atlantic Independent Booksellers Association Award -- Middle Readers
Speak
2000 Bookseller's Choice -- Young Adult
2000 Carolyn W. Field Award -- Children's
2001 Heartland Award -- Young Adult
2001 Kentucky Bluegrass Award -- Grades 9-12
2001 New Atlantic Independent Booksellers Association Award -- Fiction
2001 Sequoyah Book Award -- Young Adult
2001 South Carolina Childrens, Junior and Young Adult Book Award -- Young Adult
2001 Volunteer State Book Award -- Grades 4-6
Twisted
2008 Eliot Rosewater Indiana High School Book Award -- Grades 9-12
Frequently Asked Questions (FAQ)
Laurie Halse Anderson has published 42 books.
The next book by Laurie Halse Anderson, Rebellion, 1776, will be published in September 2023.
The first book by Laurie Halse Anderson, Ndito Runs, was published in June 1996.
Yes. Laurie Halse Anderson has 2 series.