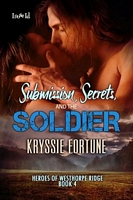 Newest Release
Bibliography:

13 Books - 1 Series

First Book:

June 2013

Latest Book:

September 2017

Rating:
Full Series List in Order
1 - To Wed a Werewolf (Jun-2013)
2 - Curse of the Fae King (Jan-2014)
3 - To Mate a Werewolf (Nov-2014)
Book List in Order:
13

titles
---

Curse of the Fae King

/ Paranormal Romance

Leonidas's nightmare: when he inherited the Fae throne, he inherited the curse a witch cast on his bloodline. No wonder he hates witches. His dirty secret: if he doesn't bed a different woman every month he'll turn feral--and he's bored to de...

---

Giving It Up for the Gods

/ Fantasy Romance

Not only angels fall. Convicted of a crime he didn't commit, the warrior god Janus plummeted from the heights of Olympus to the depths of the Underworld. After centuries of pain and torment, he finally clawed his way free. He'll never forgive...

---

To Mate a Werewolf

/ Fantasy Romance

The scars on Ellie Padget's cheek are a constant reminder of the times she tried to escape from sexual slavery. Two years ago, Joel--alpha in waiting of the Tundra-Tough pack--led the rescue party that freed her. She's loved him ever since.Their ...

---

Knights Vampire

/ Paranormal Romance

Betrayed by the Knight Defenders and murdered by his cousin, crusader knight Blaxton de Ferrers rose as a vampire. For nine centuries, he's preyed on the people he once swore to protect. Gradually, as his emotions leach out of him, he forgets how t...

---

To Seduce an Omega

/ Paranormal Romance

The Rock Prowler alpha condemns Viola for her inability to shift. Forced into poverty and isolation, she ekes out a meager existence as a healer. As the pack omega with a crippled knee, she's forbidden to mate. Her first heat beckons, but no wolf w...

---

---

Dominated by the Dragon

A former super soldier turned dragon demon must choose between his soul mate and saving the world from a nuclear winter. The British army's nuclear testing bonded a dragon into Flynn Hemsworth's soul. Military scientists vivisected and tortured h...

---

Marriage, Mobsters, and the Marine

/ Contemporary Romance

Abigail Montgomery, a small-town schoolteacher with zero self-confidence, dreams of the Dickensian Christmas her family never enjoyed. Each month she attends a masked BDSM club, but her next visit will be her last. If she doesn't marry within the n...

---

---

Sex, Scandal, and the Sheriff

/ Contemporary Romance

Jasmine Stewart (Jazz to her friends) falls for the blond stranger when he spanks and seduces her at a Washington soiree. Later, when she discovers her flatmate is trying to draw her into a spy ring, she goes to the authorities. The ensuing publicity...

---

Desire, Deceit, and the Doctor

/ Contemporary Romance

Twelve years ago, Mandy Devlin moved away from her friends and family--under threat. If she returned in the next ten years or told anyone who fathered her baby, her boyfriend's great-aunt would bankrupt her family. She's a single mom who dreams o...

---

Claimed by the Vampire, Seduced by the Werewolf

/ Paranormal Romance

After seven centuries, Elias, a former Spartan turned vampire, finds his eternal bride. Seth, Elias's werewolf half-brother, scents his mate.Vampire and werewolf loathe each other. The only thing they agree on is that Tempest is their mate--and the...

---

Submission, Secrets, and the Soldier

/ Contemporary Romance

Luke Roberts, a former army mechanic, has a new sub. She's shy and inexperienced, but willing. As he teaches her about sensation play, she fears he'll really hurt her and screams her safewords at him. Her reaction causes Luke to have a flashback. Alt...

---
Frequently Asked Questions (FAQ)
Kryssie Fortune has published 13 books.
Kryssie Fortune does not have a new book coming out soon. The latest book, Submission, Secrets, and the Soldier, was published in September 2017.
The first book by Kryssie Fortune, To Wed a Werewolf, was published in June 2013.
Yes. Kryssie Fortune has 1 series.