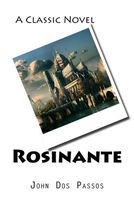 Newest Release
Bibliography:

19 Books - 1 Series

First Book:

January 1917

Latest Book:

October 2015

Rating:
Full Series List in Order
1 - The 42nd Parallel (Mar-1969)
2 - 1919 (Mar-1969)
3 - The Big Money (Apr-1969)
U.S.A. (Aug-1996)
Book List in Order:
19

titles
One Man's Initiation

As the "Great War" inspired much great poetry, including that of Siegfried Sassoon and Robert Graves, so did it inspire compelling prose. John Dos Passos volunteered to drive an ambulance in France during the First World War. The brutality of his ...

---

Nineteen Nineteen

In his day John Dos Passos' name was spoken in the same critical voice as Ernest Hemingway and F. Scott Fitzgerald. Some of his reputation arose from this book, 1919. It is the follow-up work to The Forty-Second Parallel and traces several characters...

---

1919

"With 1919, the second volume of his U.S.A. trilogy, John Dos Passos continues his vigorous and sweeping panorama of twentieth-century America"" (Forum), lauded on publication of the first volume not only for its scope, but also for its groundbreakin...

---

The 42nd Parallel

Some spine creasing and a little edge wear. Spine has slight spine seperation in center of book but every page is intact. Back cover has a top corner crease. Name on inside front page, no other marks than stated. Ships very quickly and packaged c...

---

The Big Money

"THE BIG MONEY completes John Dos Passos''s three-volume fable of America''s materialistic success and moral decline"" (American Heritage) and marks the end of ""one of the most ambitious projects that an American novelist has ever undertaken"" (Tim...

---

---

Three Soldiers

"

H.L. Mencken, then practising primarily as an American literary critic, praised the book in the pages of The Smart Set: ""Until Three Soldiers is forgotten and fancy achieves its inevitable victory over fact, no war story can be written in the Un...

---

---

Manhattan Transfer

This is a portrait of New York City, drawn by describing the interconnected lives of dozens of people - bankers, chefs, bums, cabdrivers and others. Written in an impressionistic style, with vivid descriptions and bursts of overheard conversation, it...

---

---

The Portugal Story

/ General Fiction

This selective history of Portugal reflects the author's fascination with his own Portuguese/Madeiran heritage. The work tracks the nation's rise and fall as a world power, drawing from the author's travels and archival research. "Dos Passos,...

---

The Early Dos Passos Reader

/ General Fiction

This volume, reformatted to meet current ebook standards such as having an active table of contents, contains the following works of John Dos Passos:Three SoldiersOne Man's Initiation - 1917Rosinante to the Road AgainA Pushcart at the CurbIt also c...

---

Number One

Tyler Spotswood, an alcoholic campaign manager, helps elect a corrupt Southern politician to the U.S. Senate. When his boss, Chuck Crawford aka "Number One," pins a scandal on Spotswood, Tyler is too drunk to blow the whistle. NUMBER ONE draws ma...

---

Adventures of a Young Man

In a novel that closely parallels author John Dos Passos's own ideological struggles during the Spanish Civil War, protagonist Glenn Spotswood, an American, travels to Spain to fight on the Republican side. There, Spotswood joins the Communist Part...

---

The Grand Design

John Dos Passos's literary response to Franklin Delano Roosevelt's New Deal, THE GRAND DESIGN critiques the gargantuan growth of bureaucracy in Washington during the Great Depression and World War II. The satiric novel conveys the author's frus...

---

The Great Days

In this semi-autobiographical novel, an American named Roland Lancaster has a doomed affair with a younger woman, Elsa, in Cuba during World War II. The love story, in its happiest moments, parallels the idyllic life that author John Dos Passos had w...

---

---

A Pushcart At The Curb

This is an EXACT reproduction of a book published before 1923. This IS NOT an OCR'd book with strange characters, introduced typographical errors, and jumbled words. This book may have occasional imperfections such as missing or blurred pages, poor p...

---

Rosinante to the Road Again

This scarce antiquarian book is a facsimile reprint of the original. Due to its age, it may contain imperfections such as marks, notations, marginalia and flawed pages. Because we believe this work is culturally important, we have made it available a...

---

Streets of Night

A novel begun in college and then reworked for several years, this work mirrors the author's experience at Harvard and greater Boston. The novel reflects young Dos Passos's interest in aestheticism, Greek and Roman culture, and Walt Whitman....

---

---
Frequently Asked Questions (FAQ)
John Dos Passos has published 19 books.
John Dos Passos does not have a new book coming out soon. The latest book, Rosinante, was published in October 2015.
The first book by John Dos Passos, One Man's Initiation, was published in January 1917.
Yes. John Dos Passos has 1 series.