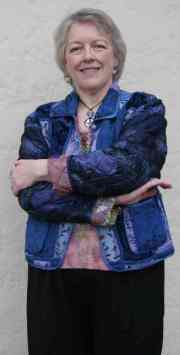 Mary Josephine Dunn was born on 22 September 1947 in Lancashire, England. She read history and American studies at Keele University in Staffordshire where she earned a degree in English history. She and her scientist husband, Ken Beverley, emigrated to Canada in 1976, where they raised two sons, but they returned to England to live in Yorkshire. Jo died on May 23, 2016, in Yorkshire with her husband Ken by her side.

As Jo Beverley, she was the author of over fifty romance novels which have brought her many awards, including five RITA awards from the Romance Writers of America and awards from Romantic Times including two Career Achievement awards. She was a member of the RWA Honor Roll, and the RWA Hall of Fame. She wrote historical romances set in her native England. Most of her published books are set in Georgian and Regency times, but she has written four medievals as well.

Jo Beverley passed away on May 23, 2016 after a long battle with cancer.
Book List in Order:
63

titles
Merely a Marriage

As England mourns the death of Princess Charlotte, Lady Ariana Boxstall has another succession in mind. Her brother, Norris, is a strapping young man, but he's also happily unmarried and childless. Norris agrees to take a wife on one condition: tha...

---

The Viscount Needs a Wife

Since being widowed two years ago, Kitty Cateril has been trapped in her late husband's home, where she is expected to mourn forever. Desperate to escape, Kitty will consider any option -- even a hasty marriage to a stranger with no intention of aban...

---

Miss Finch and the Angel

in The Last Chance Christmas Ball

Christmas 1815. Upstairs and downstairs, Holbourne Hall is abuzz with preparations for a grand ball to celebrate the year's most festive -- and romantic -- holiday. For at the top of each guest's wish list is a last chance to find true love befor...

---

Titania's Gift

/ Historical Romance

Sarah, Lady Jardine is a perfect Regency lady trapped in an imperfect marriage, but that's no excuse for slipping out of a country house to join in local, pagan revelry. She merely wanted a temporary escape, but she meets an extraordinary man on ...

---

Too Dangerous for a Lady

Lady Hermione Merryhew, daughter of an impoverished marquess, already has her share of problems. The last thing she needs is an intruder in her bedroom, especially not a fugitive thief. She should scream, but the shabby rascal is a man from her past....

---

A Shocking Delight

From five-time RITA Award winner Jo Beverley comes an exciting new Regency romance in which a lady must risk all to win love. The man she shouldn't want. The woman he shouldn't marry... David Kerslake, smuggling master from The Dragon's Br...

---

Dare to Kiss: A Novella

/ Historical Romance

In 1765 a desperate mother accepts shelter with a stranger for herself and her children, but at what cost? England in the Georgian age was not kind to the poor. When Lily Gifford finds herself homeless in the countryside on a bitter November even...

---

Seduction in Silk

From five-time RITA Award winner Jo Beverley comes an exciting new novel set in the scintillatingly wicked Georgian age. Two lives are thrown into chaos by a centuries old feud and a wicked curse. Peregrine Perriam, son of an earl, has no desire...

---

---






---

A Scandalous Countess

Lady May is back. And so is the scandal that sent her tumbling from her position as the toast of London, when her husband, the Earl of Maybury, was killed in a duel. Even a year of mourning hasn't quieted the rumors of her infidelity. G...

---

An Unlikely Countess

After leaving the army and falling out with his family, Catesby Burgoyne is drowning his sorrows when he comes across a woman being attacked by thugs. A fight is just what he needs, but little does he realize that the lady he rescues will change his...

---

The Marrying Maid: A Novella

in Songs of Love and Death

IN this star-studded cross-genre anthology, seventeen of the greatest modern authors of fantasy, science fiction, and romance explore the borderlands of their genres with brand-new tales of ill-fated love. From zombie-infested woods in a postapocalyp...

---

The Secret Duke

When Bella Barstowe is kidnapped and taken to a Dover tavern, she believes her life and virtue will be forfeit -- until she's rescued by the notorious Captain Rose, a man who seems as dangerous to her as her original captors. Convinced her only o...

---

The Raven and the Rose: A Novella

in Chalice of Roses

Romance and destiny intertwine in four all-new novellas inspired by grail quests-featuring two New York Times bestselling authors From the bestselling and award-winning authors of Dragon Lovers comes an anthology of fantasy, romance, and eternal l...

---

The Secret Wedding

At the age of seventeen, Christian Hill impulsively defends young Dorcas Froggatt's honor -- and finds himself forced into marriage. That doesn't stop him from pursuing his military career abroad, where he swiftly puts his young bride out of ...

---

A Lady's Secret

THE NUN AND THE RAKE When Robin Fitzvitry, the fun-loving Earl of Huntersdown, encounters a cursing nun in a French inn, he can't resist the mystery: Expecting only amusement on the tedious journey home from Versailles, he offers to help Sister Im...

---

Lady Beware

For generations, the Cave family has been marked by scandal, madness, and violence. But after earning a reputation for bravery in the army, Horatio Cave, the new Viscount Darien, has come home to charm London society and restore the family name. He m...

---

The Dragon and the Virgin Princess: A Novella

in Dragon Lovers

Romance and fantasy collide in these enchanting stories featuring dragons-and love-in all their many forms. Four of today's most popular authors bring to life mythical creatures, otherworlds of yesterday and today, and the passionate melding of heart...

---

To Rescue a Rogue

Now, in a special treat, the New York Times bestselling author brings all twelve Rogues together to guarantee a splendid series finale for the last bachelor in their Company. Lady Mara St. Bride has never backed down from a good adventure, which w...

---






---

The Rogue's Return

After years of living in the New World of Canada, Simon St. Bride is ready to return to aristocratic life in England. But his plans a delayed by a duel and a young woman he feels honor bound to marl even though his family is unlikely to welcome her. ...

---

The Christmas Wedding Gambit: A Novella

Free at Jo Beverley Website -A Christmas present for my readers... Gambit: in chess, an opening move in which something is sacrificed in order to achieve a better position. Miss Frances Guysley outsmarts her sister and Viscount Will Greystok...

---

A Most Unsuitable Man

Damaris Myddleton never expected to inherit a vast fortune, but she's ready to use it to buy the most eligible title in England. When disappointed by a marquess, she simply sets her sights higher -- on a duke. But then there's plain Mr. Fitzr...

---

Skylark

She'd risk everything to save her son. Once she was Mrs. Hal Gardeyne, the darling Lady Skylark of London society, but now she's a terrified mother. Hal's death has made young Harry heir to her father-in-law's title and estates, and ...

---

The Trouble with Heroes: A Novella

in Irresistible Forces

Hearts collide and desire consumes in worlds and ages far from our own.... Six of today's most popular authors join talents in this unique anthology that shows love can conquer all...even the boundaries of time and space. These stories -- many...

---

Winter Fire

Genova Smith is a resourceful woman, but the Marquess of Ashart is a challenge even for her. Especially when she finds herself in the precarious position of accompanying him to the home of Lord Rothgar, his cousin and mortal enemy. Even more distress...

---

St. Raven

A LADY WITH A QUEST... Cressida Mandeville agrees to Lord Crofton's vile proposal, but secretly she has other plans. She will trick the loathsome man, find her father's hidden wealth, and save her family from ruin. All goes well, until a daring high...

---

Hazard

YOU'VE NEVER MET A HEROINE LIKE LADY ANNE PECKWORTH. The sheltered daughter of a duke, she has always been a perfect lady, even when jilted. Twice. Now, however, she's angry, and she's angry at the single most reckless, most irresponsib...

---

The Devil's Heiress

THE PREY She is called the Devil's Heiress. Burdened with the wealth of a man she despised, Clarissa Greystone is a fortune-hunter's dream. THE HAWK No one needs a fortune more than Major George Hawkinville. Fresh from the battlefie...

---

The Dragon's Bride

THE EARL Con Somerford, the new Earl of Wyvern, arrives at his fortress on the cliffs of Dover to find a woman from his past waiting for him -- pistol in hand.... THE HOUSEKEEPER Susan Kerslake, the new housekeeper at Crag Wyvern, was drawn back...

---






---

The Demon's Mistress: A Novella

in In Praise of Younger Men

The Demon's Mistress opens with a bang -- almost. Maria Celestin, known by society as the Golden Lily, a beautiful widow just out of mourning, arrives just in time to stop George, Lord Vandeimen, from taking the coward's way out from under hi...

---

Devilish

Two of the strongest wills in England clash when Lord Rothgar is commanded by the king to escort the fiercely independent Diana Westmount, Countess of Arradale, to London. Though Rothgar, tortured by a tragic secret, has become a master of resisting ...

---

---

Day of Wrath: A Novella

in Star of Wonder

A holiday collection for the millennium offering joy, hope, and romance... As they followed a star from the East, the ancient Magi of the Christmas Story carried with them a beautiful star sapphire -- blessed with the eternal power of love. Throu...

---

Secrets of the Night

1760's Yorkshire, England Young Rosamunde Overton is forced into a daring deceit when her elderly husband's inability to sire an heir threatens everyone she cares for. Fleeing a scandalous masquerade, she rescues an injured nobleman, who just migh...

---

Forbidden Magic

A Christmas Miracle Left penniless after her parents' death, Meg Gillingham was in dire straits. Her cruel landlord threatened to turn her and her siblings out of their home by the New Year -- unless she surrendered her sister to his lecherous...

---

Lord of Midnight

He entered her life in the midnight darkness of a storm, and in the shadow of her gentle father's death. A rebellion had left Clarence of Summerbourne dead -- his castle and his daughter, Claire, forfeit to the king's champion. Renald de Lisl...

---

The Lord of Elphindale

in Faery Magic

A lovely lady discovers she is half-faery, created to bind a special man to the faery realm. But when he claims to love another, she defies the might of faeries to try and set him free. ***** Faery Weddings anthology (e-book) Gwen Forsythe is ...

---

Something Wicked

It was a night of danger and intrigue. Disguised as the mysterious beauty Lisette, Lady Elfled Malloren anticipates only fun and flirtation at the Vauxhall Gardens Masquerade. Instead, the dark walkways lead to an encounter with treason, a brush with...

---

---






---

---

The Shattered Rose

A magnificent tale that sweeps from a besieged medieval castle to the dazzling English court...as two knights vie for the heart of one woman -- and a love that can conquer all... She is the incomparable Jehanne, alone in a castle with a child wh...

---

Forbidden Affections

in A Spring Bouquet

Regency debutante Anna Featherstone's rented London townhouse is filled with intriguing Gothic details...and scandalous secrets. When the notorious Earl of Carne moves into the mansion next door, a secret connecting door becomes a passageway to dange...

---

Dangerous Joy

A story that sweeps from the seething turmoil of Ireland to the mystery and intrigue of Regency England -- an enthralling tale of long-buried secrets, scandalous passion, and a love that will last forever... She is a beautiful, rebellious heiress...

---

A Mummers' Play: A Novella

in A Regency Christmas 1995

Make your Christmas merry with these delightful stories from some of the most wonderfully talented Regency authors. Mary Balogh tells of three orphans who bring together their estranged aunt and uncle for the holidays. Jo Beverley spins an intriguing...

---

Tempting Fortune

TEMPTING FORTUNE brings together an impoverished noblewoman and a notorious gamester. Bestselling author Jo Beverley's scandalous new novel of Georgian England is a seductive story of sin and redemption... In a night shimmering with destiny, P...

---

Forbidden

ABOUT TO BE SOLD into a loveless marriage by her scheming brothers, Serena Riverton takes to the open road. In desperation, she accepts a carriage ride from a stranger. He is the handsomest man she has ever seen -- and the first to seem unmoved by he...

---

Deirdre and Don Juan

The Rogue Proposes "Don Juan," the dashing Earl of Everdon, was abandoned by his wife shortly following the wedding--and his scandalous behavior is considered an understandable response. Now newly widowed, the errant earl is most eager to ma...

---

Dark Champion

A DAMSEL'S PLIGHT Orphaned and in desperate need of help, Imogen of Carrisford flees when a brutal lord invades and takes possession of her castle. There is only one man she can turn to for help. A KNIGHT'S RESCUE He is FitzRoger of Cleeve,...

---

The Demon's Bride: A Novella

in Moonlight Lovers

YOU'LL BE MOONSTRUCK This mesmerizing collection of supernatural love stories will leave you breathless as it explores a side of love that comes out only after dark. Here, from some of the most beloved and highly acclaimed authors of romantic fict...

---






---

My Lady Notorious

LOVE'S DANGEROUS ADVENTURE Desperate to help her widowed sister and baby escape a deadly pursuer, Lady Chastity Ware dresses as a highwayman and captures the first coach to travel down the road. Coming face-to-face with its occupant, the arrog...

---

Christmas Angel

HE HAD NO INTEREST IN LOVE Leander Knollis, Earl of Charrington, was tired of gadding about the Continent on diplomatic missions. It was time he settled down in his family home with a wife at his side and enjoyed a proper English Christmas. But his ...

---

Lord Samhain's Night: A Novella

in All Hallows' Eve

In All Hallows' Eve, gifted writers have concocted a Regency witches' cauldron of romance and shadows, love and laughter, horror and delight. Joan Aiken's story conjures a peer's ghost who wreaks destruction on a modern guest-house; lovers invoke ...

---

Lord of My Heart

A CHOICE OF ROGUES To save her barony from ruin, Madeleine de la Haute Vironge must wed one of a trio of lords offered by King William. A shocking twist of fate impels the convent-bred beauty into the arms of the most dangerous of the three--a mag...

---

An Unwilling Bride

SHE VOWED TO DESPISE HIM... Miss Elizabeth Armitage was certain the world had gone mad! The school teacher wanted nothing more than to live her life free of the shackles of matrimony. Yet, after a harrowing meeting with the elderly Duke of Belcraven...

---

Twelfth Night

in A Christmas Delight

Lady Alice Conyngham was jilted exactly six years ago. Now, at this year's Christmas festival, she must face the scandal of years past and the gentleman to whom she'd given her heart....

---

The Fortune Hunter

FOR LOVE AND MONEY Poor Amy de Lacy. Her father's death has left the family impoverished and she's the only one who can rescue them. Her older sister Beryl, sweet as she is, is just too plain to attract a husband. But Amy, with her stunn...

---

An Arranged Marriage

SHE WAS A RELUCTANT BRIDE Eleanor Chivenbam didn't put much past her vile brother, but even she bad not anticipated his greedy scheme to dupe a rich earl into mistaking her for a lightskirt! Her reputation in shreds, her future ruined, a defeat...

---

If Fancy Be the Food of Love...

in A Regency Valentine (Fawcett)

WHEN A QUARTET OF VIVACIOUS YOUNG LADIES VISITS A VILLAGE NAMED FOR ST. VALENTINE, CUPID IS THE UNINVITED GUEST. February 14 is unforgettable at the estate of the widowed Cressida Trent, as five acclaimed Regency authors follow the romantic advent...

---

Emily and the Dark Angel

TWENTY-SIX AND STILL UNCLAIMED Practical, capable and utterly unromantic, Emily Grantwich is spinsterhood personified. But her prim world goes scandalously atilt when she is inadvertently doused with perfumed powder hurled by a disreputable lady at ...

---






---

The Stolen Bride

Something is wrong. Lovely young lady Sophie Kyle fears her handsome fiance Lord Randal is having a change of heart about their upcoming marriage. Why else would the once notorious rake respond to Sophie's playful flirtations with a stuffy "B...

---

The Stanforth Secrets

SWEET SKULDUGGERY Chloe, Lady Stanforth, has run Delamere Hall since her husband's untimely demise last year. She loves the seaside manor, but mysterious doings have made her eager to depart. Enter Justin Delamere, her late husband's hands...

---

The Fruit Picker: A Novella

in Writers of the Future, Volume IV

THE NEWEST SCIENCE FICTION AND FANTASY TALENTS BRING YOU 16 BRAND-NEW WINNING STORIES! Among them: Alien contact with startling new twists ... A young witch taken by that old feeling ... Combat in the stars ... Murder in time ... A vampire ...

---

Lord Wraybourne's Betrothed

HE WON HER HAND Though she hailed from one of England's oldest, richest families, the Honorable Jane Sandiford had been brought up in a frugal fashion, far from the lavish London set she was about to join. For Jane was to wed the dashing Lord Wr...

---
Complete Series List in Order
Company of Rogues
1) An Arranged Marriage (Jul-1991)
2) An Unwilling Bride (Feb-1992)
3) Christmas Angel (Nov-1992)
4) Forbidden (Mar-1994)
5) Dangerous Joy (Nov-1995)
5.5) The Demon's Mistress: A Novella (Mar-2001)
6) The Dragon's Bride (May-2001)
7) The Devil's Heiress (Aug-2001)
8) Hazard (May-2002)
9) St. Raven (Feb-2003)
10) Skylark (May-2004)
10.5) The Christmas Wedding Gambit: A Novella (Dec-2005)
11) The Rogue's Return (Mar-2006)
12) To Rescue a Rogue (Sep-2006)
13) Lady Beware (Jun-2007)
14) A Shocking Delight (Apr-2014)
15) Too Dangerous for a Lady (Apr-2015)
16) The Viscount Needs a Wife (Apr-2016)
17) Merely a Marriage (May-2017)
Lovers & Ladies
1) Lord Wraybourne's Betrothed (Jul-1988)
2) The Stanforth Secrets (1989)
3) The Stolen Bride (Aug-1990)
3.5) If Fancy Be the Food of Love... (May-1991)
4) Emily and the Dark Angel (Apr-1991)
5) The Fortune Hunter (Aug-1991)
6) Deirdre and Don Juan (Dec-1993)
Mallorens & Friends
1) My Lady Notorious (Mar-1993)
2) Tempting Fortune (Mar-1995)
3) Something Wicked (Jul-1997)
4) Secrets of the Night (Jul-1999)
5) Devilish (Apr-2000)
6) Winter Fire (Nov-2003)
7) A Most Unsuitable Man (Feb-2005)
8) A Lady's Secret (Apr-2008)
9) The Secret Wedding (Apr-2009)
10) The Secret Duke (Apr-2010)
11) An Unlikely Countess (Mar-2011)
12) A Scandalous Countess (Feb-2012)
13) Seduction in Silk (Aug-2013)
13.5) Dare to Kiss: A Novella (Dec-2013)
Medieval Lords
1) Lord of My Heart (Aug-1992)
2) Dark Champion (Oct-1993)
3) The Shattered Rose (May-1996)
4) Lord of Midnight (May-1998)
Rakes Trilogy (Malloren connection)
1) A Lady's Secret (Apr-2008)
2) The Secret Wedding (Apr-2009)
3) The Secret Duke (Apr-2010)
Three Countesses (Malloren connection)
1) An Unlikely Countess (Mar-2011)
2) A Scandalous Countess (Feb-2012)
3) Seduction in Silk (Aug-2013)
Three Heroes
1) The Demon's Mistress: A Novella (Mar-2001)
2) The Dragon's Bride (May-2001)
3) The Devil's Heiress (Aug-2001)
Award-Winning Books by Jo Beverley
Deirdre and Don Juan
1994 Rita Award -- Regency Romance
1994 Romance Readers Anonymous Award -- Best Regency Romance
The Demon's Mistress: A Novella
2001 Romance Readers Anonymous Award -- Best Romance Novella
Devilish
2001 Rita Award -- Long Historical Romance
Emily and the Dark Angel
1992 Rita Award -- Regency Romance
1994 Romance Readers Anonymous Award -- Best All-Time Regency Romance
Forbidden Magic
1998 RT Reviewers Choice Award -- Regency Historical Romance
Lord of Midnight
1998 All About Romance Reader Award -- Best Medieval
My Lady Notorious
1994 Rita Award -- Historical Series
The Rogue's Return
2006 All About Romance Reader Award -- Best Amer Hist/Frontier
Secrets of the Night
1999 RT Reviewers Choice Award -- Historical Romance in a Series
The Shattered Rose
1996 Romance Readers Anonymous Award -- Best Historical Single Title Romance
Tempting Fortune
1995 RT Reviewers Choice Award -- British Isles Historical Romance
An Unwilling Bride
1993 Rita Award -- Regency Romance