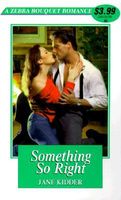 Newest Release
Bibliography:

10 Books - 1 Series

First Book:

December 1991

Latest Book:

October 2000

Rating:
Full Series List in Order
1 - Passion's Fever (Dec-1991)
2 - Mail-Order Temptress (Aug-1992)
3 - Passion's Song (May-1993)
4 - Passion's Captive (Oct-1993)
5 - Passion's Bargain (Apr-1994)
6 - Passion's Gift (Mar-1995)
7 - Passion's Kiss (Jun-1996)
Book List in Order:
10

titles
Passion's Fever

She burned with love under a fiery Texas sky! THEY WOULDN'T ACCEPT HER Dr. Rachel Noyes was proud of her newly-earned medical degree and eager to begin her job as physician to a rough-and-ready frontier town, but the people of Stone Creek, Kansas...

---

Mail-Order Temptress

SHE COULDN'T DENY HIM Forced by poverty into seeking marriage to a complete stranger in faraway Minnesota, mail-order bride Kirsten Lundgren tried to set aside her apprehensions about being a frontier wife. How hard could it be to milk a cow or two ...

---

Passion's Song

SHE NEEDED PROTECTION Only a year ago, Lili Ashford, "the Chicago Songbird," was one of the most celebrated entertainers on the Mississippi River circuit. Now, thanks to a vengeful suitor, Lili was hiding out in the remote town of Durango, Colorado ...

---

Passion's Captive

SHE VOWED TO HATE HIM Savannah heiress Claire Boudreau would do anything for her beloved cause - even nurse a wounded Union officer back to health. Captain Stuart Wellesley had information the confederacy desperately needed, and who better to steal ...

---

Passion's Bargain

SHE MADE HIM AN OFFER.. Life is good for Meg Taylor. Beautiful, self-assured and fiercely independent, she is being groomed to take over the family's business. Ready to step into a man's world -- not some man's kitchen -- Meg is horrified when her ...

---

Passion's Gift

Elyse Graham has sworn to protect her fugitive brother at any cost. Then, in the midst of a raging storm, lawman Nathan Wellesley comes seeking shelter... and his tender need awakens feelings Elyse had thought long buried. Soon the storm without is m...

---

Passion's Kiss

Miles Wellesley is every woman's dream -- handsome, unattached, and the heir to a great fortune. But he has come to England seeking horses for his Colorado ranch, not a wife. An opinionated, strong-willed spinster named Victoria Pembroke isn't likely...

---

Wanted: a Husband and Father

in Baby Dreams

And in Jane Kidder's WANTED: A HUSBAND AND FATHER, a widow gets a stand-in husband --- until her baby turns this "strictly business" union into a surprising romance....

---

Heart Song

MUSIC BROUGHT THEM TOGETHER... As the lovely young student of Alexei Romanov, Natalie Worthington made beautiful music...and beautiful love with the world famous pianist. But when the semester ended, and Alex asked Natalie to accompany him back to t...

---

---

Something So Right

PAINFUL MEMORIES Caroline Sawyer was delighted to be heading home to her widowed mother's Christmas wedding -- but she wished the groom-to-be was someone besides the father of her ex-fiance, Joshua Chandler. Twelve years ago, Josh disappeared wit...

---
Award-Winning Books by Jane Kidder
Heart Song
1999 RT Reviewers Choice Award -- Zebra Bouquet
Frequently Asked Questions (FAQ)
Jane Kidder has published 10 books.
Jane Kidder does not have a new book coming out soon. The latest book, Something So Right, was published in October 2000.
The first book by Jane Kidder, Passion's Fever, was published in December 1991.
Yes. Jane Kidder has 1 series.