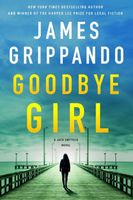 Newest Release
About the Author
James Grippando is the bestselling author of seven other novels - The Pardon, The Abduction, The Informant, Under Cover of Darkness, Found Money, A King's Ransom and Last to Die. he lives in Florida, where he was a trial lawyer for twelve years. Visit his website at www.jamesgrippando.com
Full Series List in Order
1 - Under Cover of Darkness (Jul-2000)
2 - Got the Look (Jan-2006)
3 - Need You Now (Jan-2012)
1 - The Pardon (Sep-1994)
2 - Beyond Suspicion (Aug-2002)
3 - Last to Die (Jul-2003)
4 - Hear No Evil (Aug-2004)
5 - Got the Look (Jan-2006)
5.5 - Operation Northwoods: A Novella (Jun-2006)
6 - When Darkness Falls (Jan-2007)
7 - Last Call (Dec-2007)
8 - Born to Run (Dec-2008)
9 - Afraid of the Dark (Apr-2011)
10 - Blood Money (Jan-2013)
11 - Black Horizon (Mar-2014)
12 - Gone Again (Mar-2016)
13 - Most Dangerous Place (Feb-2017)
14 - A Death in Live Oak (Feb-2018)
15 - The Girl in the Glass Box (Feb-2019)
16 - The Big Lie (Feb-2020)
17 - Twenty (Dec-2020)
18 - Goodbye Girl (Jan-2024)
Book List in Order:
33

titles
---

The Pardon

LIKE FATHER, LIKE SON: TWO MEN TRAPPED IN AN ELABORATE PLOT TO EXACT DEADLY JUSTICE Jack Swyteck, a brilliant Miami defense attorney, has spent years rebelling against his father, Harry, now Florida's governor. Their estrangement seems complete wh...

---

The Informant

A VICIOUS SERIAL KILLER HAS STRUCK AGAIN FBI Special Agent Victoria Santos is tracking a string of gruesome murders that crisscross the country. Meanwhile, Pulitzer Prize-winning reporter Mike Posten receives a call from a mysterious stranger who...

---

The Abduction

U.S. Attorney General Allison Leahy is the Democrats' best chance for holding on to the Oval Office. But she's running neck and neck with her opponent, Republican Lincoln Howe, a retired four-star general and bona fide African-American hero. Then, da...

---

Found Money

WAS IT A DREAM... Single mother Amy Parkens feels trapped by a boring job, low pay, and no time for her young daughter. But that's before $200,000 in cold hard cash arrives in an unmarked box. Desperately needing the money, Amy fears a setup, or a c...

---

Under Cover of Darkness

The youngest lawyer ever to grab the helm of Seattle's most prominent law firm, Gus Wheatley has found success - as well at money, power, and prestige. He thinks nothing can interfere with his meteoric rise to the top. Until his wife, Beth, vanishes....

---

A King's Ransom

Just two years out of law school, Nick Rey is on the career fast track at a hot Miami law firm when he is suddenly plunged headfirst into a dangerous bid to save his father. Matthew Rey has been kidnapped while on business in Columbia's exotic port c...

---

Beyond Suspicion

For smart, tough Miami criminal lawyer Jack Swyteck, it was a golden opportunity to help out his beautiful ex-girlfriend Jessie Merrill, who sold her life insurance for a cash payment when she wrongly believed she was dying. Now, thanks to Jack's cou...

---

Last to Die

An allegedly "reformed" contract killer is the last client Miami criminal attorney Jack Swyteck wants. But Tatum Knight is the older brother of Jack's best friend--and the ruthless assassin swears he had nothing to do with shooting death of Sally Fen...

---

Hear No Evil

Miami attorney Jack Swyteck is involved in the most explosive criminal trial of his career -- a case that starts with a murder on a military base and concludes with a shocking surprise that will change Jack's life forever. A beautiful woman comes ...

---

---

Got the Look

"Pay me what she's worth." FBI agent Andie Henning is tracking a ruthless kidnapper plaguing South Florida, one who's out to prove that all human life can be valued in dollars and cents. But he has slipped through her net at every turn. This time ...

---

Operation Northwoods: A Novella

PREPARE TO BE THRILLED AS YOU'VE NEVER BEEN BEFORE. THRILLER is the first collection of pure thriller stories ever published. Offering up heart-pumping tales of suspense in all its guises are thirty-two of the most critically acclaimed and award-w...

---

---

When Darkness Falls

Lawyer Jack Swyteck tackles a case in which the life of his best friend hangs in the balance--and in which nothing is as it seems. Miami criminal defense attorney Jack Swyteck isn't looking for a new client, at least not one who is homeless and i...

---

Lying with Strangers

Peyton Shields had always wanted to be a doctor, and now, thanks to her relentless drive, stellar academic credentials, and a mountain of debt to Harvard Medical School, she's a first-year resident at a major Boston children's hospital. The hours are...

---

Last Call

Many years ago, Jack Swyteck saved Theo Knight's life. Theo grew up on the streets of Miami's roughest neighborhood and lost his mother to a violent crime. Although his uncle Cy tried his best to raise him right, by the time he was a teenager, Th...

---

Intent to Kill

A fallen baseball star must use his new skills as Boston's king of sports radio to outwit a dangerous caller and prove--live and on the air--that the hit-and-run that killed his wife was no accident. Ryan James once had it all. With a beautiful w...

---

Born to Run

When the U.S. Vice President dies unexpectedly during a hunting trip in the Everglades, the President selects his friend, former Florida governor Harry Swyteck, to fill the vacant position. Called to Washington to serve as his father's legal advisor,...

---

Money to Burn

In this timely stand-alone thriller ripped from the headlines, New York Times bestselling author James Grippando, whom the Wall Street Journal calls a writer to watch, explores a world in which the destruction of financial institutions and the people...

---

Afraid of the Dark

Then: Sergeant Vince Paulo held his best friend's daughter, McKenna, bleeding in his arms as she uttered the name of her murderer and ex-boyfriend, Jamal. That was minutes before a blast made everything go black for Vince -- forever. Now: Miami cr...

---

---

Need You Now

The New York Times bestselling author returns with a gripping, new stand-alone novel ripped from the headlines, in which a young financial advisor and his girlfriend uncover a conspiracy that reaches from Wall Street deep into the halls of government...

---

Blood Money

New York Times bestselling author James Grippando delivers a powerful, nonstop thrill ride ripped from the headlines. Miami criminal defense attorney Jack Swyteck is back in his most frightening case yet, and this time the price of victory is measure...

---

Black Horizon

In Black Horizon, a riveting and timely thriller drawn from tomorrow's headlines, New York Times bestselling author James Grippando brings back popular Miami criminal defense attorney Jack Swyteck in an international case involving a devastating oil ...

---

Cane and Abe

A spellbinding novel of suspense from New York Times bestselling author James Grippando, in which Miami's top prosecutor becomes a prime suspect in his wife's disappearance, which may have a chilling connection to the woman he can't forget. ...

---

Cash Landing

The New York Times bestselling author of Cane and Abe and Black Horizon blends Goodfellas and Elmore Leonard in this wild, suspenseful caper inspired by actual events, in which a band of amateur thieves pulls off one of the biggest airport heists in ...

---

Gone Again

In this electrifying and fast-paced tale of suspense from the New York Times bestselling author of the acclaimed Cash Landing, Cane & Abe, and Black Horizon, Miami criminal defense lawyer Jack Swyteck takes on his first death-row client since The Par...

---

The Penny Jumper: A Novella

New York Times bestselling author James Grippando ventures into the world of astrophysics, high-stakes trading and the algorithms that up the game with THE PENNY JUMPER, a thrilling novella about a young scientist lured to Wall Street by the prom...

---

Most Dangerous Place

Defending a woman accused of murdering the man who sexually assaulted her, Miami lawyer Jack Swyteck must uncover where the truth lies between innocence, vengeance, and justice in this spellbinding tale of suspense -- based on shocking true-life even...

---

A Death in Live Oak

A riveting, timely story ripped from the headlines. Defense attorney Jack Swyteck defends a white college student charged in Florida's first racial terror lynching in more than a half century. When the body of Jamal Cousin, president of th...

---

The Girl in the Glass Box

Miami attorney Jack Swyteck lands in the heart of the contentious immigration debate when he takes on the heart-wrenching case of an undocumented immigrant who fled to America to protect her daughter and save herself, in this timely and pulse-poundin...

---

---

The Big Lie

As the Electoral College battle for the White House lands in a Florida courtroom, Miami attorney Jack Swyteck has never felt farther from the truth, fighting for a "faithless elector," caught between a corrupt president and his manipulative oppon...

---

Twenty

Jack Swyteck and his family are caught in the crossfire after a deadly school shooting claims twenty casualties -- Florida's fifth mass shooting in as many years -- in this provocative and timely thriller from Harper Lee Prize-winner James Grippand...

---

---

Goodbye Girl

A contentious intellectual piracy case leads to an unsolved murder, and Jack Swyteck's client -- a pop music icon -- is the accused killer. Piracy costs the movie and music industry billions. No one has been able to stop it. But that won't sto...

---
Frequently Asked Questions (FAQ)
James Grippando has published 33 books.
The next book by James Grippando, Goodbye Girl, will be published in January 2024.
The first book by James Grippando, The Pardon, was published in September 1994.
Yes. James Grippando has 2 series.