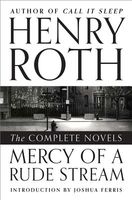 Newest Release
Bibliography:

9 Books - 1 Series

First Book:

March 1992

Latest Book:

September 2021

Rating:
Full Series List in Order
1 - A Star Shines Over Mt. Morris (Jan-1994)
2 - A Diving Rock on the Hudson (Feb-1995)
3 - From Bondage (Jun-1996)
4 - Requiem for Harlem (Mar-1998)
Book List in Order:
9

titles
Call It Sleep

"

When Henry Roth published his debut novel Call It Sleep in 1934, it was greeted with considerable critical acclaim though, in those troubled times, lackluster sales. Only with its paperback publication thirty years later did this novel receive th...

---

A Star Shines Over Mt. Morris

Ira Stigman, an immigrant boy, suffers a cruel Americanization process from 1914 through 1921 in a novel that deals with themes of Prohibition, anti-Semitism, racism, and the violence of sexuality. By the author of Call It Sleep. 50,000 first...

---

---

---

From Bondage

Henry Roth went to sleep for the last time on the evening of October 13, 1995, but not before completing this transcendent novel, which continues "one of the most poignant projects in American literature." As Tolstoy presaged his own passing in Th...

---

Requiem for Harlem

Completed just months before Henry Roth's death, the four-volume works of Mercy of a Rude Stream has become an epic American literary event. Here, in Requiem for Harlem, Roth tells the psychologically lacerating love story of Ira Stigman, a senior...

---

An American Type

This "glorious, evocative, literary novel for the ages" (Los Angeles Times) has finally taken its place within the great canon of American fiction. Set during the Great Depression, against a backdrop of New York's glimmering skyscrapers and Los...

---

Mercy of a Rude Stream: The Complete Novels

This "landmark of the American literary century" (Boston Globe) is finally published as one volume, appearing with a brilliant new introduction. Sixty years after the publication of his great modernist masterpiece, Call It Sleep, Henry Roth, a ret...

---

---

---
Frequently Asked Questions (FAQ)
Henry Roth has published 9 books.
Henry Roth does not have a new book coming out soon. The latest book, A Star Shines Over Mt. Morris Park, was published in September 2021.
The first book by Henry Roth, Call It Sleep, was published in March 1992.
Yes. Henry Roth has 1 series.