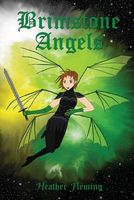 Newest Release
Bibliography:

14 Books - 1 Series

First Book:

October 2009

Latest Book:

February 2014
Full Series List in Order
Grotesque Game (Oct-2009)
Demon's Nest (May-2010)
Devil Water (Sep-2010)
The Gargoyle Club (Nov-2010)
Manticore Blood (Apr-2011)
Nephilim Rising (Jun-2012)
Book List in Order:
14

titles
Grotesque Game

Abdiel St. Jude is a gargoyle knight, a hunter of supernatural evil with a dark heritage and an even darker history. When he goes to Garville, Maine it's to track down a ritualistic murderer. Finding his long lost sister was never on the agenda.Eden ...

---

Demon's Nest

Things are finally settling down for Abdiel and Eden St. Jude. Eden's gotten used to her gargoyle powers and shapeshifting abilities, and Abdiel is finally getting to know his long lost sister. For the first time in his life he is truly happy - until...

---

Devil Water

When Andre returns to New Orleans for a funeral, he finds that things are much more sinister than he remembers. His world has changed since learning about his powers, and the things that stalk the shadows, but he never dreamed the darkness would hit ...

---

The Gargoyle Club

Garville, Maine is famous for its stone monsters - the gargoyles and grotesques carved on every building that stare down with sightless eyes. Meanwhile a human monster stalks the streets, leaving a trail of bodies and death. Eden Sinclair quickly rea...

---

Manticore Blood

Eden and Abdiel are gargoyle knights - hunters of supernatural evil, descended from demons. Time and again they have risked their lives to protect humans from monsters and ritualistic murderers, but now they have been betrayed by one of the very peop...

---

Fire in the Sky

/ General Fiction

On an ill fated Fourth of July, an unlikely alliance springs up between Ariel, a young gargoyle knight with a penchant for blowing things up, and Vali, a sword wielding, ex-Viking who inspired a number of Old Norse myths, when they find themselves on...

---

Tarot Killer

/ General Fiction

Tarot Killer, a Gargoyle Legends novellaTobias Smithson, an occult specialist and private investigator, is called in by the FBI to consult on a case with their Occult Crimes Unit. A serial killer is on the loose in Las Vegas, scrawling pentagrams on ...

---

Crumbled Colossus

/ General Fiction

Sixteen years ago, the demon knight Apollo St. Jude disappeared. His son Abdiel has been trying to find out what happened to him ever since. Just as Abdiel is on the verge of getting his answers, he and his sister receive an urgent call for help. The...

---

Nephilim Rising

For thousands of years the world has been protected from evil by gargoyle knights - part demon, mostly human warriors, armed with unnatural strength and the power to shapeshift into ferocious, nearly unstoppable beasts. Now, a new threat looms on the...

---

---

---

Brimstone Angels

The lines have been drawn. Sides have been chosen. The seal is breaking. Every challenge since Eden first discovered her powers has led her to this. For her, it is now a race against time, to lead an invading force into the demon realms, to find and ...

---

the ironhorse sanctuary

/ Fantasy

The Ironhorse Sanctuary is one of the few refuges from the Eldritch – the fae, and goblins, and creatures of folklore. Once, a tightly knit family of hunters lived there. Now, loss and lack of leadership have slowed those who remain to a standsti...

---

spirits of decay

/ Fantasy

In a hoard of dangerous artifacts and occult paraphernalia, an ancient evil awaits. Declan, Stray, and Blaire are expecting a boring weekend, clearing an old mansion of arcane relics, but when the job takes a turn for the worst, they're not exactly...

---

---
Frequently Asked Questions (FAQ)
Heather Fleming has published 14 books.
Heather Fleming does not have a new book coming out soon. The latest book, cold snap, was published in February 2014.
The first book by Heather Fleming, Grotesque Game, was published in October 2009.
Yes. Heather Fleming has 1 series.