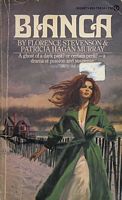 Newest Release
Bibliography:

25 Books - 1 Series

First Book:

January 1973

Latest Book:

March 2011

Rating:
Full Series List in Order
1 - The Witching Hour ()
2 - Where Satan Dwells (Mar-2011)
3 - Altar of Evil (Oct-1993)
4 - Sorcerer of the Castle ()
5 - The Silent Watcher ()
6 - The Horror from the Tombs ()
Book List in Order:
25

titles
---

Dark Odyssey

Ruins of romance -- Ruins of menace -- Casa Slade was a beautiful hacienda. And lovely orphaned Ada Brett was sure she could be happy there with her cousin's family. But from the first, something overshadowed Ada's joy. Was it the frequent quarre...

---

A Shadow on the House

FAME, FORTUNE, ROMANCE…OR TERROR IN A MANSION OF DOOM…! The concert at the magnificent Fowler mansion was to be the beginning of a success-filled career for lovely, young opera singer Leslie MacKenzie. But when her chaperone fell ill, Leslie w...

---

The House At Luxor

POSSESSED BY THE PAST was the way lovely Electra Ordway felt as she and her father arrived in England to visit the family estate she had inherited. In the ancient, memory-filled mansion, Electra's childhood dream came back to her - the frightening...

---

Dark Encounter

She was young, beautiful and pursued by a nightmare of horror . . . ! Spell Of Evil. Megan "Stormy" Wetherel, was young, lovely and a witch. And as a witch, she thought she knew all about the forces of darkness and was sure she could prote...

---

The Golden Galatea

GOLDEN CAPTIVES OF DESIRE LADY BLANCHE CARLISLE An exquisite, fragile child, sold into the silken slavery of a loveless match, schooled against her will in sins of a gilded age... LORD MARCHMONT An aging roue, he forced the innocent b...

---

Moonlight Variations

THEY MADE UNEARTHLY MUSIC . . . .TOGETHER Golden haired Lorrie MacIvor, a classical pianist, inherited the touch of her renowned ancestor, Barbary Clinton, who, a century ago, had given her heart to a brooding violinist with a curse upon his blood...

---

Kilmeny in the Dark Woods

"I, KILMENY, YOUNGEST DAUGHTER OF SIR RICHARD UNWIN, WAS A CHANGELING... That is what the villagers around my home believed, though my childhood was passed during the middle years of Queen Victoria's reign, when most educated people scoffed at gho...

---

Altar of Evil

She was cursed as a bride--bound to a vow of evil older than time... I saw the bed. Though the ropes were heavy and reinforced with steel wire, they had been severed in the middle. But how could anything have broken such bonds? A sudden blast o...

---

---

Where Satan Dwells

She had returned from the dead to serve Satan. A spellbinding tale of evil set loose on the innocents....

---

The Curse of Concullens

The ancient Irish castle was cursed. Would Lucy, the new governess, find love or doom waiting within its walls? The third governess -- Lucy Ayers liked to fancy herself the heroine of a great romantic novel. But the moment she moved into ancient ...

---

The Curse of the Concullens

The ancient Irish castle was cursed. Would Lucy, the new governess, find love or doom waiting within its walls? The third governess -- Lucy Ayers liked to fancy herself the heroine of a great romantic novel. But the moment she moved into ancient ...

---

A Darkness on the Stairs

She lived in terror of the ghostly presence of a woman she had never known. They were a household possessed by the memory of a tragedy. This, lovely young Oriel Quentin thought, was what was wrong with everyone at Harrowdene, from her Uncle Ba...

---

A Feast of Eggshells

Who is Pamela Gabrielle? Alice in Wonderland...or Rosemary's Baby? A freaky kid...or a spirit who will not die? WHO IS PAMELA GABRIELLE? The newborn who transformed her calm delivery-room nurse into an amoral alcoholic. The five-year-old...

---

---

Household

Twice Blessed... with money and raffish good looks, Richard Veringer abandoned holy orders for the unholy life as an 18th centruy rakehell - a decision that brought down upon him and his family three hundred years of supernatural horror. Thrice C...

---

The Ides of November

THE HOUSE WAS HAUNTED BY HORROR AND HEARTBREAK The decrepit, old mansion by the sea belonged to lovely, young Verity Valcourt, a final meager gift from the father who had deserted her years before. Or did it? Elsa Grant, the aging movie star who...

---

Julie

HER BEAUTY WAS HER BLESSING - AND HER CURSE Julie Palmer learned early the power of her beauty - as she used it to escape the bars and brothels of the raw frontier mining town of her nightmare girlhood. Julie learned the peril of that beauty as...

---

Mistress of Devil's Manor

A Demonic Power That Reached Beyond The Grave.... A century earlier, a man and two women had played out a grisly drama of betrayal and death in the big old house. Now a different kind of horror had begun. A young girl, hideously disfigured, had be...

---

---

Ophelia

Rich Miss Margaret Brewster leaves everything to her cat Ophelia. Lawyer Daniel Dillon tries to kill the cat who is transformed into a beautiful woman. Feigning amnesia, Ophelia becomes a femme fatale playing off Daniel against Miss Margaret's next...

---

The Silent Watcher

The Curse... Kitty Telefair, TV's young psychic star, had no idea of danger when she auditioned a tiger act for her television show "The Witching Hour." But tragedy struck when the tamed tiger attacked and killed its trainer. It was...

---

The Sisterhood

After the sudden death of her parents, Judith Jordan returned to California hoping to find a new life for herself. Instead, she became involved with a prominent group of elderly women who formed a club known as The Circle. Initially drawn into their ...

---

Sorcerer of the Castle

PRISONER OF EVIL… Kitty Telefair shuddered with fear as she made her way to the Eves, home of the brooding Chalmers clan. The desolate, old castle seemed to beckon to her, and Kitty wondered what lay ahead. Her reception was so cold, so aloof...

---

The Witching Hour

She was doomed never to grow old, never to lose the dreaded curse…unless she passed it on to an innocent girl who became the next victim of the agony She was the world's greatest singer; her flawless voice had ruled the operatic stage for mo...

---

Witch's Crossing

THE CURSE OF THE COLWELLS was weaving a web of deceit and destruction. Beautiful young Clarissa Colwell could feel it encroaching upon all who dwelt in the ancient family mansion. Clarissa herself, who was married to handosme lawyer Caleb, a man t...

---
Frequently Asked Questions (FAQ)
Florence Stevenson has published 25 books.
Florence Stevenson does not have a new book coming out soon. The latest book, Where Satan Dwells, was published in March 2011.
The first book by Florence Stevenson, Bianca, was published in January 1973.
Yes. Florence Stevenson has 1 series.