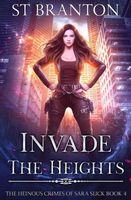 Newest Release
Bibliography:

26 Books - 3 Series

First Book:

July 2016

Latest Book:

July 2020

Rating:
Full Series List in Order
1 - The Devil's Due (Dec-2016)
2 - The Devil's Wager (Feb-2017)
1 - Restriction (Aug-2017)
2 - Reawakening (Aug-2017)
3 - Rebellion (Aug-2017)
4 - Revolution (Aug-2017)
5 - Unlawful Passage (Oct-2017)
1 - The Catalyst (Dec-2016)
2 - The Crucible (May-2017)
3 - The Casting (Jul-2016)
Multi-Author Series List
Reawakening
(Aug-2017)
Rebellion
(Aug-2017)
Restriction
(Aug-2017)
Revolution
(Aug-2017)
Unlawful Passage
(Oct-2017)
Reawakening
(Aug-2017)
Rebellion
(Aug-2017)
Restriction
(Aug-2017)
Revolution
(Aug-2017)
Unlawful Passage
(Oct-2017)
Book List in Order:
26

titles
---

---

The Devil's Due

/ Thriller

Doing the right thing ain't cheap…not when you've got to pay the devil's due.After a lab explosion leaves him changed forever, wanted fugitive Jack Carson knows only one thing for certain; he's just one wrong move away from a fate worse than d...

---

The Devil's Wager

/ Thriller

Sometimes the Devil's Wager is the only bet to make. A desperate attempt to flee North comes to a crashing halt when an off-the-grid commune called Roanoke mistakes Jack Carson for their savior. With few supplies, no hope, and everything to lose, Jac...

---

---

Reawakening

Revenge is a dish best served with magic -- and a pet dragon.Hannah killed those who destroyed her family, but the man who ordered their deaths is still alive -- and in power. It's time someone worked to end Adrien's evil rule.But to find justice...

---

Rebellion

When you sow tyranny, you better be prepared to reap the rebellion.Hannah and Ezekiel dig deeper into the corruption of the Noble Quarter, and the sick truth of Adrien's master plan becomes clear.They need to call upon the diverse group of those loya...

---

Restriction

"Any sufficiently advanced technology is indistinguishable from magic…" Arthur C. Clarke She didn't mean to use magicShe didn't even know she HAD magicShe just wanted to save her brother, who was dying in her arms.Accused of using illegal mag...

---

Revolution

No matter what, she said, tomorrow ends with blood.Adrien's master plan has been revealed and the battle lines are drawn. With the ashes of the Boulevard still hanging in the air, Hannah and team must race to prepare their ragtag army before the full...

---

---

Unlawful Passage

Even heroes need a vacation. Unfortunately, Hannah and her friends chose the wrong beach.The Oracle needs help. She's dying, and only Ezekiel knows that the world will die along with her. Hannah and her team take up the call without hesitation.The on...

---

Darkness Rises

Magic's biggest secrets are finally revealed.After weeks of travel aboard the Unlawful, Hannah, and Team BBB make it to their destination on the far corner of the known world.New Romanov.The home of the Oracle.And they arrive not a moment too soon as...

---

The Gods Beneath

It's easy to believe in ancient myths--but the truth is far more deadly. The quest to save the Oracle forces Team BBB to split up: one group heads to the top of an ancient mountain, the other into the depths of a haunted jungle. For Hannah, it's ...

---

---

Forgotten Gods

The gods are real...and they're assholes. Thousands of years ago, ancient deities fought a civil war that nearly destroyed the earth. They were defeated by a great warrior-and banished to spend eternity beyond the reach of the humans who once served ...

---

Goddess Scorned

Hell hath no fury, like a goddess scorned...OK, so I accepted Kronin's call to defeat the Forgotten Gods and save the earth.But don't thank me yet. Just because I'm on the job doesn't mean it will be easy-even with the Gladius Solis at my side and th...

---

God In The Darkness

Vampires are overrunning my city. The FBI is on my tail. And the god of darkness wants to meet with me. Just another day in the life of a hero. Luckily, this time, I'm not alone. God in the Darkness is the explosive conclusion to the first arc ...

---

Gods Of New York

Breaking out of FBI lock up nearly got me killed, but that's nothing compared to getting off this damn island.The gods have descended on New York, and all hell has broken loose.Apparently, they have big plans for the weekend, but I have a feeling it ...

---

Hounded By The Gods

When rivers run red with blood, you know that the gods are hard at work.And so am I.My name's Vic Stratton, and I'm on a mission to kill the gods. But first I have to find them.Thanks to my new friend SplitScreen, I got a tip about shady government a...

---

Solyrian Conspiracy

She's back!The Rifts are closed. Irth is no longer under threat. And yet peace doesn't stop people from acting like idiots. When a routine supply run turns into an all out fight, Hannah and her faithful team of warriors must solve the murder of a kin...

---

---

Escape The Deep

I was innocent, and they called me a monster. Maybe a monster is exactly what the earth needs. My name is Sara Slick, and I was an average teenager. I worked hard. Followed the rules. Took care of my family. But normal dissolved the night that the hi...

---

God Country

There's nowhere to run, nowhere to hide. The gods have returned.I'm Vic Stratton, and I can survive anything the Forgotten throw at me. But I can't say the same for those who look to me for protection.In fact, they're a bit of a mess.Hunted by the go...

---

Gods Remembered

The gods are real. But they aren't the worst things out there.Delano, man turned Apprenti turned god-eater, has staked his claim on our world, and he's calling all gods and monsters to his side. There's nowhere for mankind to run and nowhere to hide....

---

Haunted By The Gods

Haunted trees. Fire-wielding Vikings. A roaming pack of werewolves.Or what Vic Stratton calls a perfect Tuesday.When old friends fall prey to new threats, there's no debate and no delay. I have to help-before the gods burn everything I love to the gr...

---

Fight The Peace

International intrigue. Deadly assassins. Tacos!Just an average day for the Heinous Sara Slick.When a daring rescue uncovers new intel into the Harbingers' next plan, we do what we do best: rush in fists raised to stop the bad guys. But this is n...

---

Invade The Heights

The end of the world is near. There's danger upon us. And only the Heinous Sara Slick can stop it. This is it, the moment I've been dreading since I escaped the Deep. Hobbes has unleashed his war upon the world, and the world wasn't ready.Angry Farsi...

---

Kill the Wild

A dead body. A strange cult. A terrified people. Sounds like the perfect place for the Heinous Sara Slick. OK, so I escaped from magical prison, saved my home town, made some friends, and managed not to die in the process. Not too bad for the Heinous...

---
Frequently Asked Questions (FAQ)
C.M. Raymond; L.E. Barbant; Michael Anderle has published 26 books.
C.M. Raymond; L.E. Barbant; Michael Anderle does not have a new book coming out soon. The latest book, Invade The Heights, was published in July 2020.
The first book by C.M. Raymond; L.E. Barbant; Michael Anderle, The Casting, was published in July 2016.
Yes. C.M. Raymond; L.E. Barbant; Michael Anderle has 3 series.