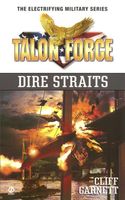 Newest Release
Bibliography:

11 Books - 1 Series

First Book:

February 2000

Latest Book:

February 2001

Author Rating:
Full Series List in Order
1 - Thunderbolt (Feb-2000)
2 - Meltdown (Mar-2000)
3 - Sky Fire (May-2000)
4 - Secret Weapon (Jun-2000)
5 - Zulu Plus Ten (Aug-2000)
6 - Takedown (Sep-2000)
7 - Hellstorm (Oct-2000)
8 - Slaughter House (Nov-2000)
9 - Bloodtide (Dec-2000)
10 - Sea Fire (Jan-2001)
11 - Dire Straights (Feb-2001)
Book List in Order:
11

titles
Thunderbolt

Seven specially trained members from the four branches of the U.S. Armed Services are given their first assignment to locate and capture one of the highestranking terrorist of the Iraqi Brotherhood. Original....

---

---

Sky Fire

DEATH FROM ABOVE. Even as the Communist Bloc recedes into memory, some of its most fanatical supporters in the aerospace community known as the Frateco have retreated to a hidden base in the mountains of central Asia...planning for the day when th...

---

Secret Weapon

When an American F-16 pilot is forced to bail out over Iraq, knocked out of the sky by cutting-edge radio technology masterminded by international terrorist Osama bin Laden, the TALON Force goes into action to destroy the terrorist's new weapon and r...

---

---

Takedown

After a devastating hurricane sweeps across Haiti, an American supply ship brimming with relief is hijacked by a man who intends to mount a violent coup, and TALON Force is sent to stop him. Original....

---

Hellstorm

The TALON Force goes undercover to infiltrate the Chu Triad, Japan's most powerful criminal organization, after a deadly Sarin gas against the innocent public in Tokyo, and discover a vast criminal conspiracy against the United States that involves m...

---

Slaughter House

The TALON Force takes on a new group of terrorists, a South African extremist group determined to build an all-white Rhodesia for themselves, who unleash a deadly virus on cattle herds in Japan, England, and the United States, threatening the entire ...

---

Bloodtide

Amid the turmoil, horrors, and devastation of Kosovo, a gang of Serbian renegade creates a concentration camp to hold thousands of Albanian refugees fleeing the conflict, but when they campture a downed American NATO pilot, the TALON force is sent in...

---

---

Sea Fire

When radical extremists from the IRA jijack a Russian nuclear sub during joint maneuvers between the Russians and British and threaten to launch the missiles on board against Britain, the TALON Force is called in to stop the terrorists and regain con...

---

Dire Straights

As a ruthless extremist launches a fanatical campaign designed to split Turkey from its Western allies, the country teeters on the brink of total anarchy, and the TALON Force is called in to stop the terrorist and his fanatical organization before he...

---
Frequently Asked Questions (FAQ)
Cliff Garnett has published 11 books.
Cliff Garnett does not have a new book coming out soon. The latest book, Dire Straights, was published in February 2001.
The first book by Cliff Garnett, Thunderbolt, was published in February 2000.
Yes. Cliff Garnett has 1 series.