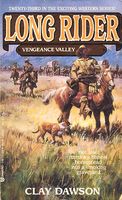 Newest Release
Bibliography:

27 Books - 1 Series

First Book:

December 1988

Latest Book:

March 2018
Full Series List in Order
1 - Long Rider (May-1993)
2 - Fast Death (Dec-1988)
3 - Gold Town ()
4 - Apache Dawn (Apr-1989)
5 - Kill Crazy Horse! ()
6 - Shadow War (Aug-1989)
7 - The Ghost Dancers (Oct-1989)
8 - Hellhole (Dec-1989)
9 - The Land Bandits (Mar-1990)
10 - The Buffalo Hunters ()
11 - The Santa Fe Ring (Jul-1990)
12 - Killer Mustang (Aug-1990)
13 - Vengeance Town (Nov-1990)
14 - The Comancheros (Mar-1991)
15 - Blood Hunt (May-1991)
16 - Snaketown (Sep-1991)
17 - Town Tamer ()
18 - Texas Manhunt (Mar-1992)
19 - Chisholm Trail ()
20 - Mountain Killer (Sep-1992)
21 - Ranchero (Dec-1992)
22 - Crazy Knife (Mar-1993)
23 - Vengeance Valley ()
24 - Dead Aim (Jul-1993)
25 - Guns and Gold (Aug-1993)
26 - Devil's Guns (Oct-1993)
27 - Wanted Dead or Alive (Mar-2018)
Book List in Order:
27

titles
---

Apache Dawn

A child of settler parents but raised by Indians, Long Rider must protect himself and his woman, Sally, from an evil, revenge-crazed Indian named Diablito, who is bent on killing all the whites he encounters...

---

---

The Ghost Dancers

When the Indians begin their Ghost Dance ritual to bring back the buffalo and send away the white man, the settlers' and cavalry's fear threatens to turn into full-scale war, and Long Rider must prevent this bloodshed...

---

---

The Land Bandits

Arriving in the town of Bancroft with beautiful Lucy McCoy, Long Rider finds out that Ezra Bancroft is tricking Chief Antelope out of Ottawa land with a bunch of empty promises, and he vows revenge on the greedy landowner...

---

---

---

---

---

---

---

---

---

---

---

---

Long Rider

A GOOD DAY FOR FIGHTING. A BEAUTIFUL DAY TO DIE! The homesteaders have poured their sweat and savings into the rich valley land, and all they want is to hold on to it. But when Long Rider unslings his rifle to protect these California farmers, he ...

---

---

---

---

---

Wanted Dead or Alive

After spilling the blood of sadistic roughneck Archie Hoover, in revenge for the death of his pal, Wes, Long Rider takes to the hills with a hanging posse and the Hoover clan in hot pursuit!...

---

---

Chisholm Trail

Long Rider, born to pioneers and raised a Native American, joins a cattle drive thinking it will be easy money but winds up taking aim at his employers when the despicable trail boss begins to wreak havoc amongst the Chickasaw. Original....

---

---

---

---

---
Frequently Asked Questions (FAQ)
Clay Dawson has published 27 books.
Clay Dawson does not have a new book coming out soon. The latest book, Wanted Dead or Alive, was published in March 2018.
The first book by Clay Dawson, Fast Death, was published in December 1988.
Yes. Clay Dawson has 1 series.