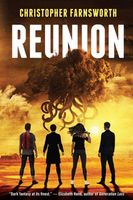 Newest Release
Bibliography:

12 Books - 2 Series

First Book:

May 2010

Latest Book:

June 2022

Rating:
Full Series List in Order
1 - Killfile (Aug-2016)
2 - Flashmob (Jul-2017)
1 - Blood Oath (May-2010)
2 - The President's Vampire (May-2011)
3 - Red, White and Blood (May-2012)
3.5 - The Burning Men (May-2014)
3.6 - Deep State (Oct-2017)
Book List in Order:
12

titles
Blood Oath

The ultimate secret. The ultimate agent. The President's vampire. Zach Barrows is an ambitious young White House staffer whose career takes an unexpected turn when he's partnered with Nathaniel Cade, a secret agent sworn to protect the president. ...

---

The President's Vampire

The ultimate secret. The ultimate agent. Nathaniel Cade returns. For 140 years, Nathaniel Cade has been the President's Vampire, sworn to protect and serve his country. Cade's existence is the most closely guarded of White House secrets: a superhu...

---

---

Red, White and Blood

The Presidential Campaign Trail, 2012: A political operative and a volunteer are brutally murdered while caught in a compromising position. Written in their blood on the wall of the crime scene: IT'S GOOD TO BE BACK. And with that, a centuries-old...

---

The Burning Men

/ Fantasy

A man stands up in a crowded movie theater. A moment later, everything is burning. When the smoke clears and the bodies are removed, there is no trace of any bomb, or device, or even a matchstick. There's just the corpse of one man, a statue in ash, ...

---

The Eternal World

If you could live forever, what would you die for? Five hundred years ago, a group of Spanish conquistadors searching for gold, led by a young and brilliant commander named Simon De Oliveras, land in the New World. What they find in the sunny and ...

---

Killfile

The author of "The Eternal World" seamlessly combines history, biotechnology, action and adventure in this high-concept thriller in the spirit of James Rollins, Brad Thor, and Douglas Preston. John Smith has a special gift that seems more like a c...

---

Flashmob

Gifted troubleshooter John Smith, introduced in the acclaimed thriller Killfile, must take down a shadowy figure who has weaponized the internet, using social media to put a price on the heads of his targets in this intense, unstoppable thriller from...

---

Deep State

It's been four years since a new president ascended to the White House. Zach Barrows has not seen Nathaniel Cade, the President's Vampire, since being fired from his position as Cade's handler and sent to a small, cramped office in a government...

---

---

---

24: Legacy: Rules of Engagement

Today, Eric Carter is a happily married man, a veteran of the Army Rangers, and a hero–the leader of the covert ops squad that took down an infamous terroist leader. But years ago, Carter was a much different man. He was a drug dealer on the violen...

---

---
Award-Winning Books by Christopher Farnsworth
Red, White and Blood
2013 Audies -- Suspense
Frequently Asked Questions (FAQ)
Christopher Farnsworth has published 12 books.
Christopher Farnsworth does not have a new book coming out soon. The latest book, Reunion, was published in June 2022.
The first book by Christopher Farnsworth, Blood Oath, was published in May 2010.
Yes. Christopher Farnsworth has 2 series.